Hawaiian Plate Lunch is a type of Plate Lunch, one that features traditional Hawaiian dishes like lomi lomi salmon, pipikaula, poi, and much more! Here's everything you need to know Hawaiian Plate Lunch, where to eat it, and how to make it at home.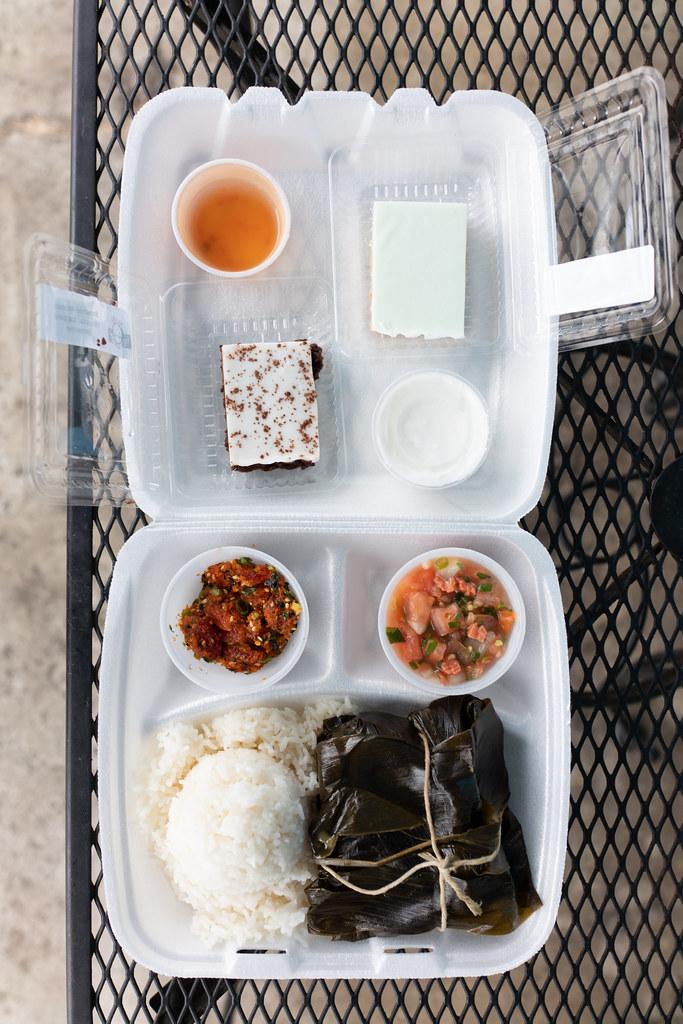 If you've visited Hawaii, you've probably come across Plate Lunch. Plate Lunch is a popular type of Hawaii meal that consists of rice, meats, and vegetables.
It's called Plate Lunch because everything is piled together in one plate. Easy, convenient, and very delicious!
Within the general Plate Lunch category are three subcategories:
Today we'll take a closer look at Hawaiian Plate Lunch!
What Is Hawaiian Plate Lunch?
Hawaiian Plate Lunch features all traditional Hawaiian food (similar to how Korean Plate Lunch features all Korean food).
You usually get one or two types of starch (like rice and poi), a meat choice like lau lau and kalua pig, and perhaps a chilled seafood like lomi lomi salmon and ahi poke.
Hawaiian Plate Lunch always comes with dessert. It is typically a square of haupia. The haupia is tucked right into the plate/container along with the other savory dishes.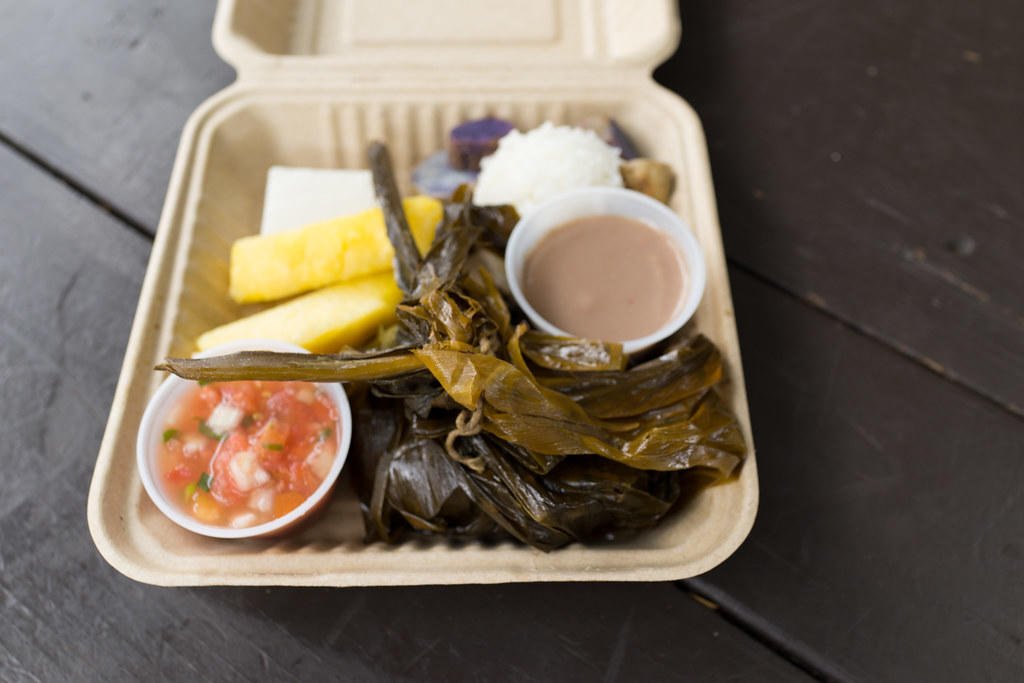 Dishes In A Hawaiian Plate Lunch
While many different types of dishes can go in a Hawaiian Plate Lunch, the average Hawaiian Plate Lunch features just 3-6 of those items. These items can include:
Seafood (Chilled)
Meats (Hot)
Starch
Dessert
Sides and Condiments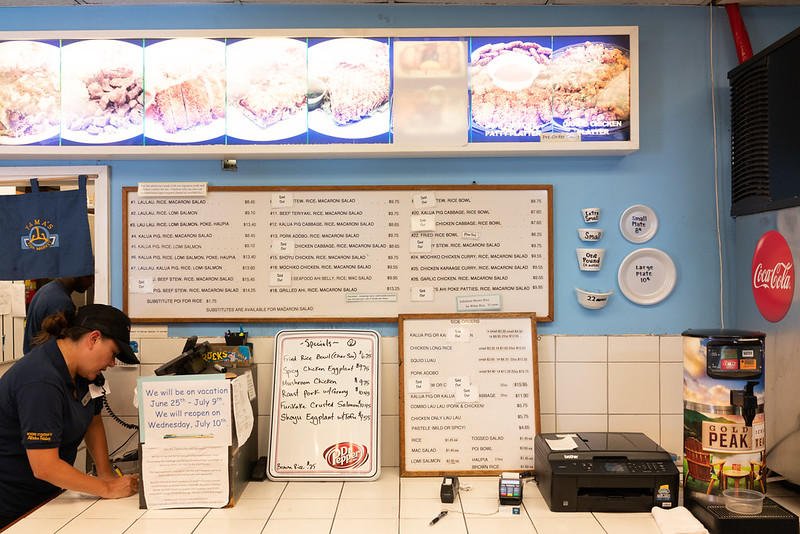 Where To Eat Hawaiian Plate Lunch
Yama's Fish Market (Oahu)
Yama's is our go-to spot for takeout Hawaiian Plates. They have many different pre-set Hawaiian Plate choices - I like the #6 which has kalua pig, lomi lomi salmon, poke, and haupia. Comes with rice, or pay a little more to substitute poi. Yama's is a takeout spot so plan ahead. There are two small tables outside, but they're usually taken during lunch outs. Yama's is a favorite stop for getting lunch to take to the beach, picnics, grandma's house, etc. Full Yama's post here.
Helena's Hawaiian Food (Oahu)
Helena's is the most famous Hawaiian food place in Hawaii. They make all the classic Hawaiian dishes and they do it so well. While you won't get all the dishes on a single plate (it is called plate lunch after all :), they are presented in small, shareable plates (almost like tapas, but not). Order a ton and fill the table. Full Helena's post here.
Fort Ruger Market (Oahu)
Fort Ruger Market is located near KCC Farmers Market and the Diamond Head hike (a very ideal post-hike lunch). They specialize in Hawaiian Plates and Filipino food (it's not unusual to mix the food of multiple cultures in Hawaii, that is after all, the foundation of Hawaii cuisine). I always get the Hawaiian Plate A which comes with lau lau, kalua pig, pipikaula, lomi lomi salmon, and haupia. And rice 🙂 There's a bunch of picnic tables outside that you can sit and eat at.
Punahou Carnival (Oahu)
If you happen to be in Hawaii during the first February weekend (Friday and Saturday), you must visit the Punahou Carnival. You're not there for the rides and games, you're there for the food. Specifically the amazing malasadas, Portuguese bean soup, and the Hawaiian Plate Lunch!
Hawaiian Plate Lunch Recipes
If you're not in Hawaii, no worries! You can make many of these Hawaiian dishes at home. Here are the recipes: