People often confuse Ti Leaf and Luau Leaf (the two essential leaves of Hawaiian food). Here's the difference between the two, and when/how to use each leaf.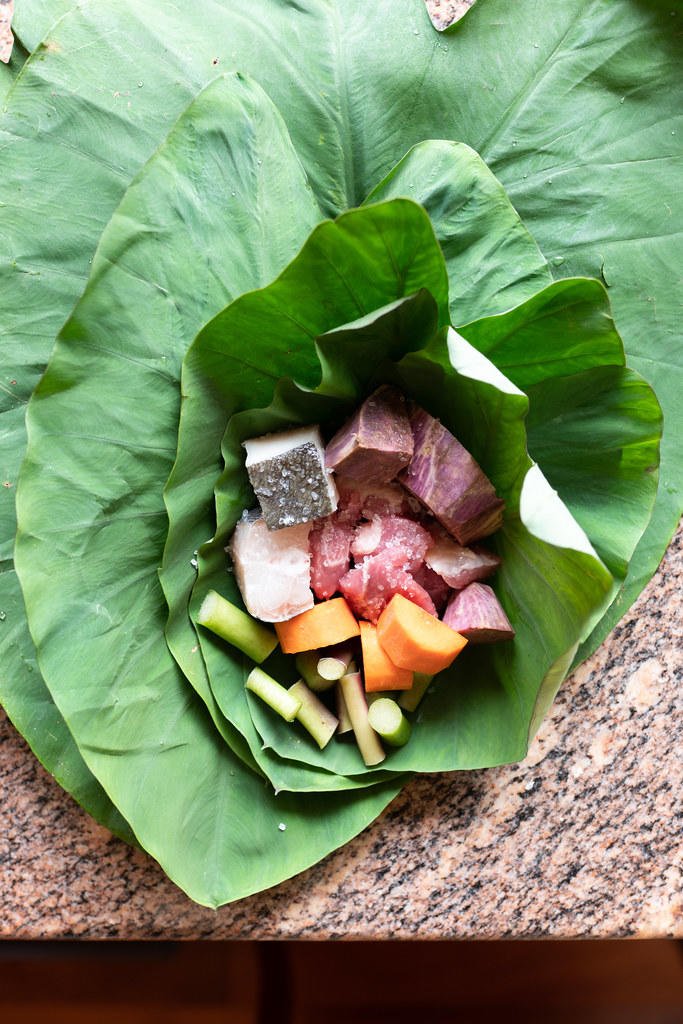 Preparing a lau lau bundle with luau (taro) leaves.
They're both big and green, and key for preparing Hawaiian food.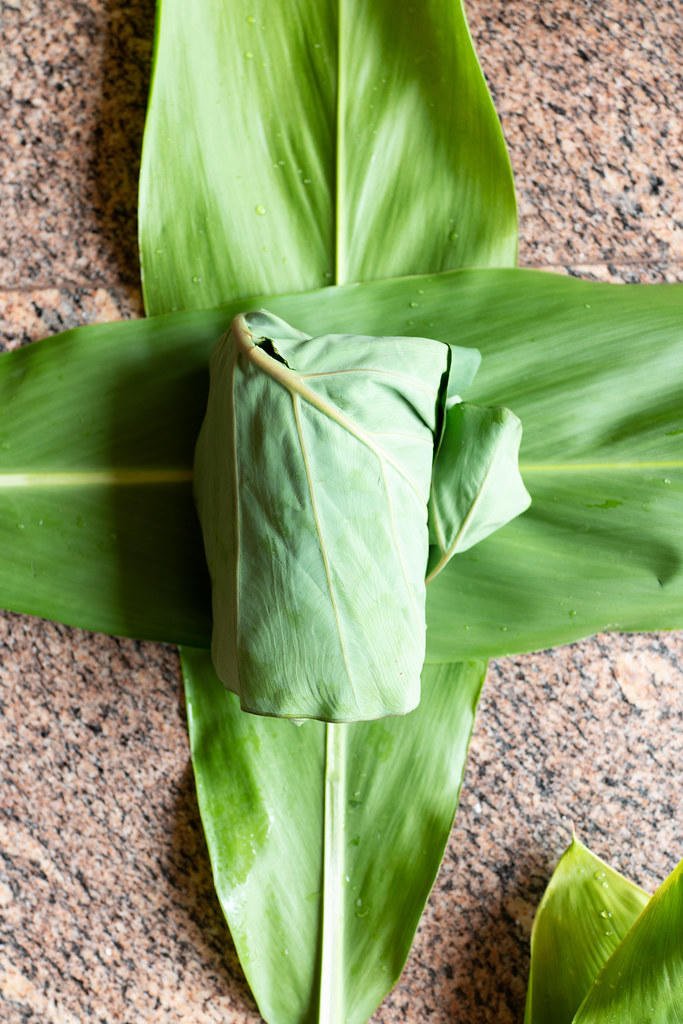 Lau lau bundle already wrapped with the luau leaf. Now it's time to wrap it with ti leaves.
Ti Leaf Versus Luau Leaf
Leaves are used a lot in Hawaiian cooking. Two leaves in particular: Ti Leaf and Luau Leaf. What's the difference?
Ti Leaf - The leaf of the ti plant. Long and skinny. Ti leaf is not edible, but is used to wrap and cook food. Ti leaf is used to make lau lau.
Here's a detailed look at each of theses Hawaiian plants: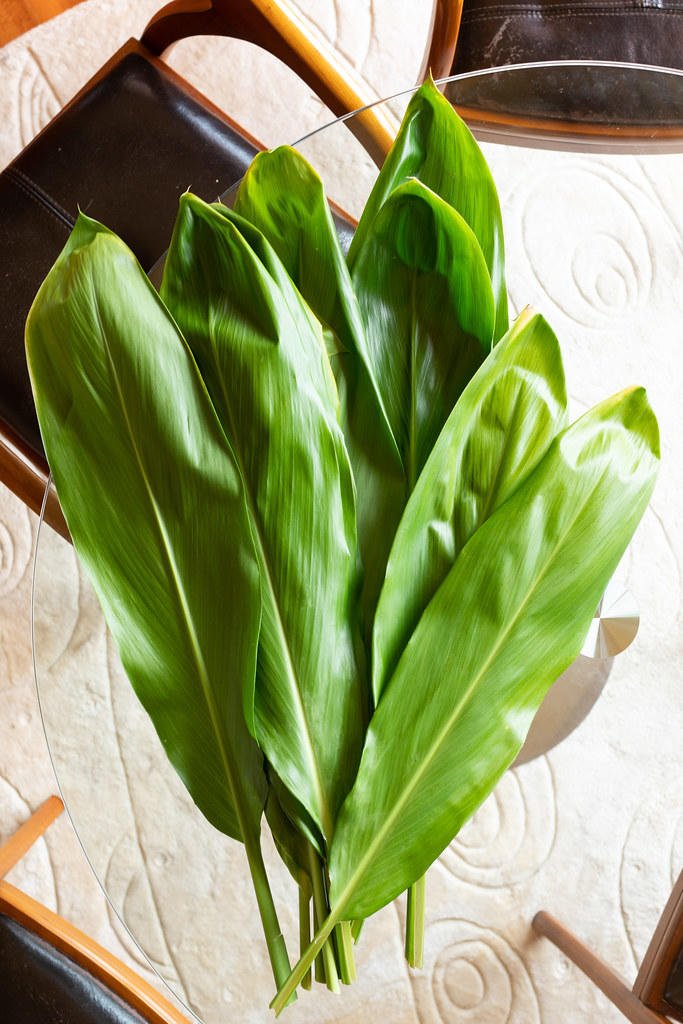 Fresh ti leaves.
Ti Leaf
The ti leaf comes from the ti plant (this plant is called ki in Hawaiian). The plant ranges from 3-8 feet tall. The leaves from the plant (which is the ti leaf) is the part that we use for cooking. These leaves are 3-5 inches wide and 1-2 feet long.
You don't really see ti leaves for sale at supermarkets, but everyone has a friend with a few ti leaf plants at home. Funny thing - my friend Steph gave us a dozen ti leaves which I brought to my parent's house to make lau lau. When I arrived my dad was like, where'd you get those leaves from? I was like, Steph gave them to us. Then he said, you do know that we have three giant ti plants in the backyard, yeah? Haha. So there you have it, ti leaf plants are sort of everywhere if you look carefully.
Ti leaves serves many purposes for food preparation, but you cannot eat the actual leaf.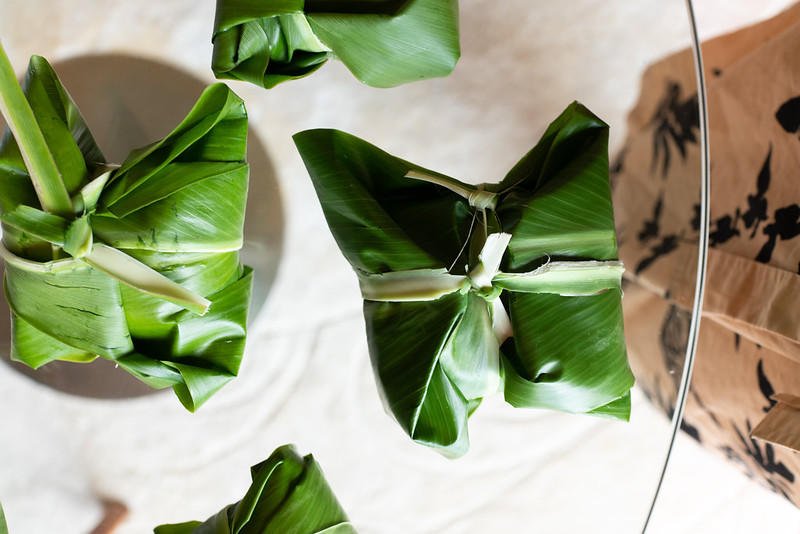 Wrapped lau lau bundles, ready for the steamer.
How Is Ti Leaf Used In Food
Ti leaf is a key ingredient for making lau lau. The leaf has a thick stem running through the middle (which needs to be removed for lau lau), and one shiny and one non-shiny side (you want it shiny-side down for wrapping lau lau). We'll go further into this when I update the lau lau post next week with a step-by-step recipe.
Ti leaf is used to cover the imu (underground oven) when preparing kalua pork. The ti leaves (along with banana leaves and burlap) serve as a barrier between the pig and the soil. The ti leaves also impart a distinct flavor that makes kalua pork taste very different than a pig cooked over fire.
Ti leaves are visually beautiful, and used to present food (like a platter/plate liner).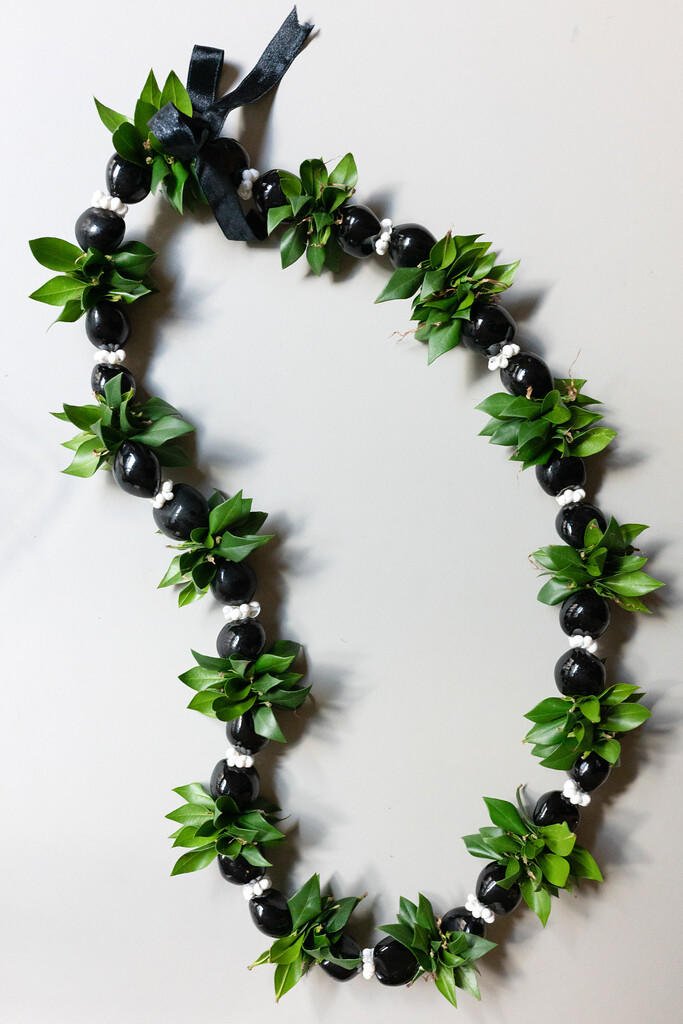 Ti leaf and kukui nut lei
Ti Leaf: Non-Food Use
Ti leaves also has many non-food uses. A few include:
Making leis! Ti leaf lei are super popular at graduation and birthday parties.
Ti leaf is used to sprinkle holy water for blessings.
Ti leaf is used to make hula skirts.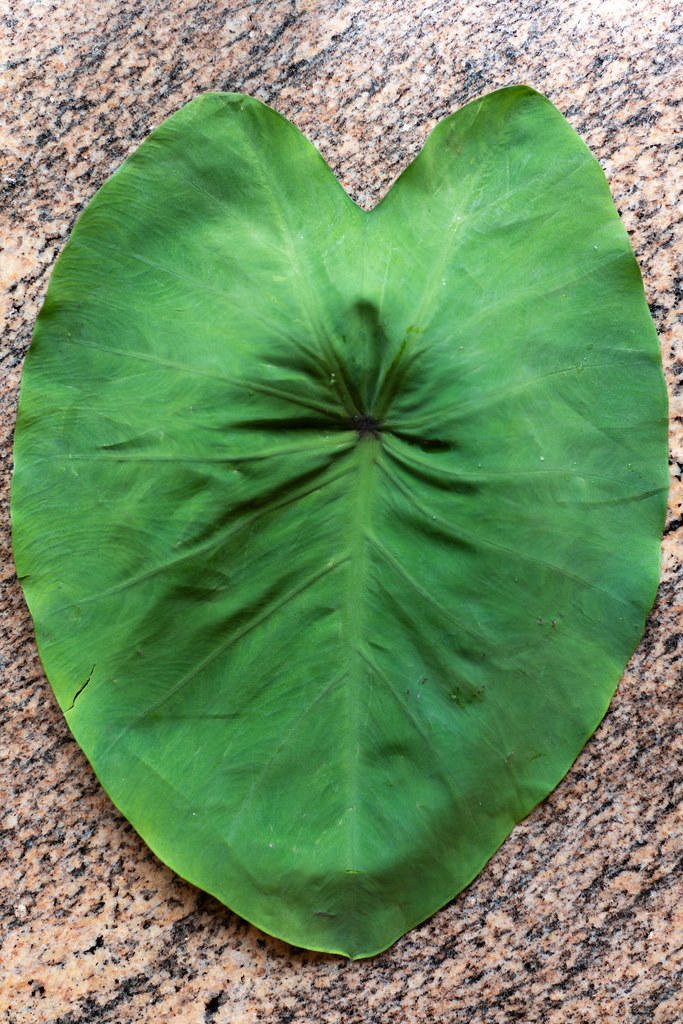 A single luau (taro) leaf.
Luau (Taro) Leaf
The luau leaf is the leaf that comes from the taro plant (taro is called kalo in Hawaiian). Taro plants are grown throughout Hawaii, but the best come from Kauai island.
Luau leaf is sometimes referred to as "taro leaf."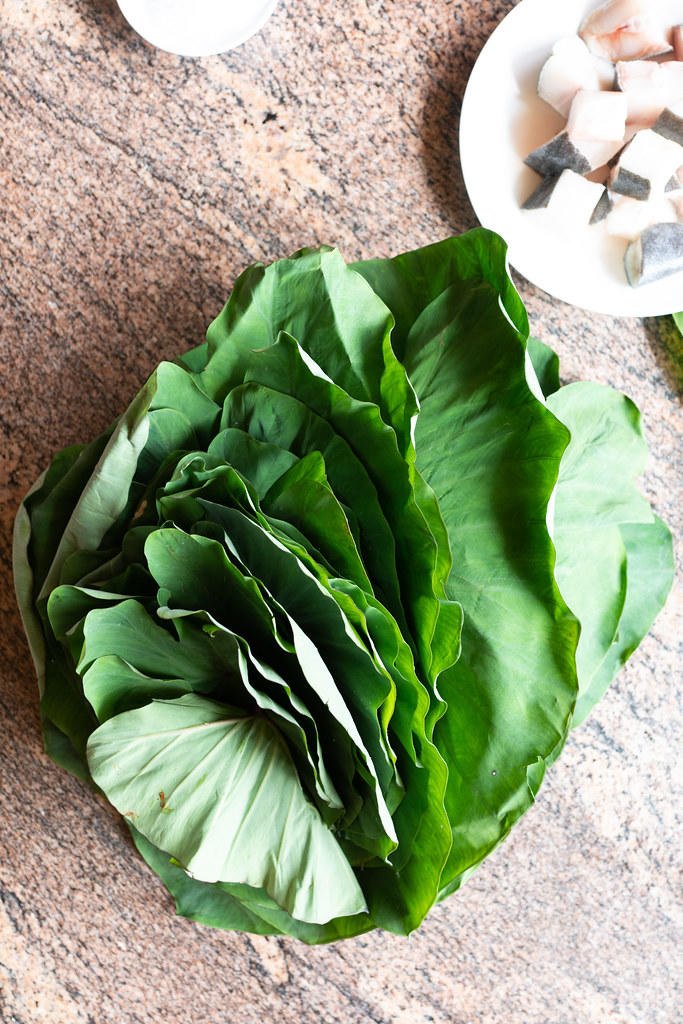 A bundle of luau (taro) leaves.
The leaves are pretty and heart-shaped and range from small 4x4 inch leaves to big 12x12 inch leaves. They have a thick stem running down the center and thinner veins running across horizontally.
Luau leaf is also good for you. It has vitamin A, B, C, along with iron and calcium.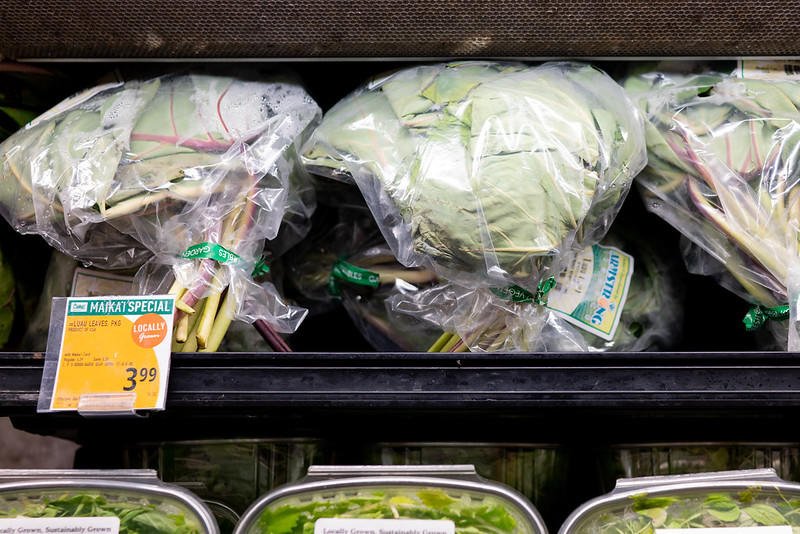 Luau (taro) leaves for sale at Foodland Ala Moana (Oahu)
The entire luau leaf (including the stem) is edible, but you must cook it before eating. Eating raw or partially cooked taro leaves will make your throat very itchy and uncomfortable. Make sure to fully cook the leaves (better to overcook than undercook luau leaves).
Some people wear gloves when preparing luau leaves because it makes their hands itchy.
Luau leaf can be purchased at many local supermarkets including Foodland and Safeway.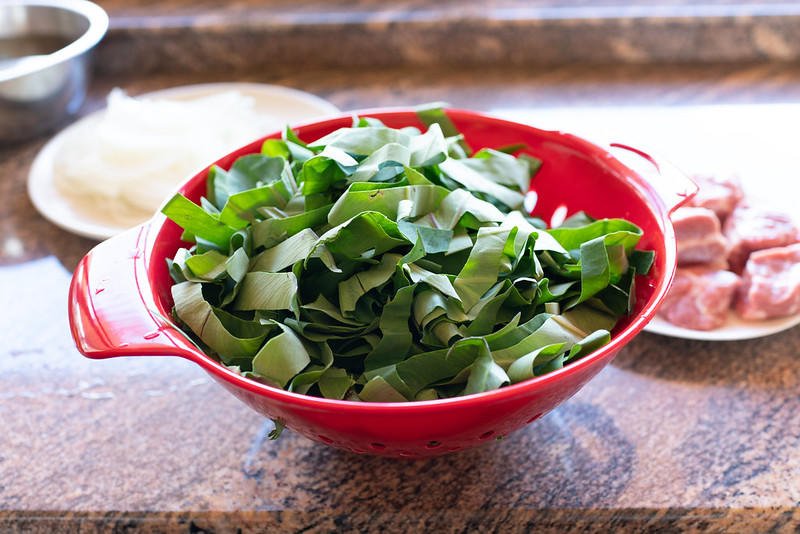 Chopped luau (taro) leaves to be used for making luau stew!
How Is Luau Leaf Used In Food
Luau leaf is super delicious, soaks up a ton of flavor, and is one of my favorite things to eat. It's used mainly in two essential Hawaiian dishes:
Luau leaf is the main ingredient in luau stew! Here you braise/slow cook for a long time over the stove (the same way you'd cook collard greens). I love cooking luau leaves with pork to make luau pork. You can also make a vegetarian luau stew, or even luau squid, luau chicken, luau beef, etc. Check here for the full luau post.
Luau leaf is a key ingredient for making lau lau. All the lau lau meat/starch/vegetables get wrapped together with the luau leaves. That bundle is then wrapped with the non-edible ti leaf and steamed for several hours. After it's cooked, you discard the ti leaf (which serves as a sort of protective wrapper for the bundle), and then eat the luau leaf with all the fillings inside. Here is the full lau lau post.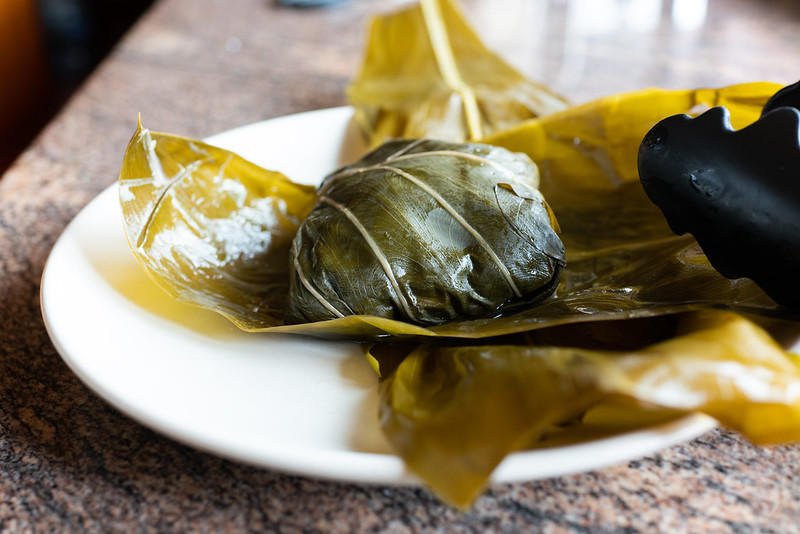 Lau lau post-steaming, ready to eat. Discard the ti leaves/outer layer, and eat the luau leaf bundle filled with all the meats, fish, and veggies!
I hope this helps clarify the difference between the two leaves. It gets confusing, especially in the case of lau lau where you use both luau leaves and ti leaves. Just remember that you can eat (cooked) luau leaves, but you can never ever eat ti leaves. I'll continue to update this post when we have more recipes that use either leaf ^_^