McDonald's Hawaii offers a special menu of items you can only find in Hawaii. There are breakfast platters loaded with Spam and Portuguese sausage, a dessert menu with hot haupia (coconut pudding) and taro pies, fried apple pies (only state where you can get the pies fried in the US!), and much more. Below are our favorites, ranked.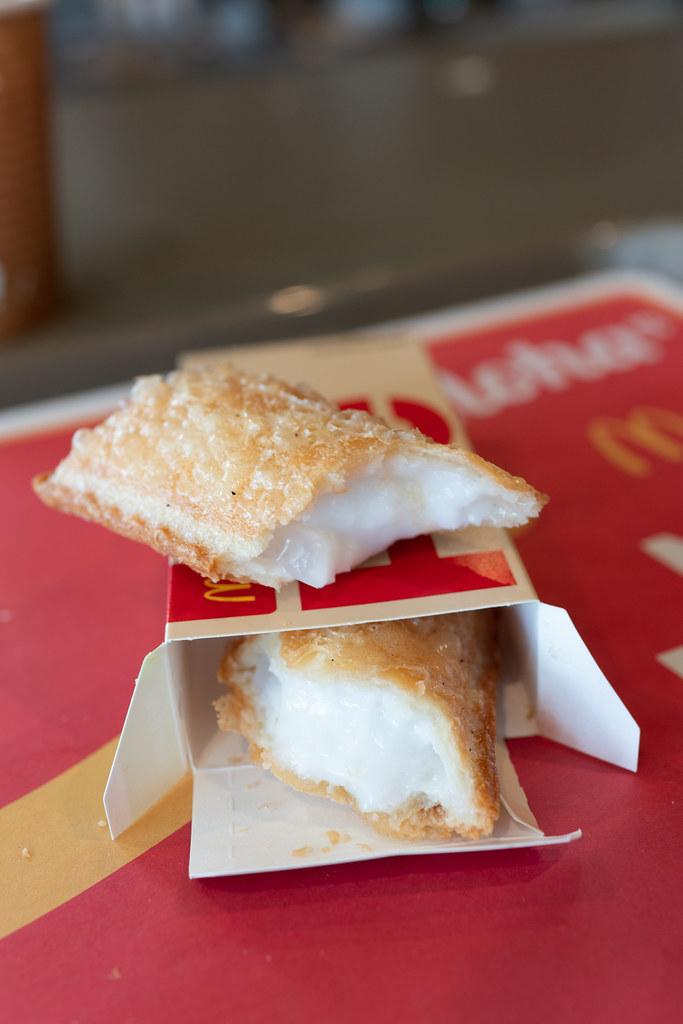 The only time I eat fast food is in Hawaii. Fast food places here are clean, service is friendly...and the Hawaii-only menu items are a treat. There are breakfast platters loaded with Spam and Portuguese sausage. The dessert menu offers haupia (coconut pudding) and taro pies. Bonus: did you know Hawaii is the only state where you can get McDonald's fried apple pies (not baked!) in the US?
Below, my favorite Hawaii-only McDonald's menu items, ranked.
1. Fried Haupia (and Taro) Pies
Haupia (sometimes called "coconut pudding") is a traditional Hawaiian coconut dessert that has a consistency halfway between pudding and jelly. At Mcdonald's Hawaii, they stuff haupia into the pie crust and deep fry the whole thing. It's really good, the haupia is all hot and molten, and that fried pie crust is familiar in all the right ways.
They also make Fried Taro Pies! But you'll never find both Fried Haupia Pies and Fried Taro Pies on the menu at the same time. It's always one or the other, and they keep rotating them back and forth....
2. Spam, Portuguese Sausage, Eggs, and Rice
My favorite savory thing to get at McDonald's Hawaii are the breakfast platters!! You can mix and match, pick only Spam or only Portuguese Sausage. Or you can have it all...which is what I prefer. This is my go-to combo breakfast platter. Lots of rice (most essential part!), scrambled eggs, two slices of Spam (which are pan-fried), and three slices of Portuguese Sausage (also pan-fried).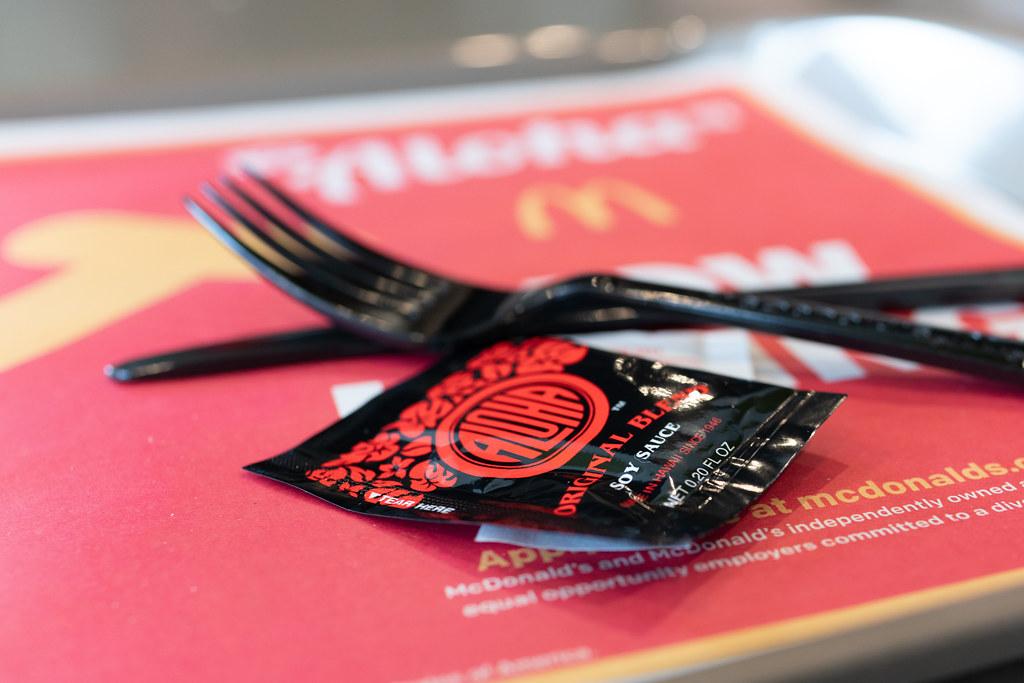 And don't neglect the Aloha brand shoyu (soy sauce) packets that come with the breakfast platter. You know how some people like to put ketchup on their eggs? In Hawaii we put shoyu. Just open the packet and drizzle it on top of your eggs and rice. The best is when you can get everything (a bit of rice, egg, spam/sausage) in one bite. FYI, breakfast is now served all day. 🙂
3. Fried Apple Pies
Remember when McDonald's discontinued fried apple pies and replaced them with baked apple pies? Everyone was so upset. In Hawaii we took action and brought back the fried apple pies (thank goodness). McDonald's Hawaii is the only place in the country where you can get those beloved fried apple pies.
4. Saimin (Noodle Soup)
Saimin is Hawaii's answer to ramen. I enjoy saimin more than ramen because it's lighter (and won't make you feel all tired and heavy after) but just as flavorful. Ramen soup is made out of a dashi-based broth, and the noodles are wheat noodles. There are many places to eat saimin in Hawaii (you can even find saimin at 7-11, but my go-to is Zippy's), and McDonald's offers a solid version that will do in a pinch.
They also cover all the essential saimin toppings: kamaboko (fish cake), char siu, sliced egg, and seaweed. Only thing missing is the green onion! #LuckyWeLiveHawaii indeed.
5. Hawaiian Iced Tea and Kona Coffee
Of course we didn't forget about the drinks. Only in Hawaii can you try McDonald's Kona coffee and Hawaiian Islands Passion Fruit Na Pali iced tea. Some McDonalds Hawaii locations also offer Fruit Punch...if you see it, make sure to try it.
Worth Noting
The Waikiki locations of McDonald's Hawaii occasionally has fresh cut pineapple on the menu.
Once in a big while, all the McDonald's Hawaii locations bring back the McTeri Deluxe (which is a big teriyaki burger) for a short period.
The special Hawaii menu items are listed alongside the regular menu item, so you have to look carefully to spot the Hawaii stuff ^_^