Haupia is a Hawaiian dessert that is often referred to as "coconut pudding." The key ingredient in Haupia is coconut milk and it's pronounced as: "how-p-ahh."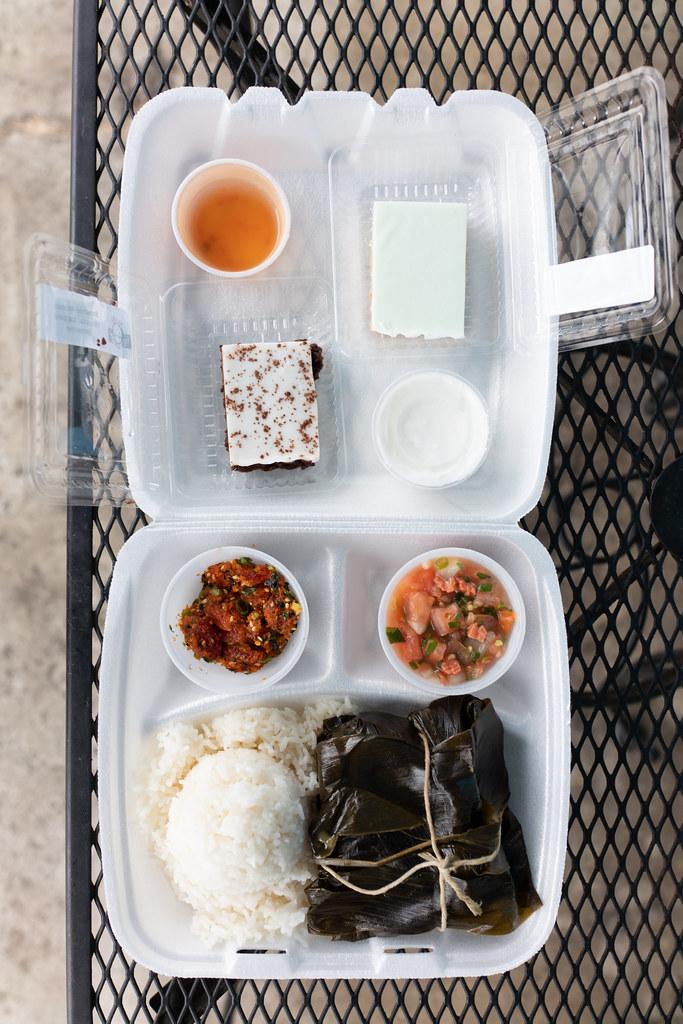 Hawaiian plate lunch at Yama's Fish Market (the cup of haupia is served in the lunch box)
The word haupia sounds mysterious and complicated…
…unless you're from Hawaii (or have visited!) Most people don't know what haupia is. But when you say "Hawaiian coconut pudding," then everyone is like ahhh, got it. For better or worse, haupia is often called Hawaiian coconut pudding. It's not really a straight up pudding though. It's more bouncy, firm. It's a cross between pudding and jello.
What is Haupia
Haupia is made out of four key ingredients: coconut milk, sugar, cornstarch, and water. The coconut milk is the base, sugar gives sweetness, cornstarch makes it thick, and water balances everything out.
Mix cornstarch and water first (more cornstarch makes a firmer haupia, and less cornstarch makes a more pudding-y haupia). In another pan you heat the coconut milk and sugar on the stove. Then slowly drizzle in the cornstarch-water blend, mixing while doing so. When it's all mixed and smooth, you pour it into a pan (think cake or brownie pan), and chill till firm.
Once cool, haupia is sliced into rectangles and served with your meal. Even though haupia is technically dessert and eaten at the end of a meal, haupia is often served WITH the meal, not AFTER the meal.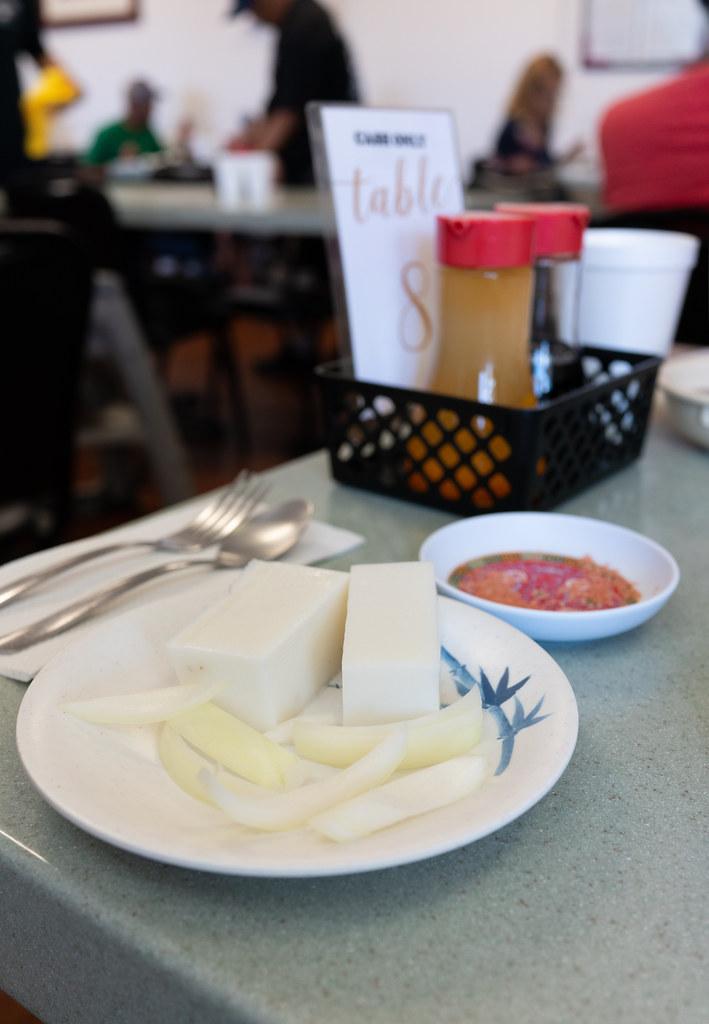 A great example of this is at Helena's Hawaiian Food (one of my favorite Hawaiian restaurants) You select the dishes you want to order and everything comes out at once on small plates. The haupia shares a plate with sliced Maui onions (which are meant to be dipped in Hawaiian sea salt and eaten with the meal), but you don't eat the haupia till after you finish all the savory food.
When you order takeout Hawaiian plates lunches, haupia comes in individual-sized plastic cups tucked in the plate lunch box. Because it's light and refreshing, I think of haupia as both a dessert and palate cleanser.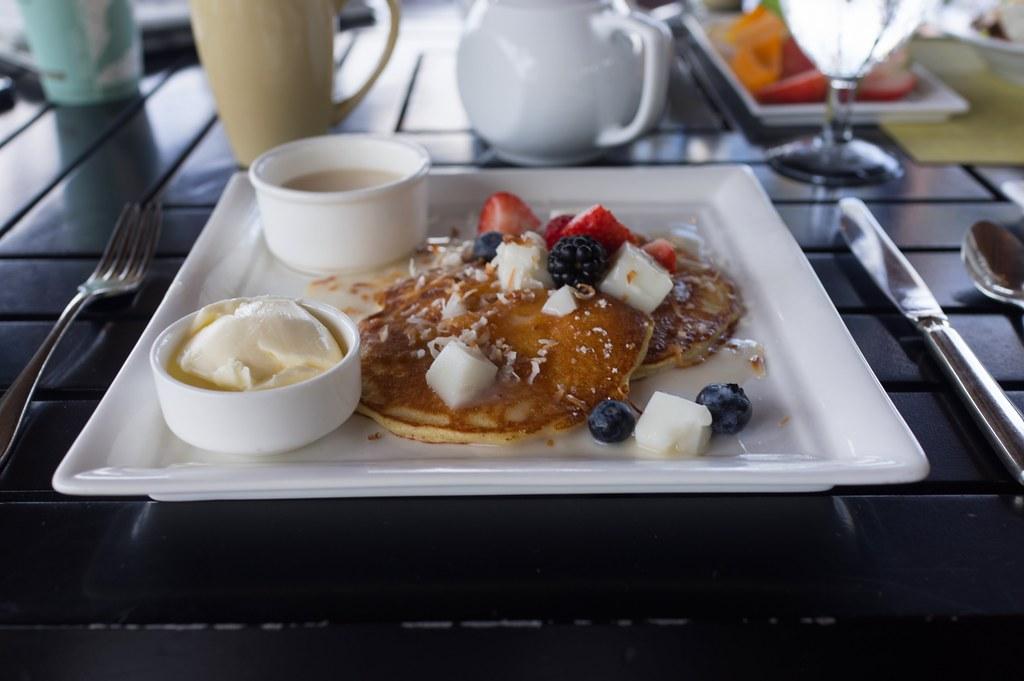 Tiny haupia cubes on pancakes at Four Seasons Resort Hualalai (on the Big Island)
Haupia in other desserts
We love haupia so much in Hawaii that we also incorporate it into many other desserts…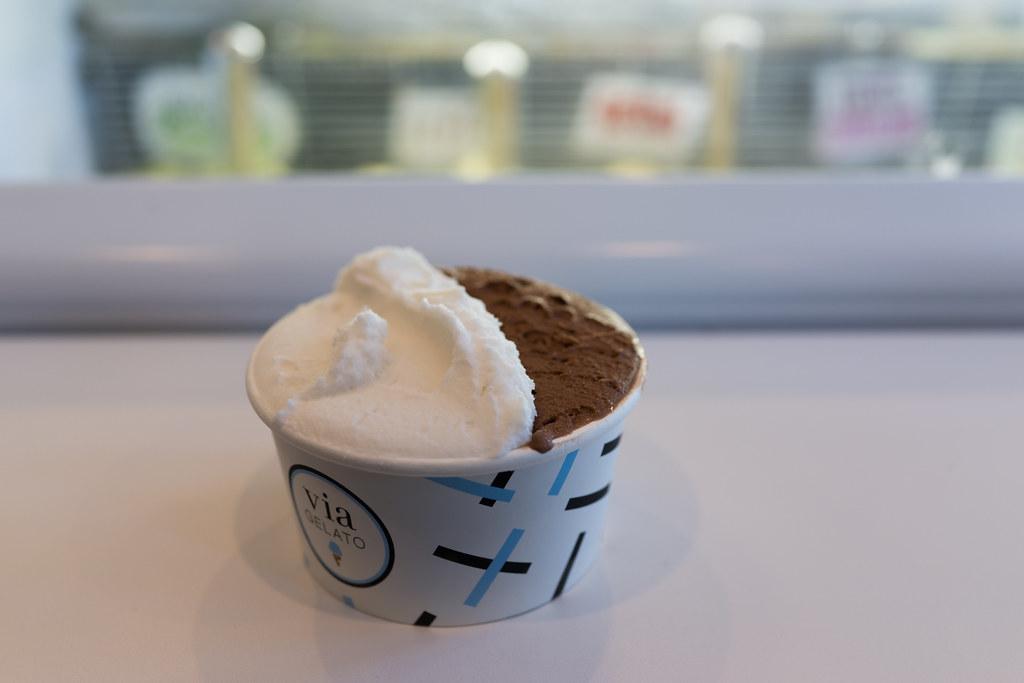 Haupia gelato (I love it paired with the Fierce Chocolate flavor!) from Via Gelato
…we have haupia-chocolate pies, haupia truffles, fried haupia pies at McDonald's Hawaii…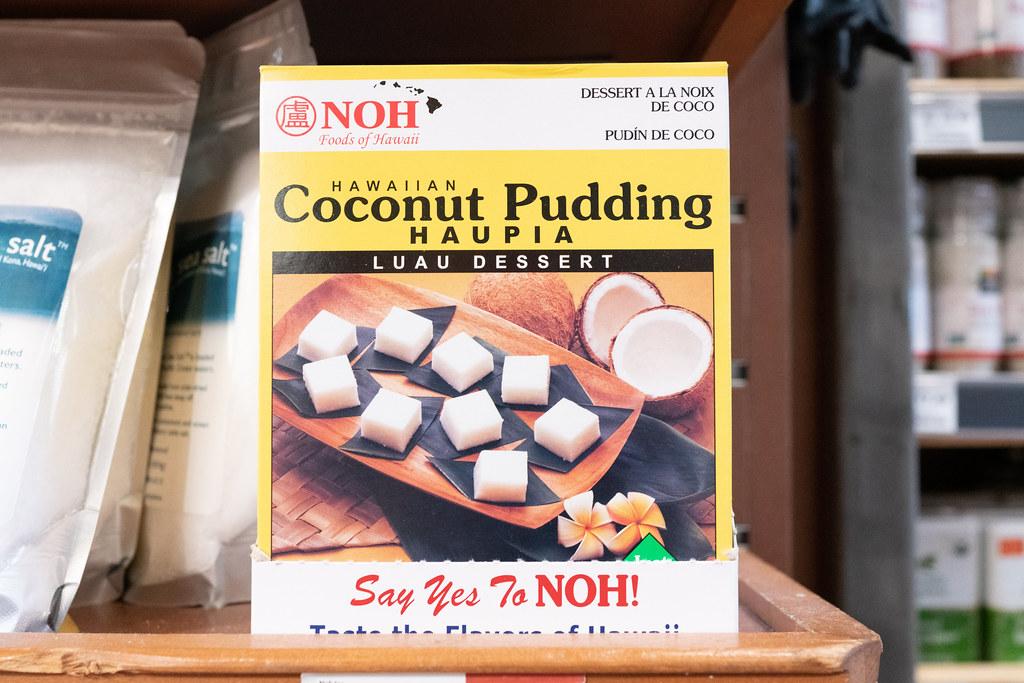 Noh's Haupia mix (found at Longs Drugs and Whole Foods Hawaii)
…layered haupia bars (think with pumpkin, chocolate, and key lime, etc), haupia cakes, haupia-stuffed malasadas…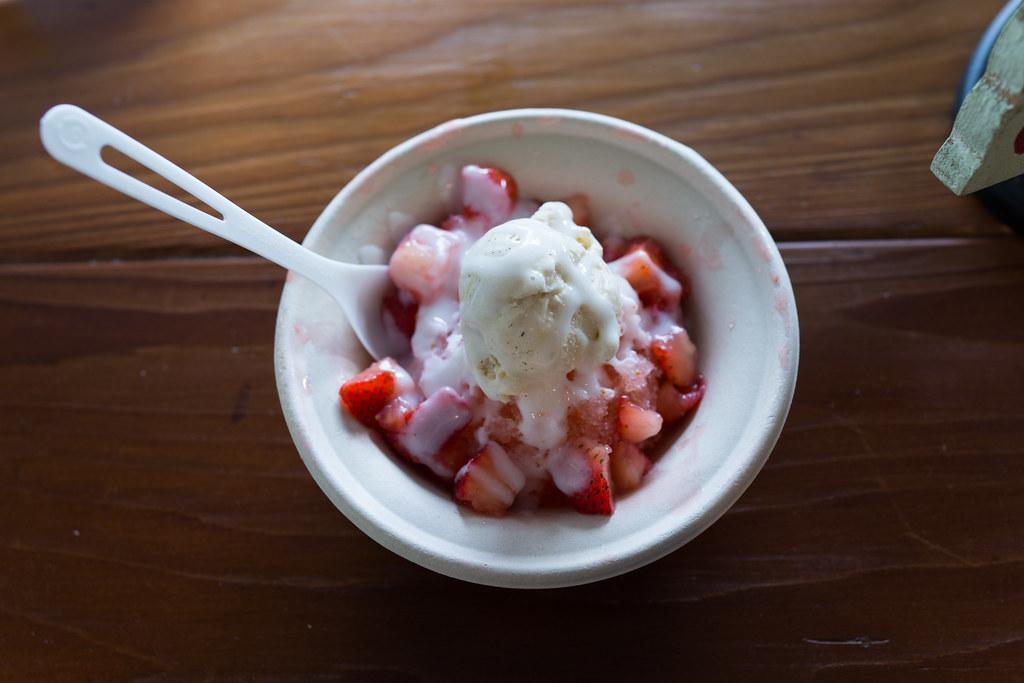 Haupia sauce on strawberry shave ice from Uncle Clay's House of Pure Aloha
…haupia in the form of gelato and ice cream, and haupia sauce on shave ice. Endless!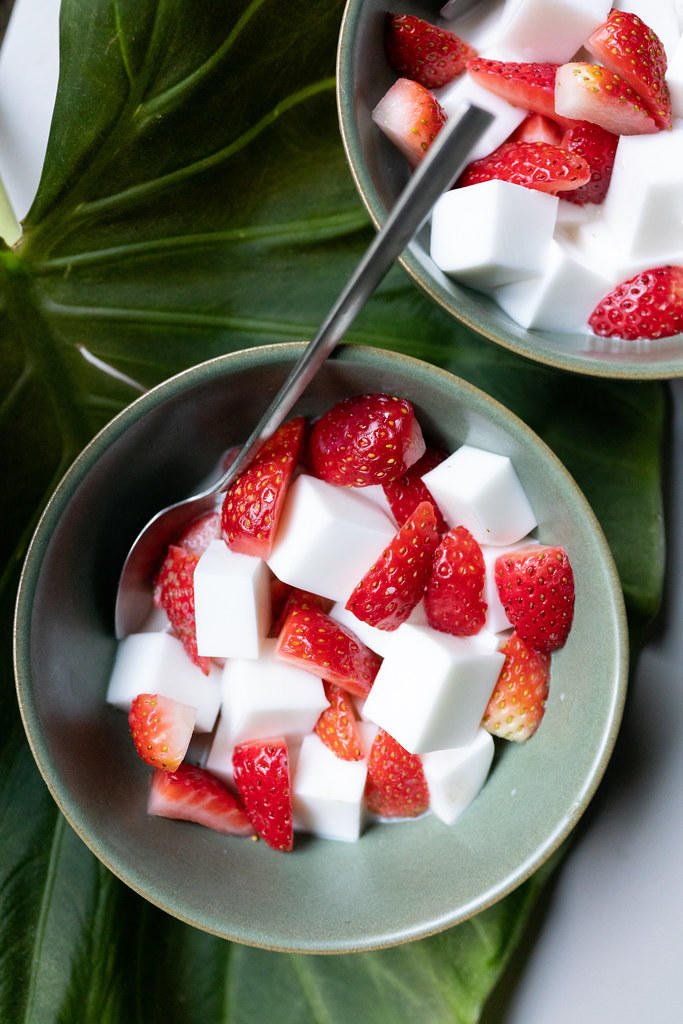 Strawberry-Haupia Agar Agar recipe
We even make haupia agar agar with fresh strawberries at home! This makes for a super refreshing afternoon snack.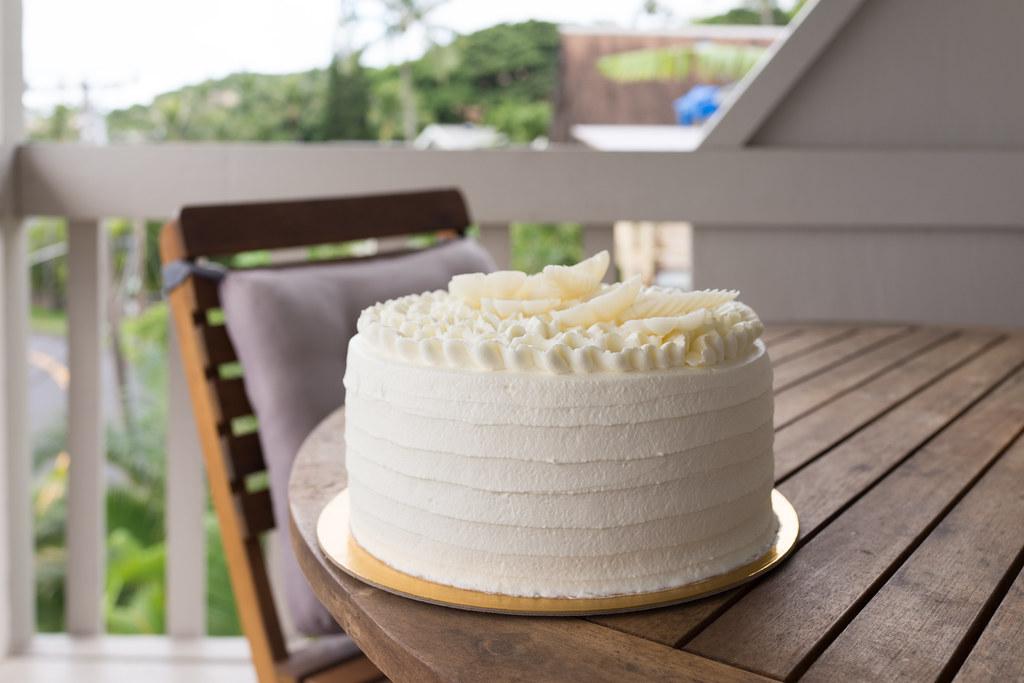 Haupia cake with layers of chiffon cake, haupia, and chocolate pudding (can special order from Cainan Sabey / @chefcainan)
How to pronounce Haupia
It's: "how-p-ahh."
(You should break down Hawaiian words into single syllable chunks.)
Funny story. Remember when the Paleo Diet was trendy? I had seen the word Paleo in writing but never needed to say the word out loud until one day at a friend's apartment. We were in NYC. I forget what we were chatting about but I said, it's just like the Paleo Diet. My friend (also originally from Hawaii) started laughing so hard. I was like, what? what's so funny? The friend said, "it's not a Hawaiian word! You called it, pah-lei-oh. It's pay-lee-oh!" Now I'm too embarrassed to ever say that word out loud again.
Haupia rolled into sponge cake, served during afternoon tea at Moana Surfrider
Where to find Haupia
You can find haupia in everywhere in Hawaii! It's a traditional Hawaiian dessert (see here for the difference between Hawaiian food and Hawaii food), but like everything in Hawaii, it get integrated into everything and everywhere else. Below are my favorite spots for a taste of haupia 🙂 .
Visit Helena's Hawaiian Food for classic haupia (which automatically comes free with your lunch/dinner order). The haupia is served on a small plate (they give once slice per person) that shares space with sliced sweet Maui onions. You dip the onions in Hawaiian sea salt (which is on a different plate) and eat that during your meal. After you finish eating all the savory dishes, then you eat the haupia for dessert.
Yama's Fish Market is my other favorite Hawaiian spot. It's takeout only, but they have two tables outside. I usually go early or late and have always been able to sit at one of the tables. Everything (especially the lau lau) at Yama's is great, but for the purpose of this post, head straight to the big refrigerators at the back of the shop. It's FILLED with haupia. And so many different kinds!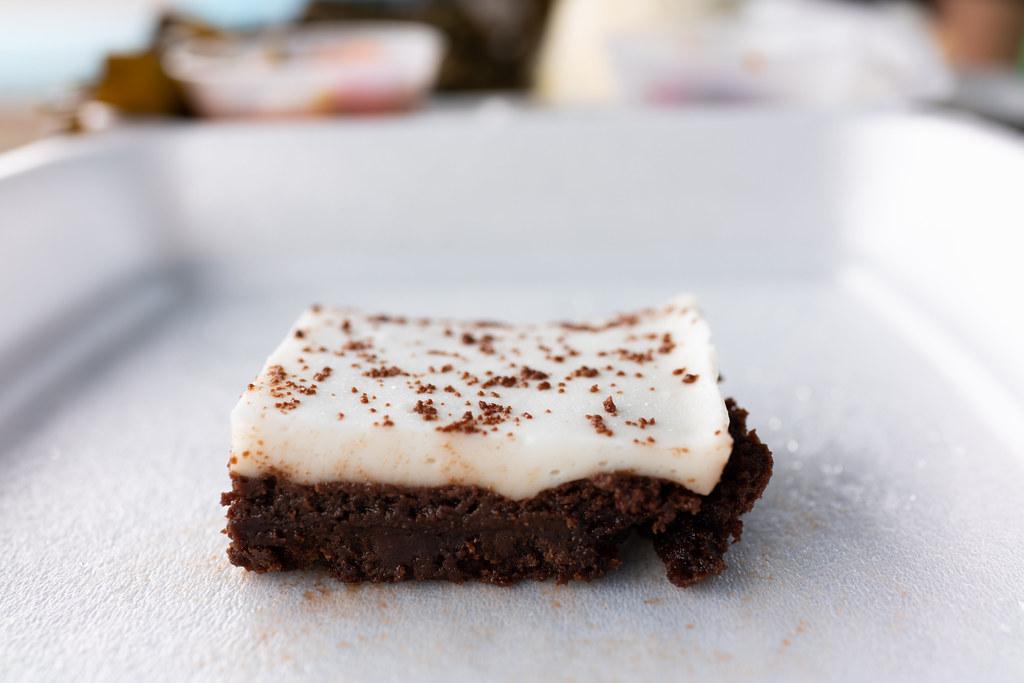 There's plain haupia, there's layered chocolate brownie + haupia squares, and also…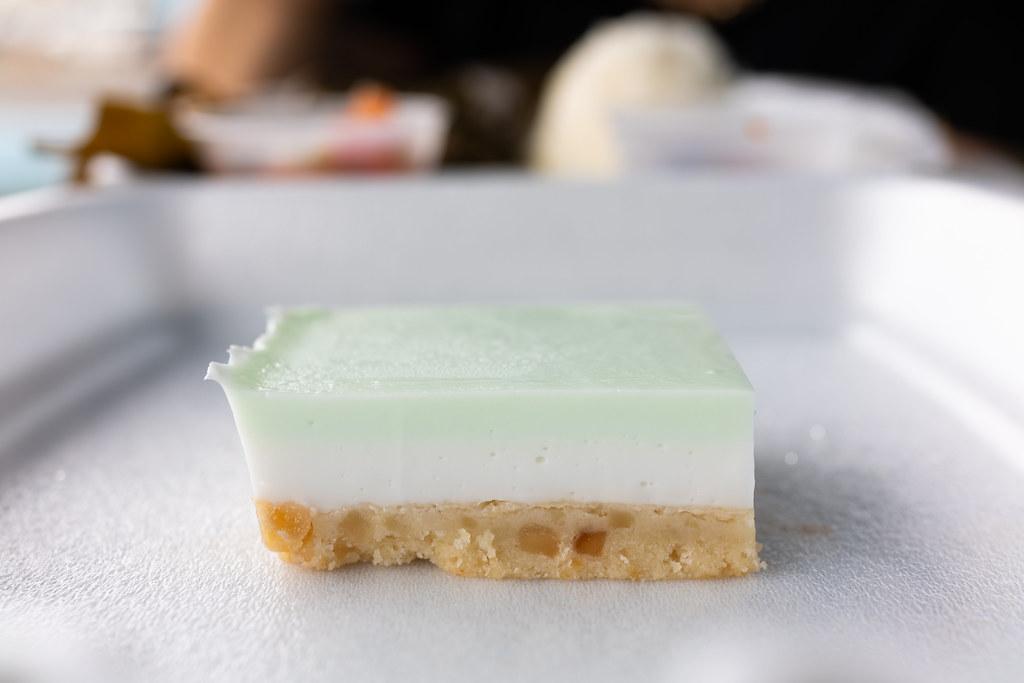 …lime + haupia squares (on a shortbread crust). Even strawberry jello + haupia squares! It's haupia heaven! You'll want to get a bunch of those…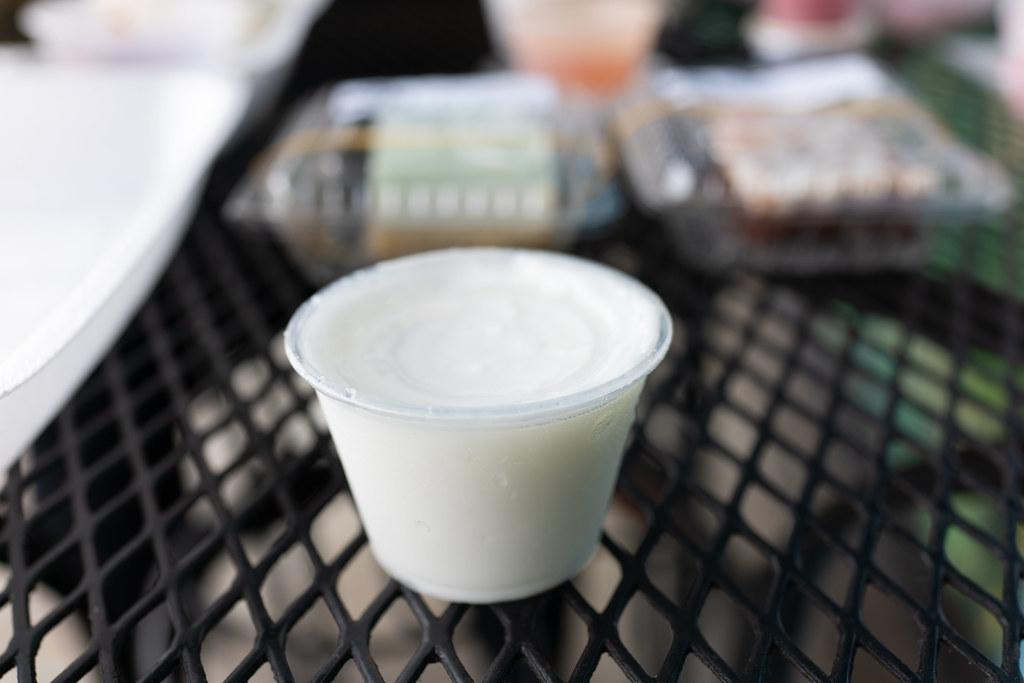 …along with a Hawaiian plate lunch. Plain haupia is included with the lunch. They pour the haupia in individual plastic cups and tuck it right into the lunch plate.
Ted's Bakery (Oahu)
Ted's Bakery is famous for amazing pies! We've been eating these pies for as long as I can remember and they always show up at potlucks and family gatherings. Ted Bakery's is best known for the chocolate-haupia pie…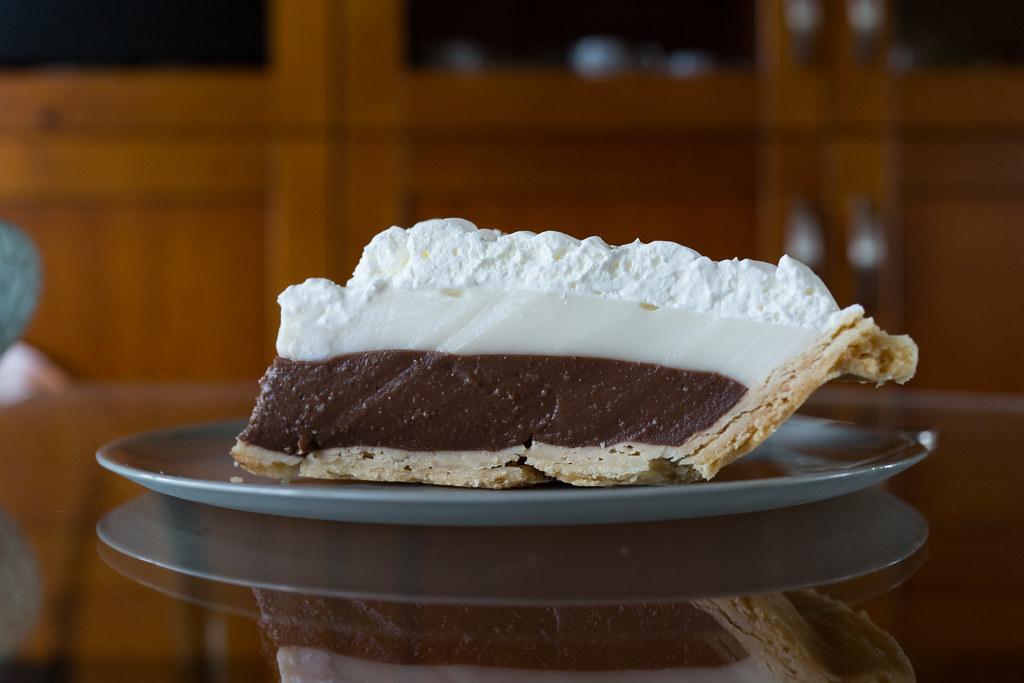 …which has a classic pie crust, a layer of chocolate pudding, and a layer of haupia. Whipped cream all over the top. It is VERY delicious. They also make a lot of other flavors including seasonal specials like…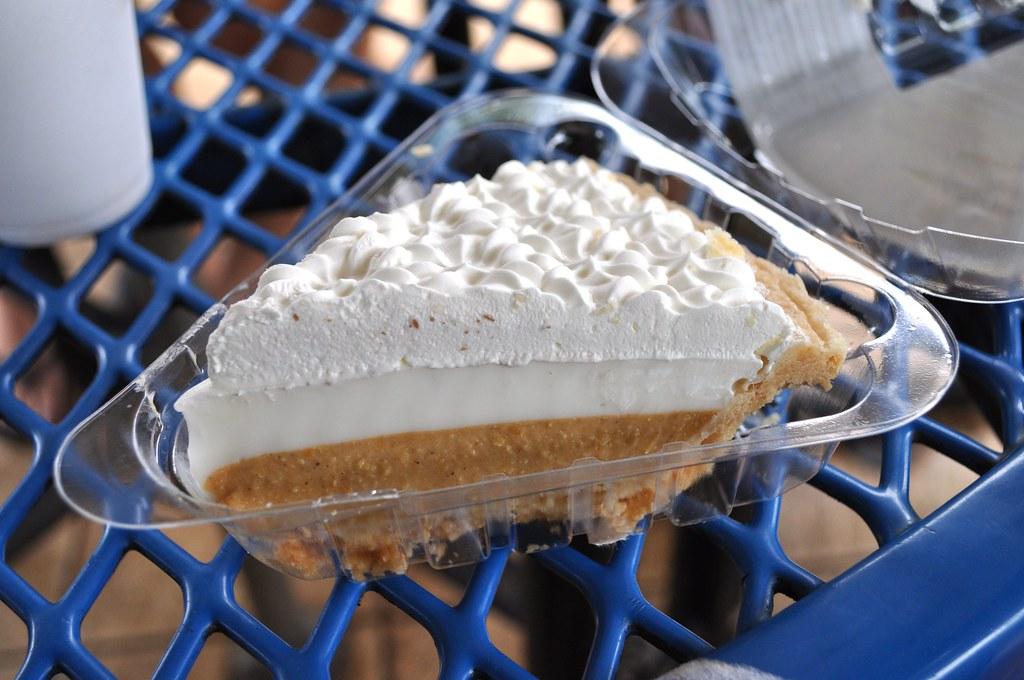 …pumpkin-haupia pie, and strawberry-haupia pie. And of course they have a plain haupia pie. But the chocolate-haupia pie is definitely the one you want. Ted's Bakery is located far out in Sunset Beach but luckily you can get their pies at many markets in Hawaii (I see them most at Foodland and Times Supermarket).
In the Malasadas in Hawaii post, I talk a lot about Lenoard's Bakery on Kapahulu. It's Hawaii's most famous malasada shop. In addition to making classic malasadas, they also make stuffed malasadas including one stuffed with haupia!
You have to be careful when you eat it because the haupia can ooze out everywhere (this is especially true if you eat it hot from the fryer, standing outside the shop, which is the recommended method). Bring napkins!
Happy Hearts Mochi is only available by special order (email them to order and coordinate pick-up), and their haupia-stuffed mochi is worth the extra effort. It comes in three flavors: plain haupia mochi (pictured above), chocolate-haupia mochi, and coffee-haupia mochi. You can take a look at the different haupia mochi options in this post.
I posted about special menu at McDonald's Hawaii the other week. My favorite thing on the menu there is the deep-fried haupia pie! It's like the apple pie but stuffed with haupia. The haupia turns all hot and molten once it hits the deep fryer, so, so good.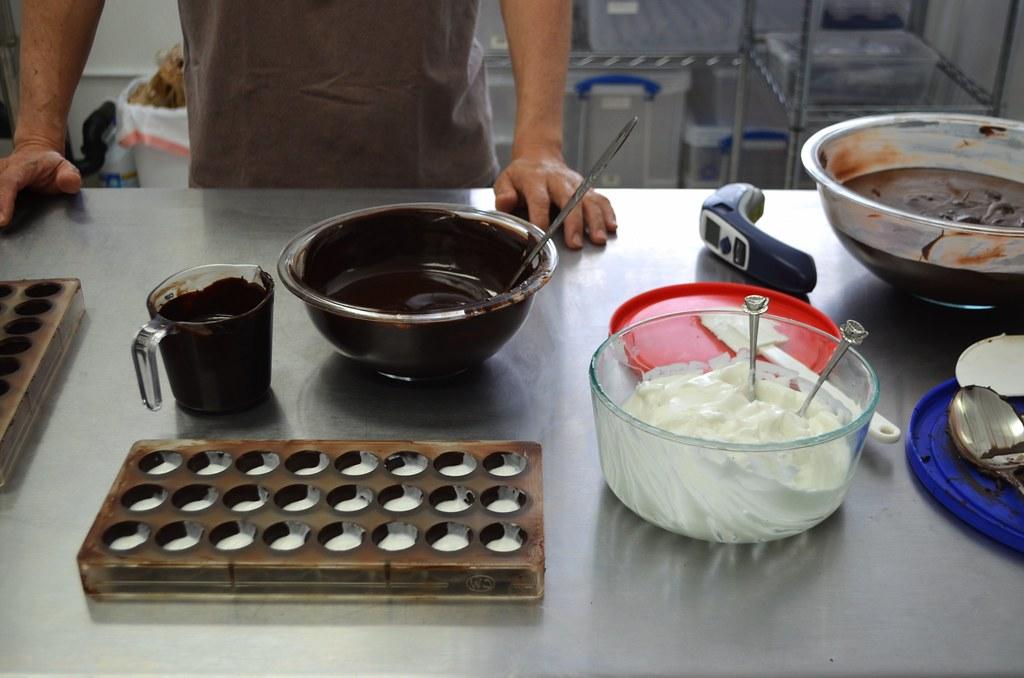 Making haupia truffles at Choco le'a
How to store Haupia
Always store haupia in the refrigerator, and eat it within 2-3 days (the fresher the better).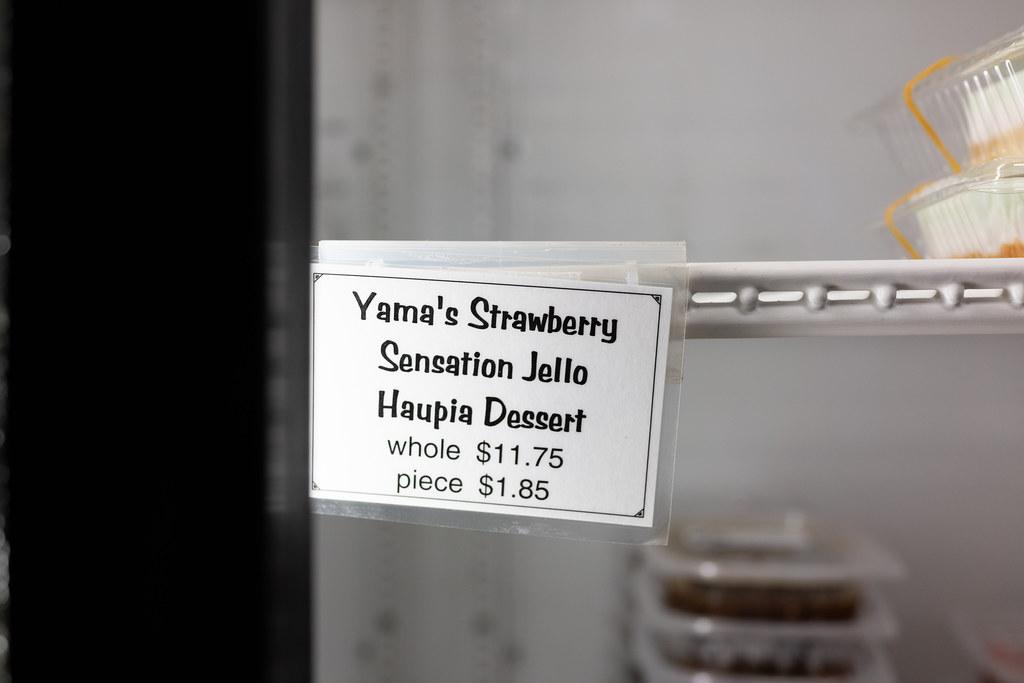 One of the many haupia dessert options from Yama's Fish Market
How do you eat Haupia
As long as you love it and it makes you happy, there's no real right or wrong way.
When it's served cut into rectangles (like at Helena's Hawaiian Food), I pick it up with my fingers and eat like that. When it's in the little plastic cups (like at Yama's Fish Market), I use a spoon because it's easier. Just enjoy ^_^