Yama's Fish Market is one of Hawaii's best Hawaiian food spots. It's loved by locals for housemade lau lau, ahi poke (many different options!), and the dreamiest haupia desserts.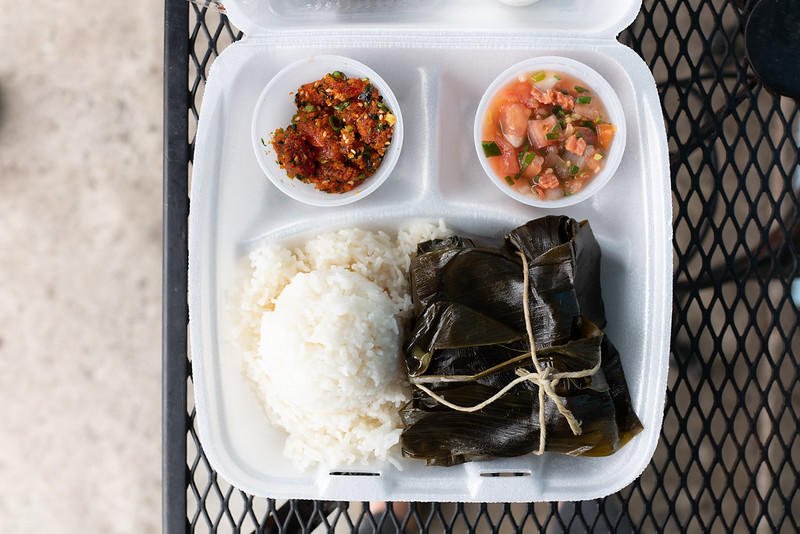 Hawaiian Plate #7 at Yama's Fish Market
There are two Oahu Hawaiian food spots I mention often on this blog:
Helena's Hawaiian Food (here's the whole post on Helena's) and...Yama's Fish Market!
They're both different and delicious (and conveniently located in Honolulu). On the ideal Hawaii trip, you would visit both spots multiple times. Here's the lowdown on Yama's Fish Market.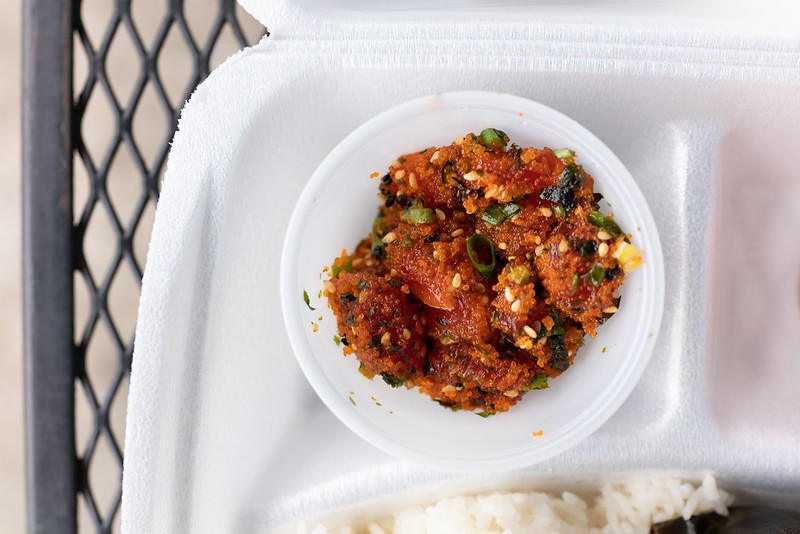 Ahi masago poke
What Is Yama's Fish Market?
Yama's is a super good Hawaiian food spot in Honolulu. Yama's is loved among locals and flies a bit under the radar with tourists. I often see a 50/50 mix of locals and tourists at Helena's, but it's mostly local people at Yama's.
Yama's Fish Market has been around since 1980! They specialize in Hawaiian food like kalua pig, lomi lomi salmon, lau lau, and haupia. Don't forget the poi and chili pepper water. You can even get fresh Big Island opihi here!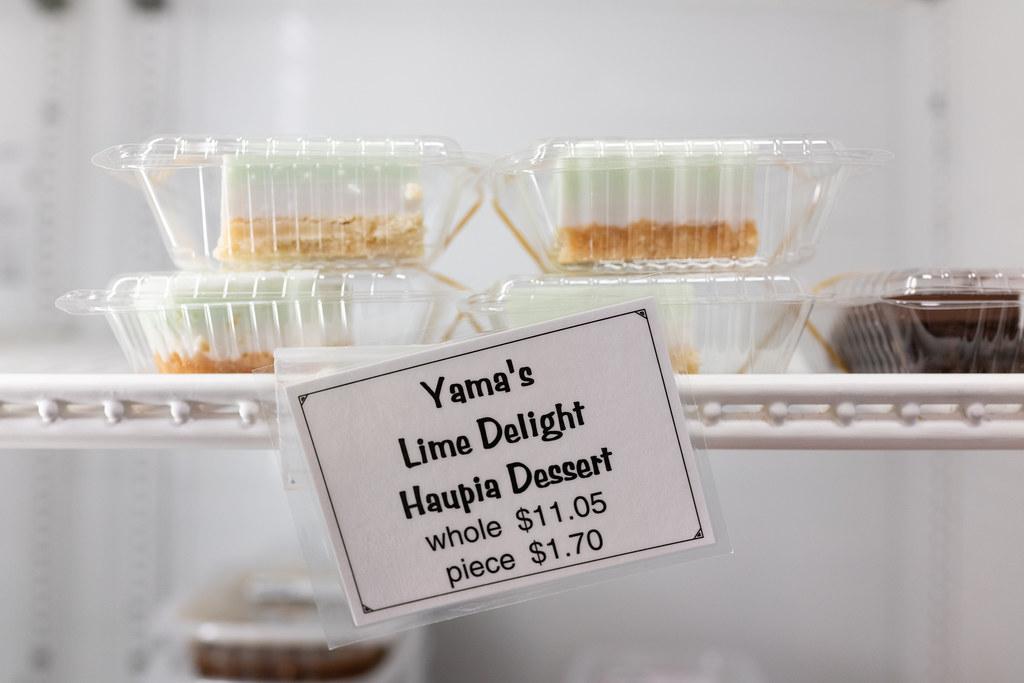 Lime-haupia squares on macadamia nut shortbread
Where Is Yama's Fish Market?
Yama's is located in Moiliili neighborhood of Honolulu, just a 15-minute drive from Waikiki. They have several parking spots right in front. You can get a spot easily assuming you don't go during prime lunch hours. If the lot is full, search for nearby street parking.
FYI, Yama's is near Waiola Shave Ice, so make sure to stop there before/after.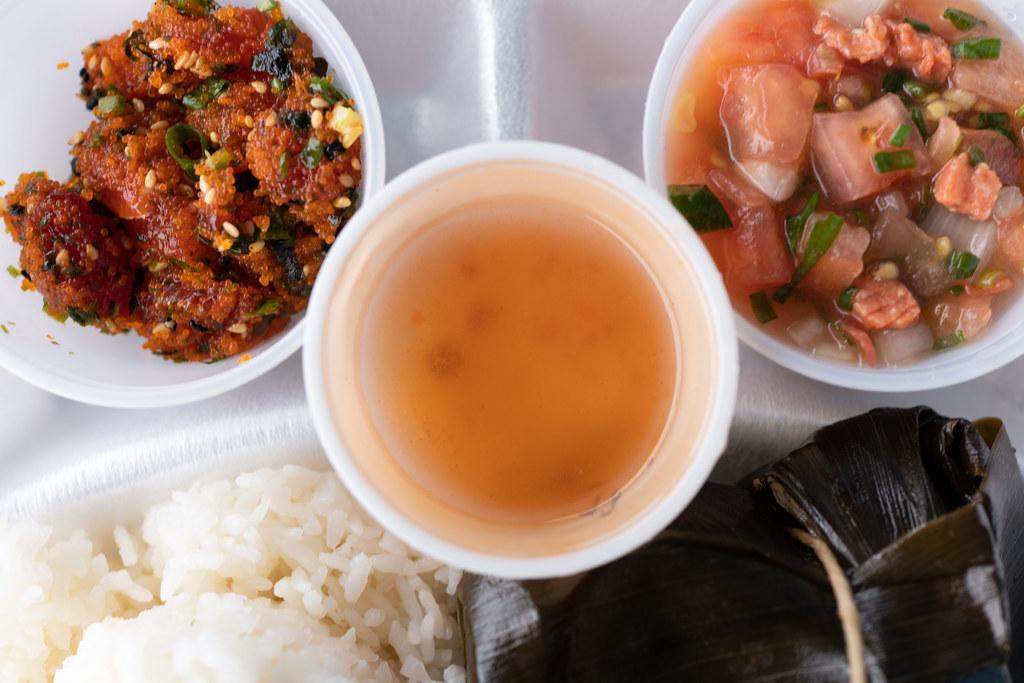 Chili pepper water!
Dine-In Or Takeout?
Yama's is takeout only. They have two small tables in front of the shop entrance (each table can seat two people). I visit during off-hours, so it's easy to get one of the tables and sit/eat there. But you should have a back-up plan for finding another spot to sit/eat. We've taken Yama's to the beach, to a friend's house, and once we even drove our Yama's lunch to Ala Moana Shopping Center and ate there 🙂 .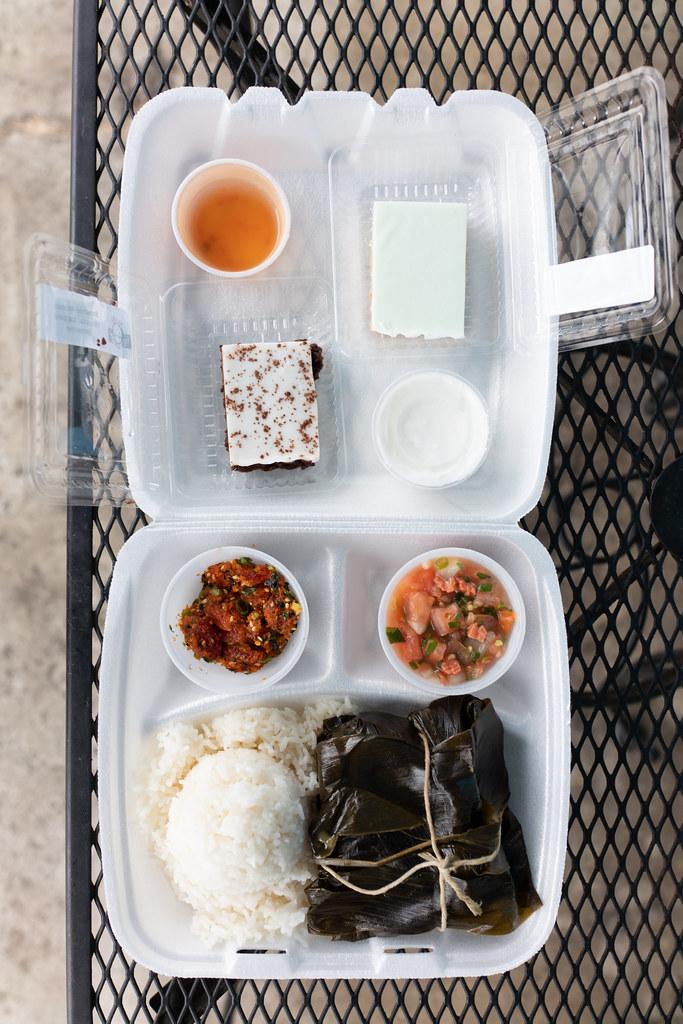 Hawaiian Plate #7 (add on chili pepper water and two types special haupia)
What To Get At Yama's Fish Market
There are a lot of different things to get at Yama's. Chances are you won't be able to try everything in one trip, so plan on a return trip!
Hawaiian Plate Lunch (Get #7, pictured above)
The Hawaiian Plate is the core of Yama's menu offerings. There have nine different Hawaiian Plate offerings. I usually order #7, and add a few extra pieces of specialty haupia (more below). Here is what comes in the #7 Plate:
Note: you can purchase all of the above items a la carte, but because I love everything at Yama's, I get a plate lunch so that I can have more variety.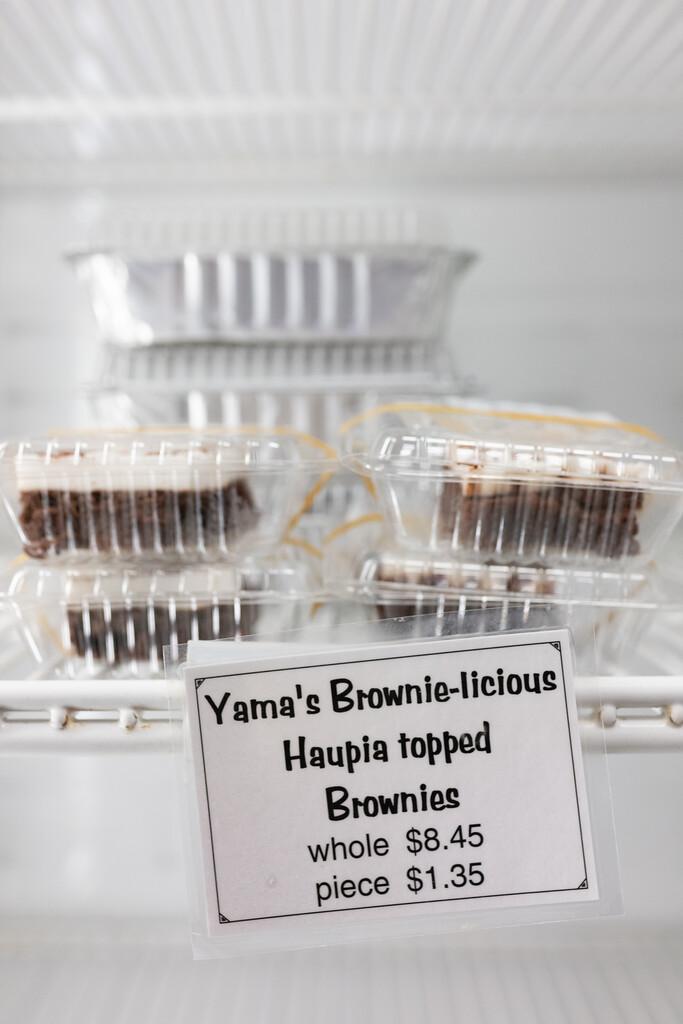 Haupia-topped brownie squares
Different Types of Haupia
Yama's has the largest variety of haupia on the island.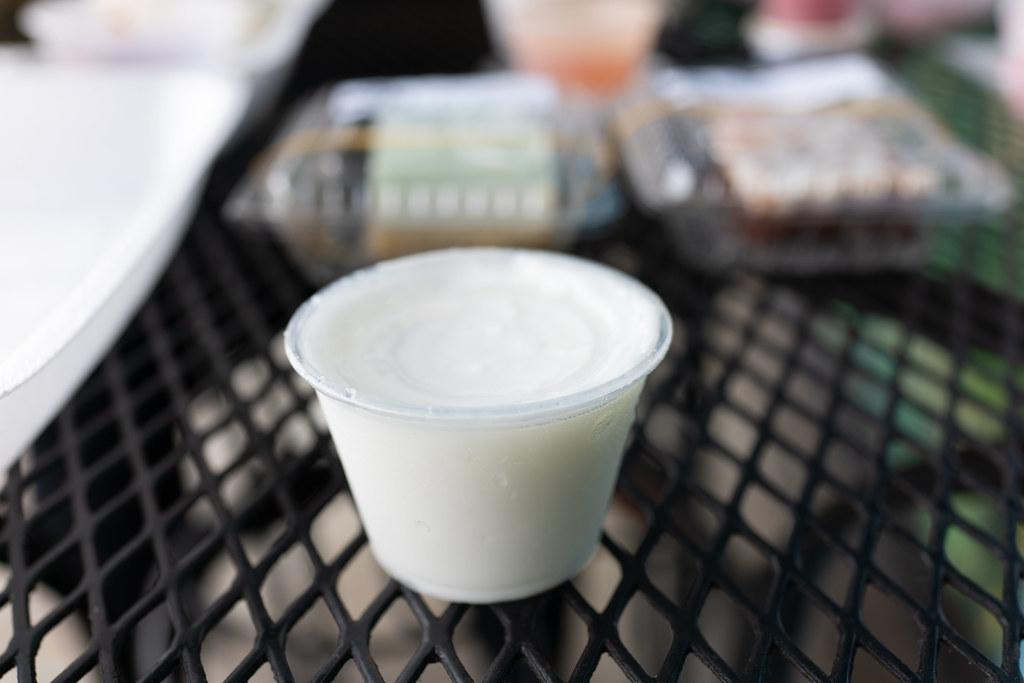 Plain/original haupia
A cup of plain haupia comes with the Hawaiian plate. But you also want to order all the different "special" haupia flavors.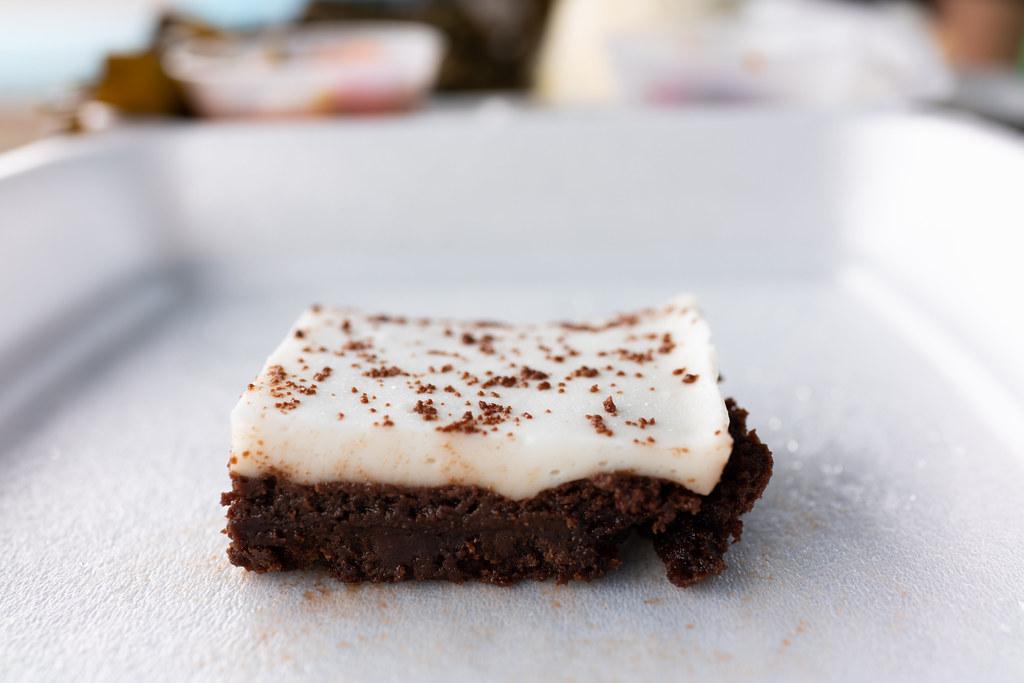 Haupia-topped brownie squares
Look in the refrigerator (located to the right of the cash register). You see all that? Haupia magic!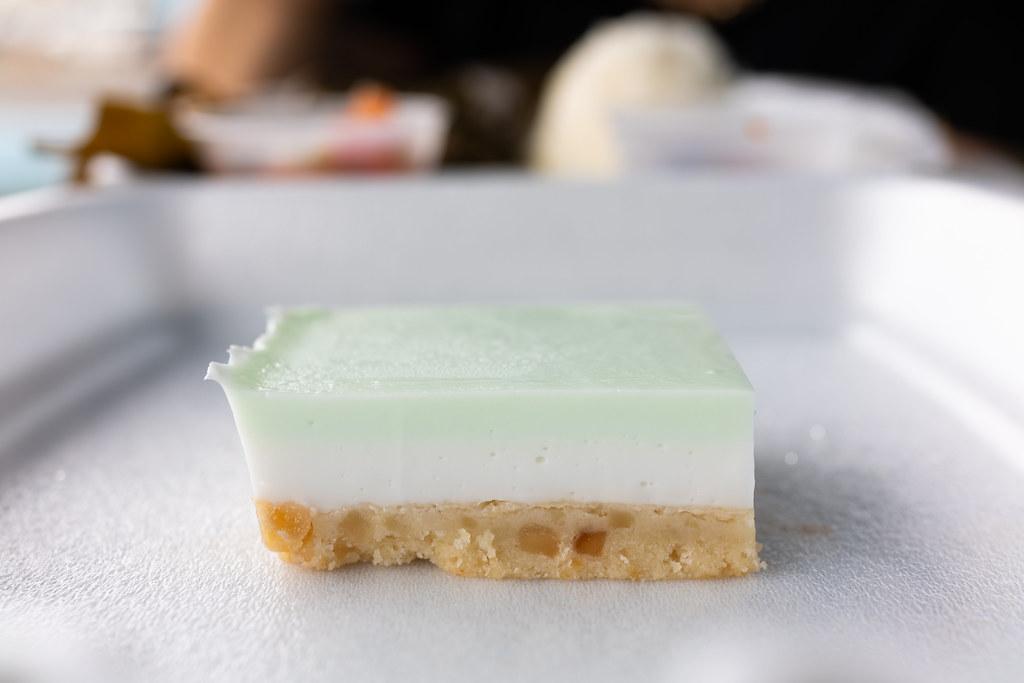 Lime-haupia squares on macadamia nut shortbread
These are the flavors:
Brownie square with haupia on top
Purple sweet potato haupia
Pumpkin haupia
Lime haupia on a macadamia nut shortbread
Chocolate haupia
Strawberry Jello haupia
It is impossible to pick a favorite, but the three I get most often (they are real crowd pleasers), are the brownie, sweet potato, and pumpkin haupia. You can buy these all by the small individual squares (less than $2 apiece!) or pre-order a larger serving (they come in big trays) for parties.
The main case filled with poke (and other treats!)
Other Savory Treasures In The Case
The long glass case that runs the length of the store is where all the fresh, savory, chilled dishes are stored.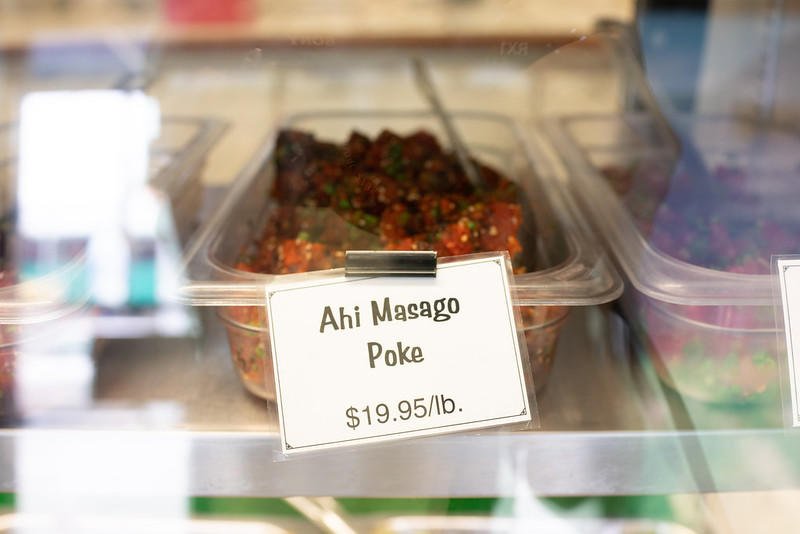 Ahi masago poke, sold by the pound
Here's what to look for: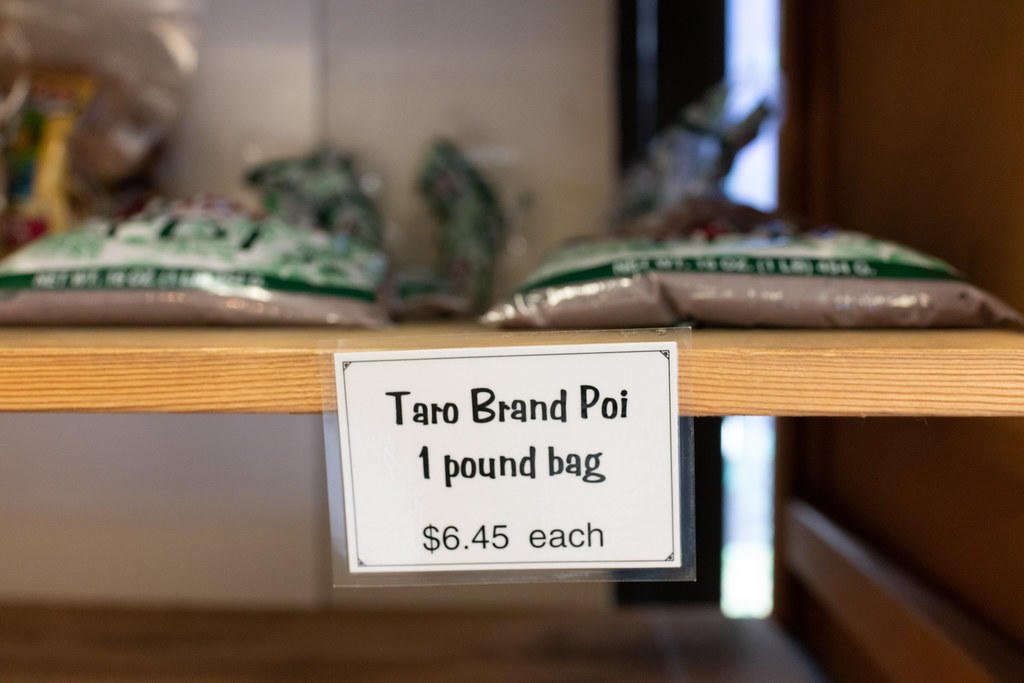 Fresh poi daily
Local Snacks
On the wall across from the cash register are large shelves that are jam packed with local snacks and goodies.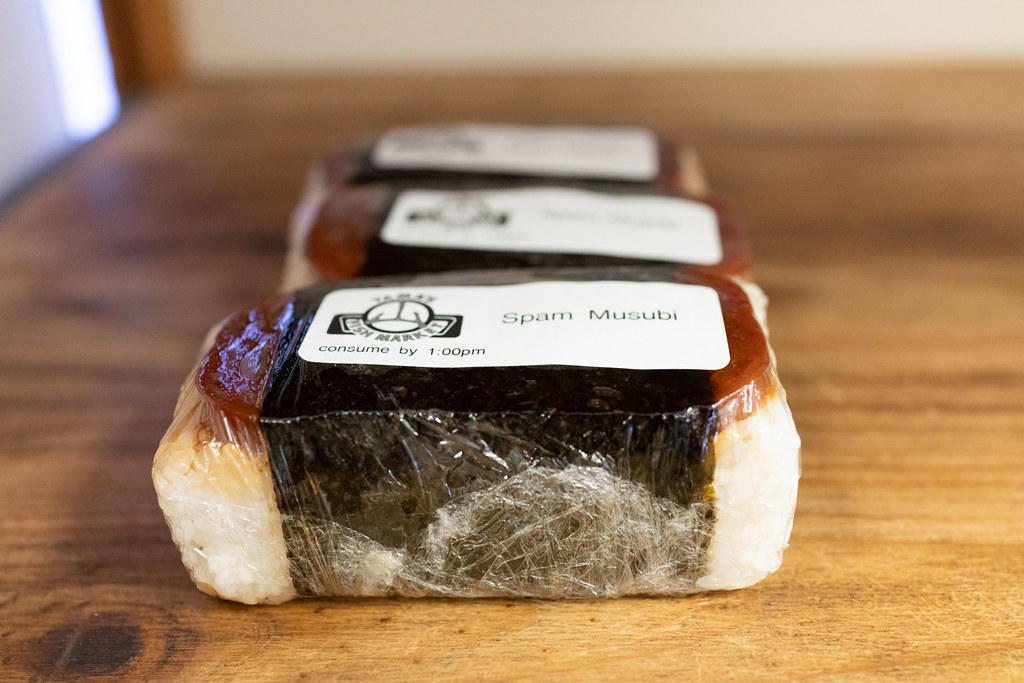 Housemade Spam musubi made daily
You'll find everything from homemade Spam musubi to fresh poi.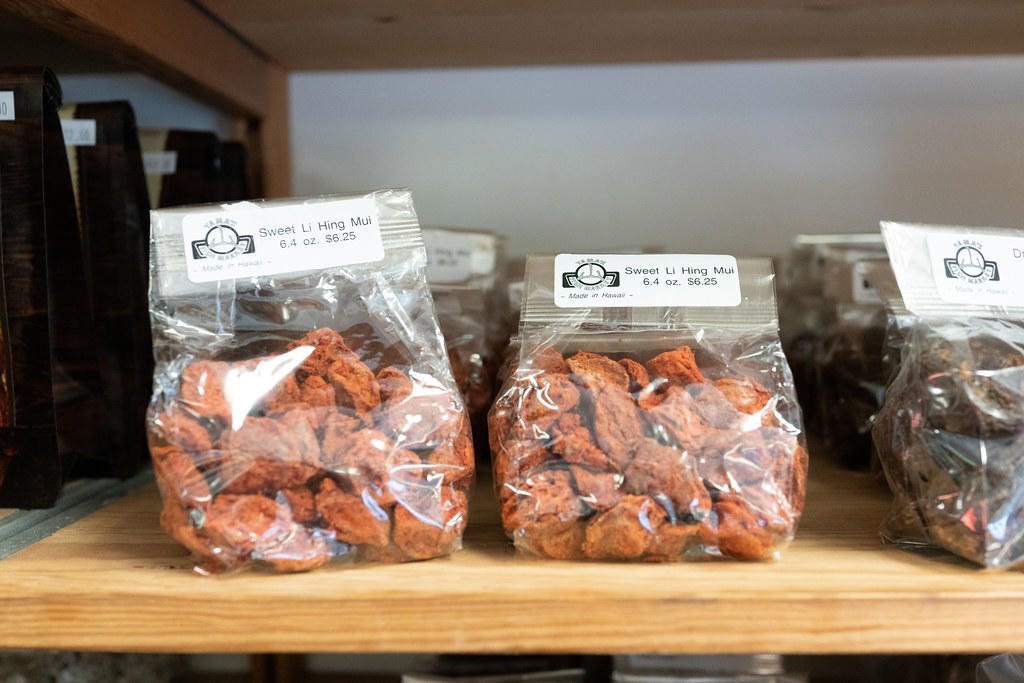 Li hing mui snacks
There are also several types of li hing mui snacks...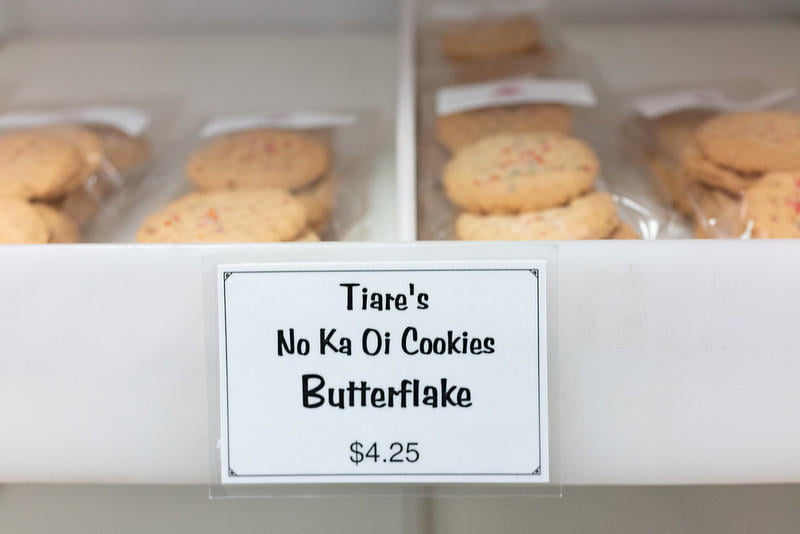 Local butterflake cookies!
...furikake chex mix, and local shortbread cookies.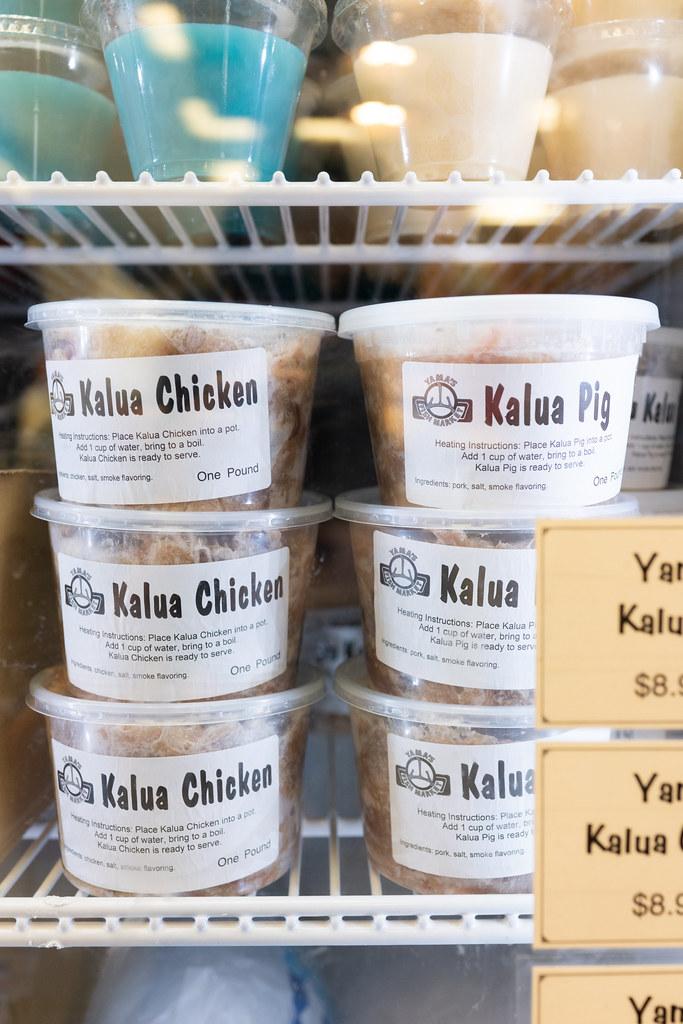 Housemade kalua pig
Frozen Items For Later
The freezer is located to the left of the refrigerator. Here you can find pre-packed containers of kalua pig and lau lau (pork and chicken, or chicken only). These are really great to keep in the freezer for emergency meals.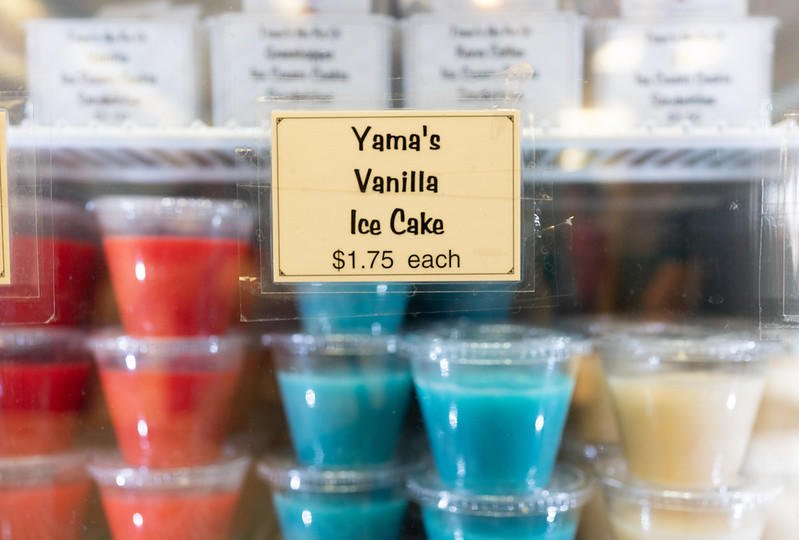 Yama's ice cakes
Yama's also makes their own ice cakes! So refreshing on hot days.
Yama's Fish Market exterior
Yama's Fish Market: Insider Tips
Come early or late, prime lunch hours are so busy (and hard to get parking). Also coming during odd hours increases your chances of scoring one the two tables to sit/eat onsite.
Yama's makes some of the best poke in town. You can come here just to get poke by the pound or a poke bowl
Yama's does a brisk catering business, they are so good for all birthday parties, dinner parties events, etc.
Yama's Fish Market: Info
Yama's Fish Market | 2332 Young St, Honolulu, Hawaii 96826 | 808-941-9994 | yamasfishmarket.com
Price: Plates lunches range from $9-15
Hours: Monday: 9am-5pm; Tuesday: Closed; Wednesday-Sunday: 9am-5pm