Chili Pepper Water is beloved Hawaiian condiment made from garlic, chilis, and vinegar. Think of it as a Hawaiian hot sauce. Here's where to get it and how to make it.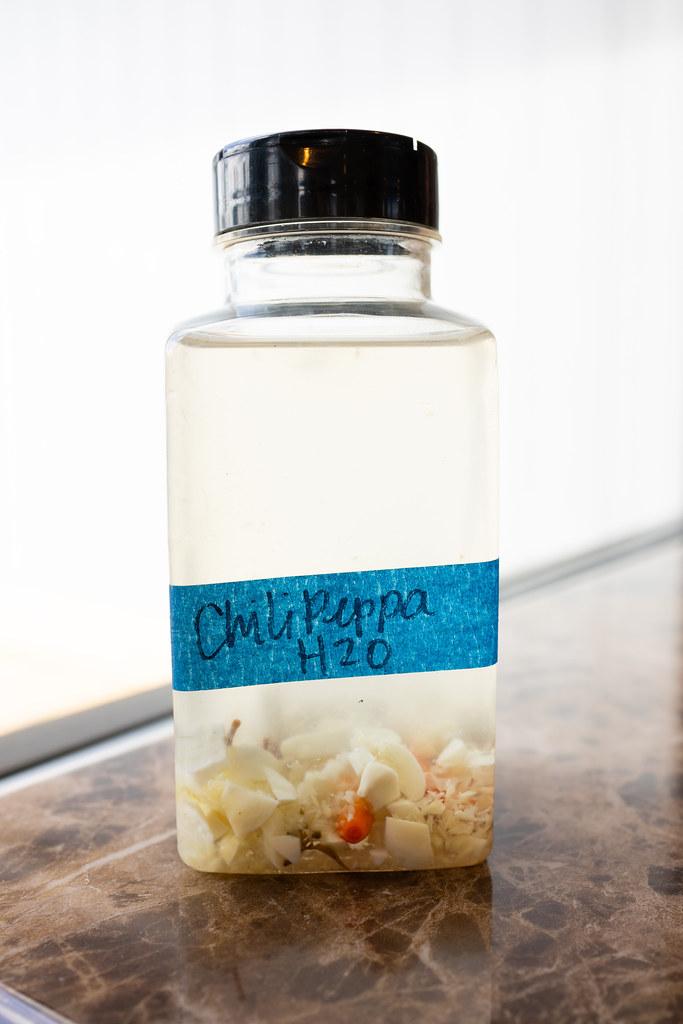 Bottle of housemade Chili Pepper Water on the table at Saimin Dojo in Kauai.
Chili Pepper Water! Also known as Hawaiian Chili Pepper Water or Chili Peppa Watah.
What is Chili Pepper Water?
Chili Pepper Water is Hawaii's default spicy condiment. We use it the same way you use hot sauce or shoyu (soy sauce)...in abundance and with joy.
Every household and restaurant has their own recipe for chili pepper water (like how everyone has their own go-to butter mochi recipe). There is no right or wrong way to make Chili Pepper Water, but there are many variations.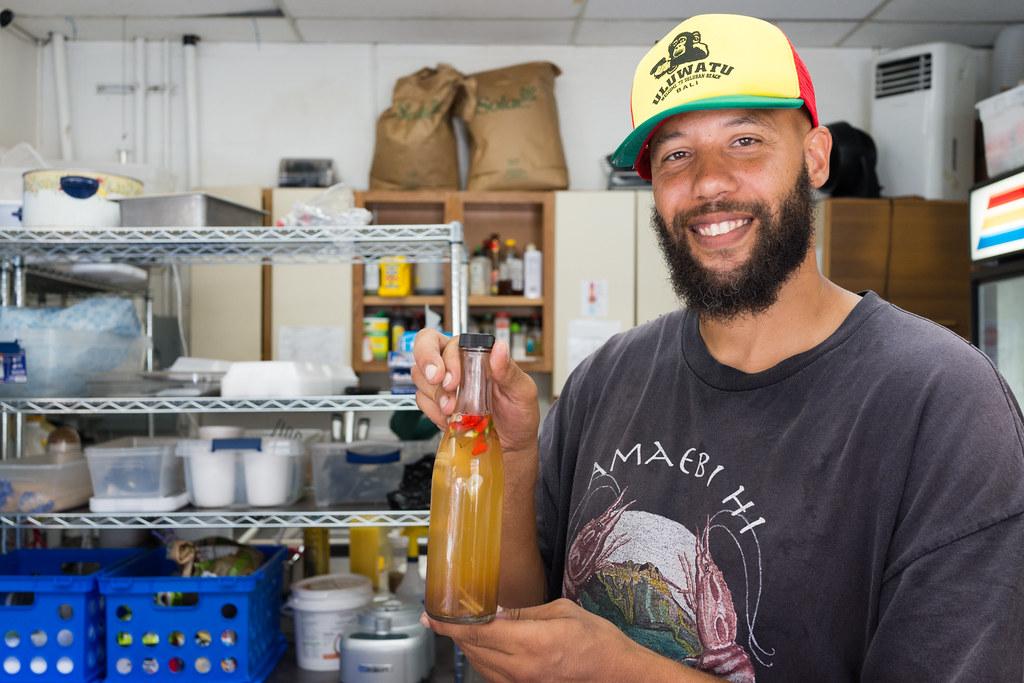 The basic Chili Pepper Water recipe features: garlic, Hawaiian chili peppers, Hawaiian salt, white vinegar and water.
You just mash the garlic, chili peppers and salt till it's all incorporated. Put it into a glass jar. Boil white vinegar and water together, and then let cool. Pour the vinegar-water mixture into the glass jar. Seal and give it a good shake. Store in the refrigerator.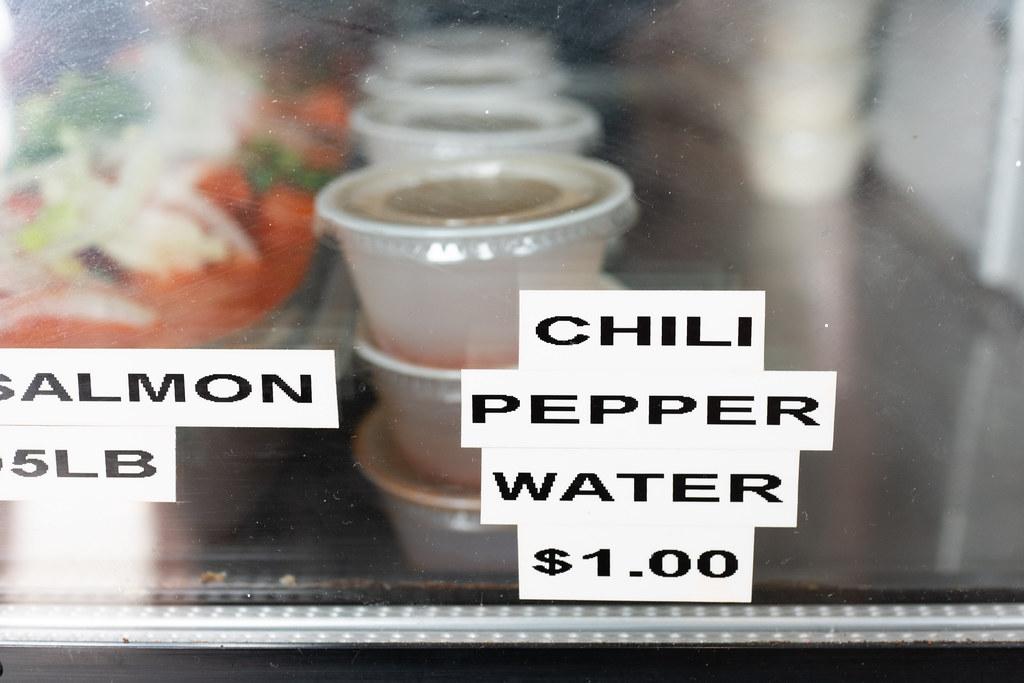 Chili Pepper Water has a very thin consistency. I love the vinegary tang and how you can make it super garlicky.
How to use Chili Pepper Water?
Splash on anything! If you have a plate lunch with rice/chicken katsu/macaroni salad, you can splash the Chili Pepper Water on all three parts. I definitely do that. It's also SO GOOD on lau lau or drizzled into a hot bowl of saimin. I can't think of any savory food that Chili Pepper Water wouldn't be good on.
Now the most important part...
Where to get Chili Pepper Water?
Order Online
If you're not in Hawaii (and don't want to make your own), you can easily order Chili Pepper Water online. I recommend ordering from Maui-based Adoboloco (they make a bunch of great spicy products) and Kauai Juice Co.
Local Supermarkets
You can find pre-made bottles in pretty much all supermarkets in Hawaii. The above photo was taken at the Beretania location of Times Supermarket. You see those red bottles on the bottom middle-right side of the photo? Thats all Chili Pepper Water...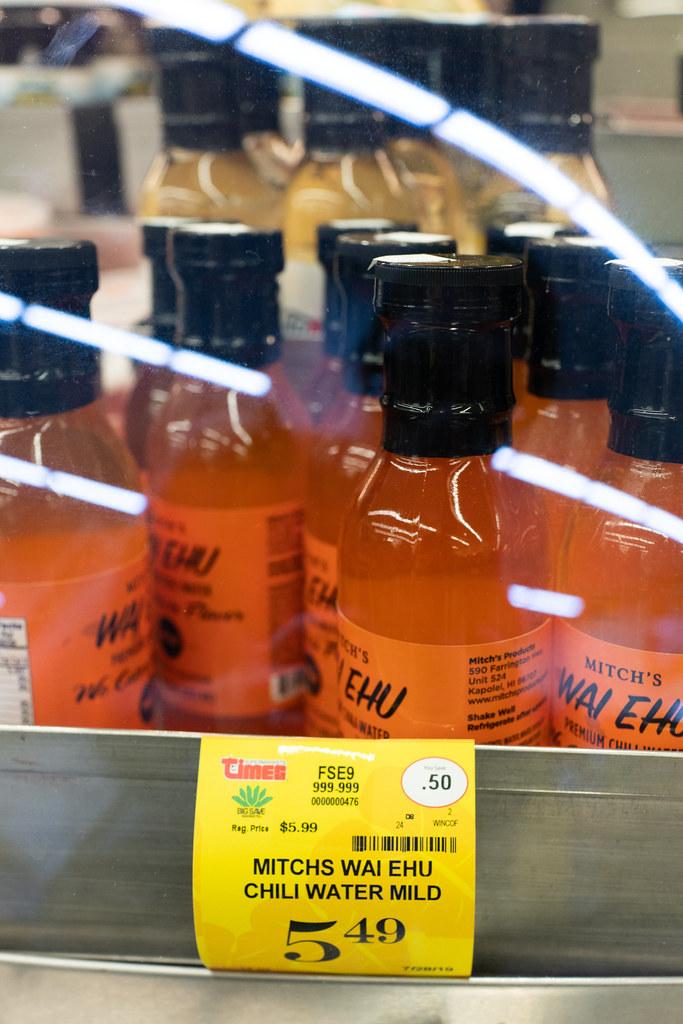 ...here's a closer look at the bottles. Most people keep a bottle or two of Chili Pepper Water in the fridge at home. It always comes in handy.
Hawaiian Food Places
All the good Hawaiian food spots will have Chili Pepper Water. Many Hawaiian food spots are primarily takeout, in which case you'll see little containers of Chili Pepper Water sold for anywhere from $.35 to $1 per container. They are a must have with your Hawaiian plate lunch.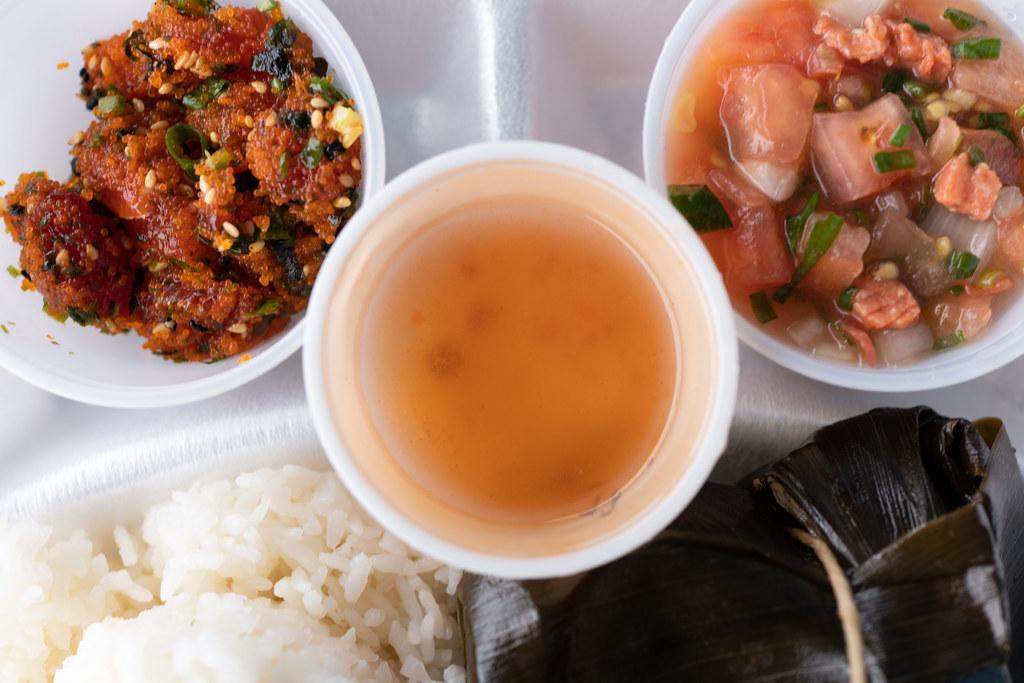 This photo was from a Hawaiian plate lunch I had at Yama's Fish Market (one of my favorite Hawaiian food spots). I got rice, lau lau, lomi lomi salmon, poke...and of course, a container of Chili Pepper Water to go with it all.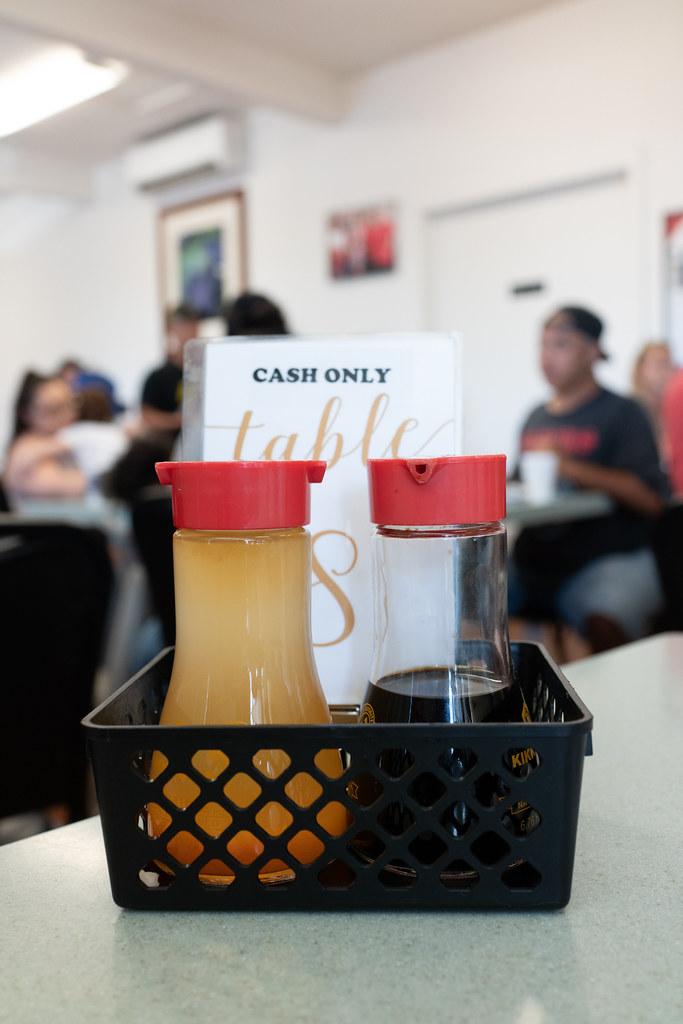 If you go to a sit-down Hawaiian restaurant like Helena's Hawaiian Food, the Chili Pepper Water will be a table condiment, usually next to the shoyu (soy sauce) 🙂 . I love that photo! And I love Helena's!
Local Food Places
I've mentioned this a bunch of times before, but local Hawaii food is completely different from Hawaiian food (a bit more here)...I'll do a bigger post on this soon because it makes me all nuts when people lump the two together. So! Many local Hawaii food spots also have Chili Pepper Water.
Above is a photo I took at Amaebi HI in Chinatown (home to great amaebi/spot prawn plate lunches). The owner makes his own Chili Pepper Water and also incorporates dried, crushed amaebi shells into the Chili Pepper Water. Super cool!! Goes to show all the different variations you can find.
Make Your Own
Up for making your own Chili Pepper Water? It's easy! Here's how: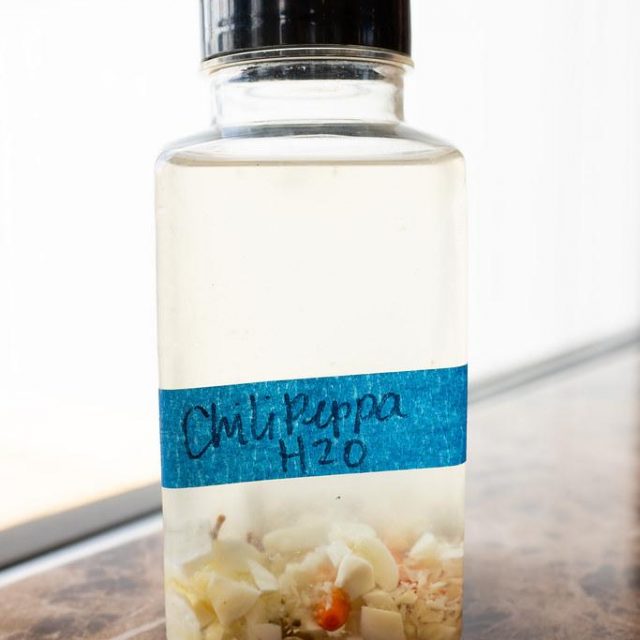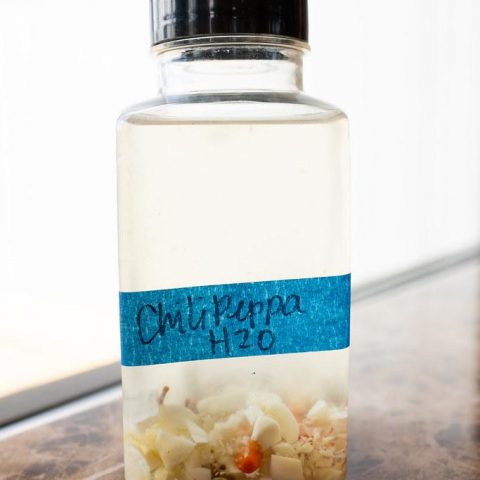 Chili Pepper Water
Chili Pepper Water is Hawaii's favorite spicy condiment. Made from garlic, chili peppers, salt, and vinegar, Chili Pepper Water is easy to assemble and is open to endless adaptions.
Ingredients
5 garlic cloves, peeled and minced
2 Hawaiian chili peppers, stems removed and sliced
1 teaspoon Hawaiian sea salt
2 ounces white vinegar
8 ounces water
Instructions
In a small bowl, mash together 5 garlic cloves, 2 Hawaiian chili peppers, and 1 teaspoon Hawaiian sea salt.
Boil in a small pot: 2 ounces white vinegar and 8 ounces water. Remove from stove and let cool.
Put the garlic/chilli/salt mixture into a glass jar. Pour the cooled vinegar/water over the mixture. Give it a few good shakes to incorporate.
Store the fridge for 2-3 days before using. Use liberally!
Notes
If you can't get Hawaiian chili peppers, feel free to substitute Thai chilis.
This recipe is open to endless variations. Feel free to add more/less garlic. Include a splash of shoyu! Or slices of ginger. So many things you can do ^_^