Scroll through for a glossary of common foods you'll find in Hawaii! A few fun tidbits to note before you begin…
Hawaiian food and Hawaii food are two very different things:
– Think of Hawaiian food the same way you think of Chinese food, Italian food, Japanese food, etc. It's the food of a single culture. Example of Hawaiian food: poi, haupia, luau stew, lau lau, kalua pig, etc
– Hawaii food (which is often called "local food") is the style of food you find Hawaii. It's tied to a location (the Hawaiian islands) and not a culture (the Hawaiian culture). Examples of Hawaii food: loco moco, spam musubi, manapua, loco moco, saimin, etc.
The two often get jumbled together. Totally understandable. You'll encounter both Hawaiian food and Hawaii food throughout the Hawaiian islands. Ex. visit Zippy's (a local diner chain) and you'll find both saimin (Hawaii food) and lau lau (Hawaiian food) on the menu. It's helpful to know the difference, just to understand which food items come from a native Hawaiian culture, and which were created as a result of being/living in the Hawaii.
How foods get Hawaii-ized
You can get amazing, authentic Chinese/Japanese/Korean/Filipino food in Hawaii. But one thing you'll notice is how many ethnics foods in Hawaii have been Hawaii-ized. This is actually super cool. The Korean is not so much traditional Korean, but a Hawaii version of Korean (Korean plate lunches are a good example of this). The Chinese food is Chinese, but far from traditiona,l and perhaps a bit sweeter (like how manapua came from char siu bao), after being adapted to the Hawaii palate.
Let's begin!
All the food items/ingredients mentioned below are common to Hawaii. They are a mix of both traditional Hawaiian items and local Hawaii items.
Think of Butter Mochi as Hawaii's version of the blondie/brownie. It has a deep golden top, and is just a bit chewy and sweet. It's like vanilla butter cake crossed with mochi. Heavenly! Butter Mochi is usually baked in a 9×13 tray and cut into squares for snacking. It's meant to be shared and eaten at room temperature. | See also: Mochi
Chili Pepper Water is Hawaii's answer to hot sauce! It's made from Hawaiian chilis, garlic, sea salt, and vinegar. This is a super popular condiment you'll find at all local restaurants and supermarkets. Or you can make your own easily. Chili Pepper Water post here.
Furikake
A dry Japanese seasoning made from a mix of seaweed, dried fish, sesame seeds, and much more. It comes in a bottle and you just shake it on/in anything you want to use it with. No need to cook. It has so many uses! We sprinkle it on top of rice for a snack, use it to make furikake chex mix, furikake cookies (for real), and of course for Hawaiian Hurricane Popcorn.
Haupia (Traditional Hawaiian)
Haupia is a traditional Hawaiian dessert. It's often referred to as "coconut pudding." Haupia has four main ingredients: coconut milk, sugar, cornstarch, and water. It has a texture that's halfway between pudding and jelly, and best eaten with your fingers for dessert (or snack!) Haupia is served slightly chilled, and cut in small rectangles. Haupia post here.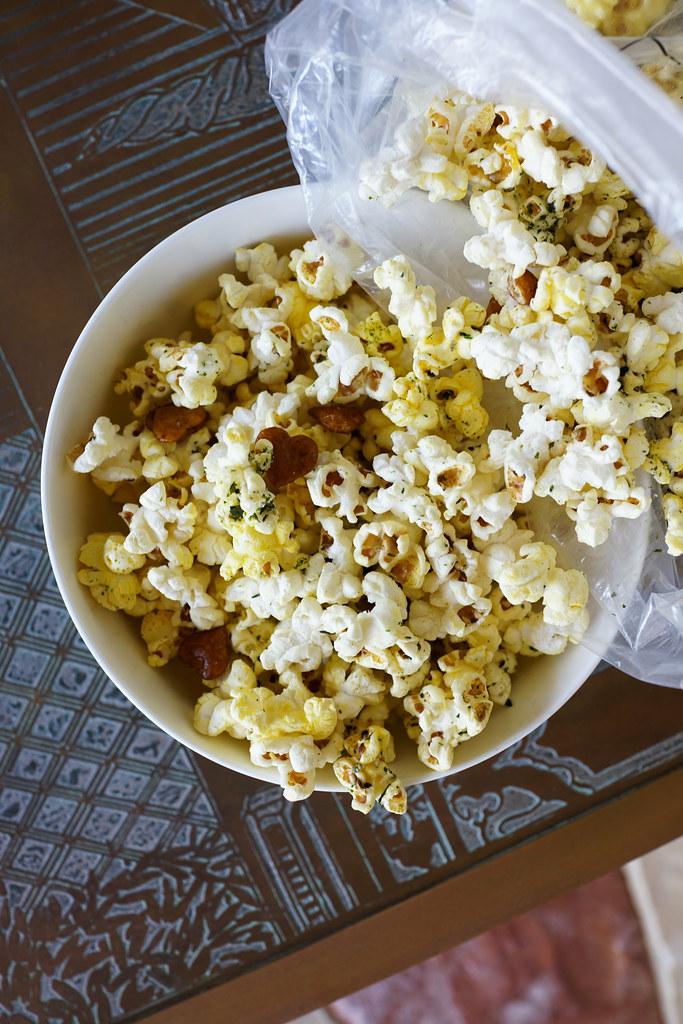 It's just popcorn, hot and fresh. Tossed with melted butter. And lots of furikake. And kakimochi (which also goes by the name "arare" and "mochi crunch"). It looks like a hurricane. A Hawaiian hurricane. Hurricane Popcorn post here.
Kakimochi
tiny, super crunchy Japanese crackers made from mochi/glutinous rice and seasoned with shoyu/soy sauce. Kakimochi also goes by the name "arare" and "mochi crunch." You can snack on them plain or mix the into other things, like Hawaiian Hurricane Popcorn.
Kulolo (Traditional Hawaiian)
Kulolo is a Hawaiian dessert made out of taro, coconut, and sugar. It has a texture like pudding crossed with fudge, and is enjoyed at room temperature (or warm, with ice cream). You can find kulolo throughout Hawaii, but it is most famous in Kauai. Kulolo post here.
Lau Lau (Traditional Hawaiian)
Lau Lau is a popular Hawaiian dish that is made of fatty pork and salted butterfish. The pork and fish are wrapped with lu'au leaves (which come from the taro/kalo plant), and ti leaves. It's steamed and eaten alongside rice, poi, and other Hawaiian dishes. Lau Lau post here.
Li Hing Mui is salty dried plum. You can get them as whole plums with the seed (which you can snack on), or you can get it as a powder. We put the powder on EVERYTHING. Li hing pineapples, li hing icees, li hing malasadas, etc. I'll do a whole post on li hing mui stuff soon. Li Hing Mui post here.
Mochi
It's a sweet, chewy glutinous rice cake (which also happens to be gluten free). Every Asian culture has their own style of mochi. Hawaii-style mochi is my personal favorite. It's soft, sweet, and not too complicated. Hawaii mochi isn't as chewy as Japanese mochi. It's also less precious/formal and often enjoyed as an everyday treat. Hawaii mochi is playful and casual (like a lot of the best things in Hawaii). You can make mochi at home or purchase from a mochi-ya (aka mochi shop) like Nisshodo, Happy Hearts Mochi, Two Ladies Kitchen, local supermarkets, and convenience stores in Hawaii. | See also: Butter Mochi

Poi / Kalo (Traditional Hawaiian)
Poi is a staple starch of Hawaiian food. It's made from taro (called kalo in Hawaiian). The taro is steamed, mashed, and mixed with water. They consistency of poi ranges from really thin to thick (people add more/less water depending on personal taste). Poi post here.
Saimin (Local Hawaii)
Saimin is Hawaii's favorite noodle soup dish! It's like Hawaii's version of ramen. I like it even more than ramen. The soup is a dashi-based broth, and the noodles are wheat noodles. The standard samin topping include kamaboko (fish cake), slices of char siu, and green onions. Saimin post here.