Kulolo is a super good Hawaiian dessert made from taro, coconut, and sugar. It has a texture like pudding crossed with fudge. Eat it at room temperature (or warm, with ice cream!) You can find kulolo all over Hawaii, but it is most famous in Kauai.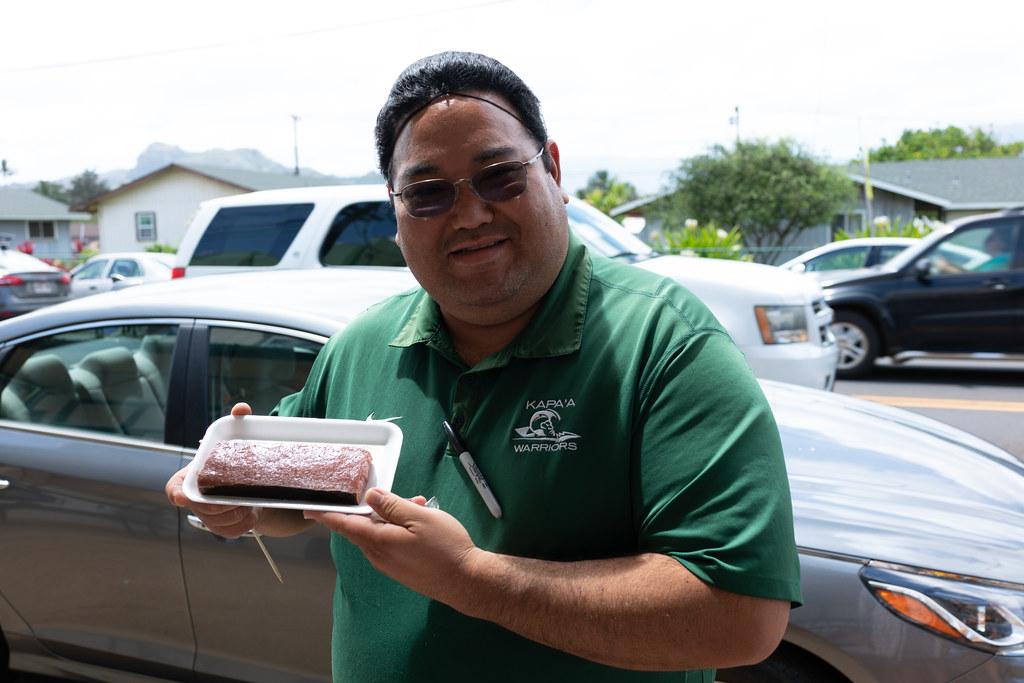 Kulolo from Pono Market (they carry kulolo from Kapaa Poi Factory)
Ok, kulolo!
It's fun to have an audience in mind when you write blog posts. Is this post for a friend who eats kulolo almost every day? (I have a friend who does that.) Or is this post for a friend like Jee. Jee lives in NYC and has not yet visited Hawaii (come soon, Jee!), but we chat often about all the food I eat in Hawaii.
I'm going to go with the latter because...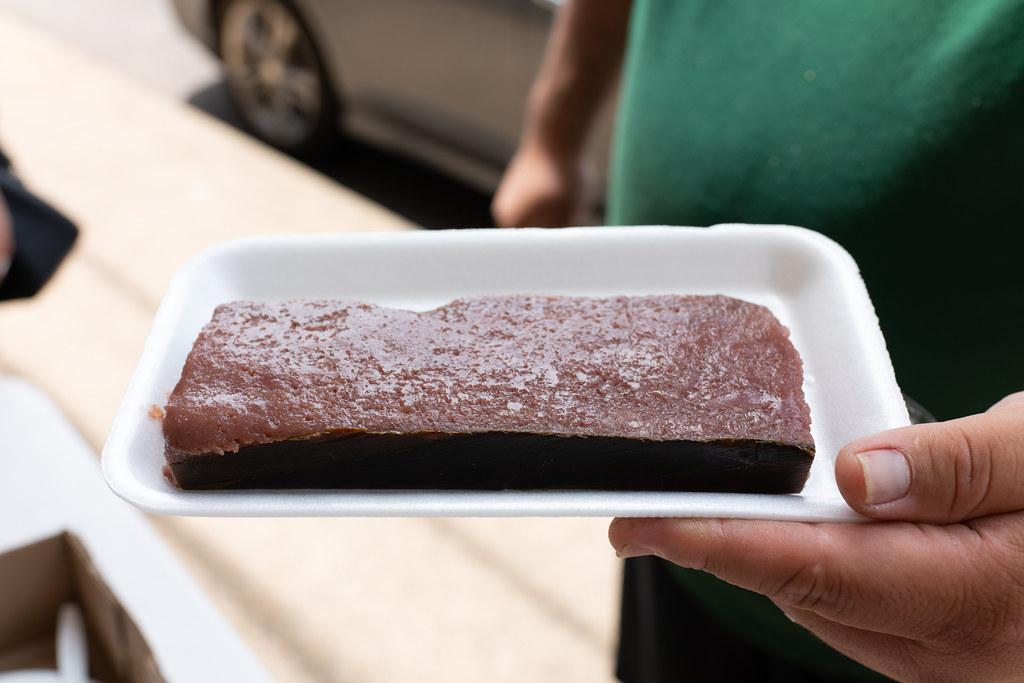 Kulolo from Pono Market (they carry kulolo from Kapaa Poi Factory)
1) It's no fun to read about a Hawaii food item/dish without understanding what it is. Hawaii is part of the US (I've been asked this question so many times), but sometimes it feels like another country.
2) Most of you know that I've had another blog for a long time (15 years). That blog started as a Hawaii blog, but then took many turns (more here). I'm keeping Onolicious Hawaii-focused, and I hope it will be a resource for Hawaii food and travel. I want the blog to be useful whether you're a local or visiting Hawaii for the first time.
Now, back to the kulolo...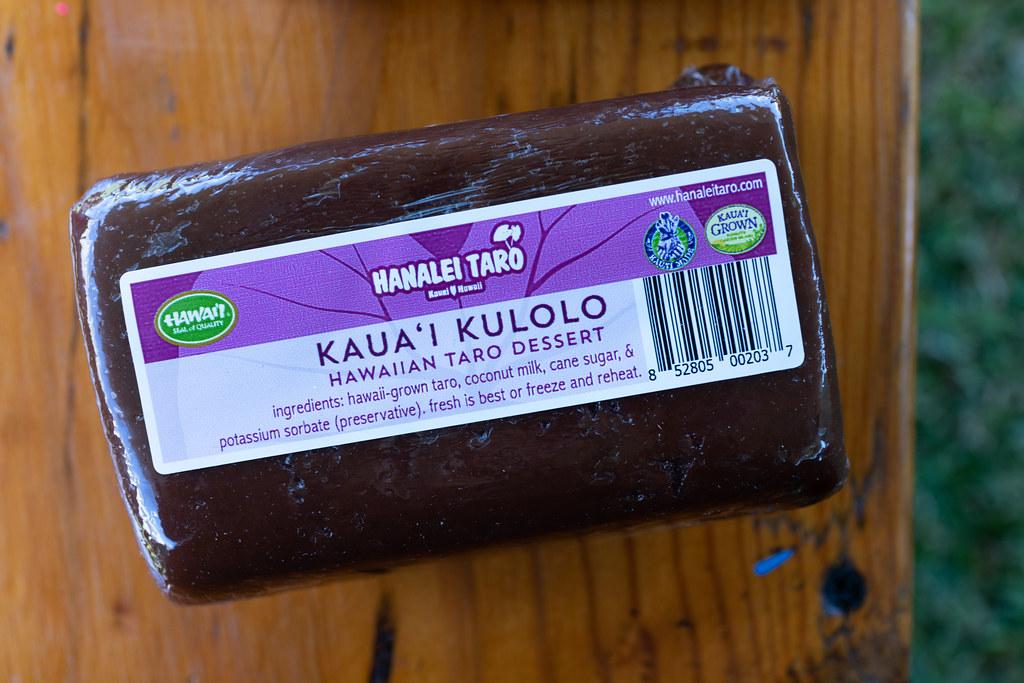 Kulolo from Hanalei Taro & Juice Co.
What is Kulolo?
Kulolo a traditional Hawaiian dessert made of two main ingredients: taro and coconut.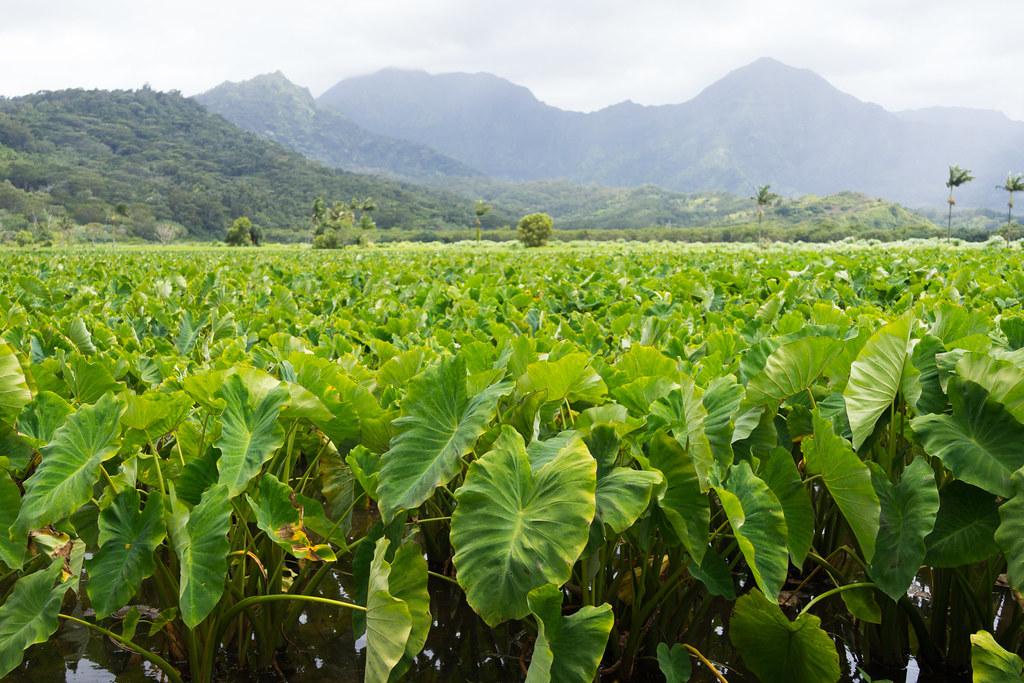 Taro fields at Haraguchi Farm in Kauai
We grow beautiful taro in Hawaii and use it in a lot of cooking.
Raw taro from Haraguchi Farm in Kauai
For kulolo, the raw taro is grated and mixed with fresh coconut milk (and sometimes also coconut meat), and sugar. It's pressed into a tray (lined with ti leaves), and steamed for several hours. Once set, it has the texture of pudding crossed with fudge, some say it's mochi-esque. Kulolo is rich and sweet, and a small slice goes a long way. You eat it with your fingers.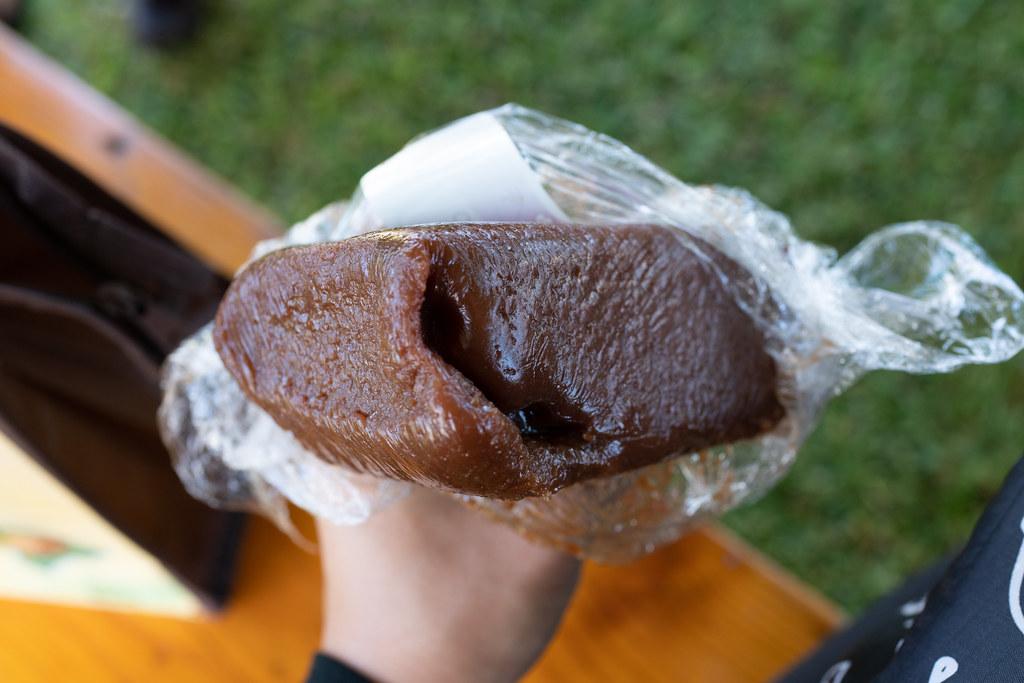 Kulolo from Hanalei Taro & Juice Co.
You can make kulolo at home but it is labor intensive and time consuming. I prefer to purchase it from someone who specializes in kulolo. Kulolo is typically sold in one pound bricks, and the best kulolo comes from the island of Kauai. Why Kauai? That's because Kauai grows all the good taro, and you need the best taro to make the best kulolo!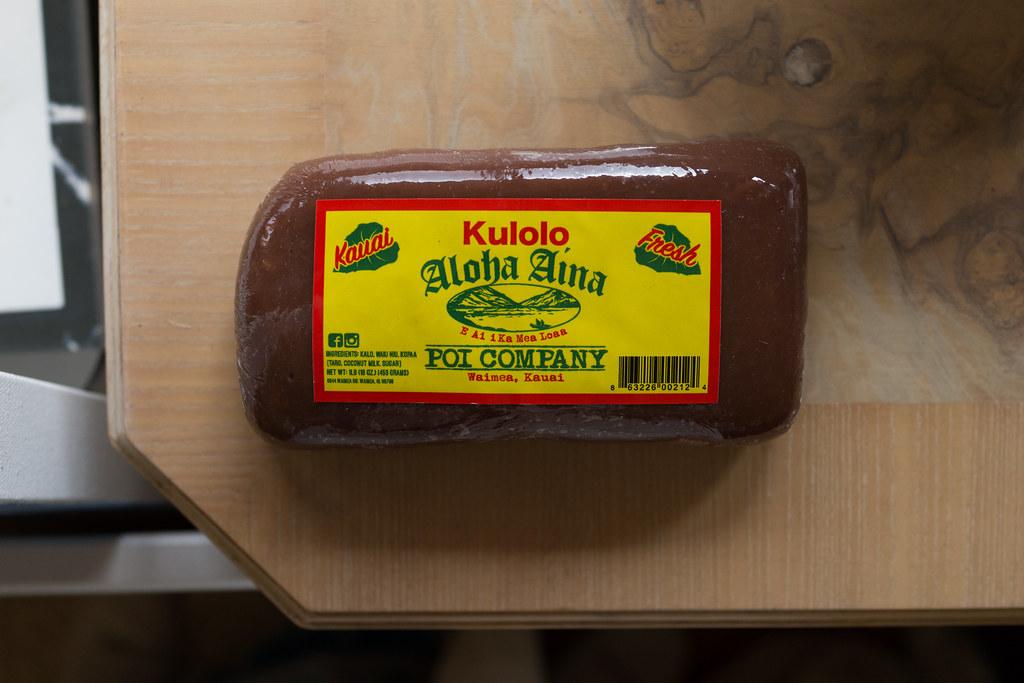 Kulolo from Aloha Aina Poi Company
Funny tidbit, my grandma tried kulolo for the first time last month (even though she's been living in Hawaii since the 1970s). I asked her how she liked it. She said, "it's like Chinese nian gau, but Hawaiian-style. Hawaiian gau! I love it."
That made me so happy. She's right, it is a lot like Chinese gau. It has that same thick, fudge-pudding texture and rich flavor. You know what we do with leftover gau? We stick it in the fridge overnight to let it get hard. Then slice into ½-inch thick pieces (like when slicing Spam haha). Then pan-fry slowly over medium-high heat. A few minutes on one side, then flip and a few minutes on the other side. The outside gets dark golden and crisp, and the inside turns all molten and warm. It is HEAVENLY.
Kulolo from Aloha Aina Poi Company
Where do you get Kulolo?
All over! There are four main companies that make kulolo. Three are based in Kauai and one in Oahu. These brands wholesale to retail stores so you can find them in many places throughout Hawaii. This includes supermarkets, local mini marts, farmer's markets, fish/poke markets, etc. Below are brands/places to look out for.
BRANDS
PLACES (they don't make it in house, but stock kulolo from different brands). I've listed the main places, but lots of small mom and pop plate lunch/poke/fish stores also carry kulolo. Keep your eyes out and you'll be rewarded.
Tamura's (all islands) - Call your nearest Tamura's location to confirm which days they get the kulolo fresh.
Times Supermarkets (all islands) - Flown in twice a week. Call your nearest Times location to confirm which days they get the kulolo fresh.
Pono Market (Kauai) - I love this place! They carry kulolo from Kapaa Poi Factory.
Waiahole Poi Factory (Oahu) - For individual size pieces of kulolo and hot kulolo over ice cream (more on that below).
Kalo Bombs (Oahu) - They don't make kulolo, but they do make kulolo ice cream! Order it plain or topped with fresh paiai and coconut cream.
Local farmer's markets (all islands) - Certain markets carry kulolo on certain dates. Check with the specific market you plan to visit.
How do you store Kulolo?
Keep kulolo wrapped tight, and at room temperature. Fresh kulolo is good for 3-4 days. If you have a leftovers, put the kulolo in the fridge to firm up, then slice and pan fry like we do with Chinese nian gau!
How do you eat Kulolo?
Fair question. Kulolo usually come in these one-pound servings...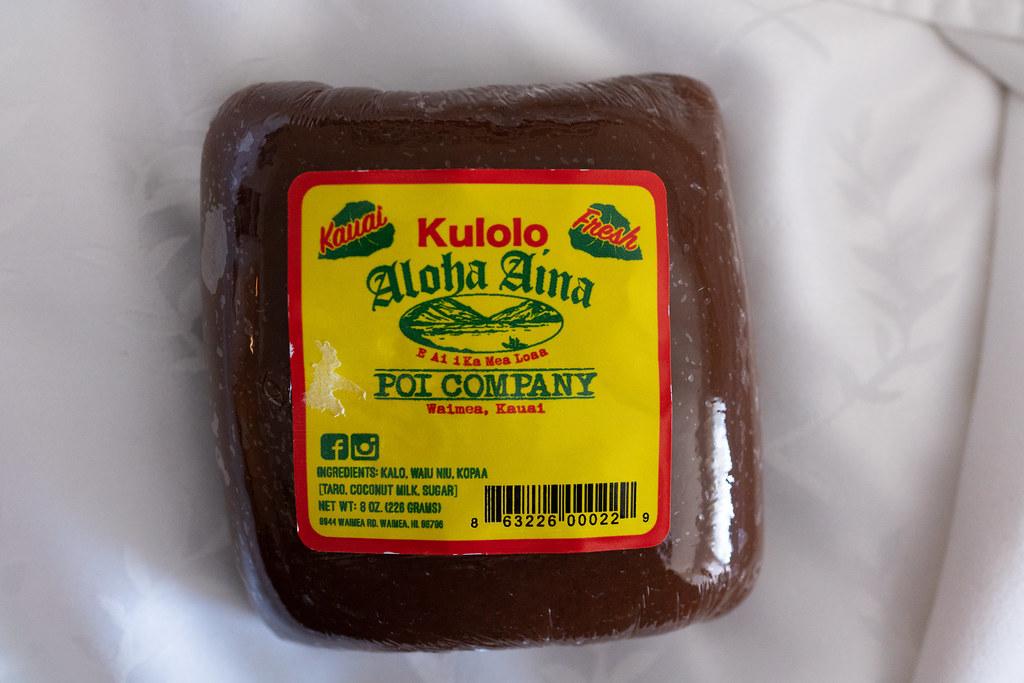 Kulolo from Aloha Aina Poi Company
...(sometimes you can find smaller half-pound sizes), wrapped in plastic. You just unwrap, slice off a piece and eat it. Super simple, makes great picnic food.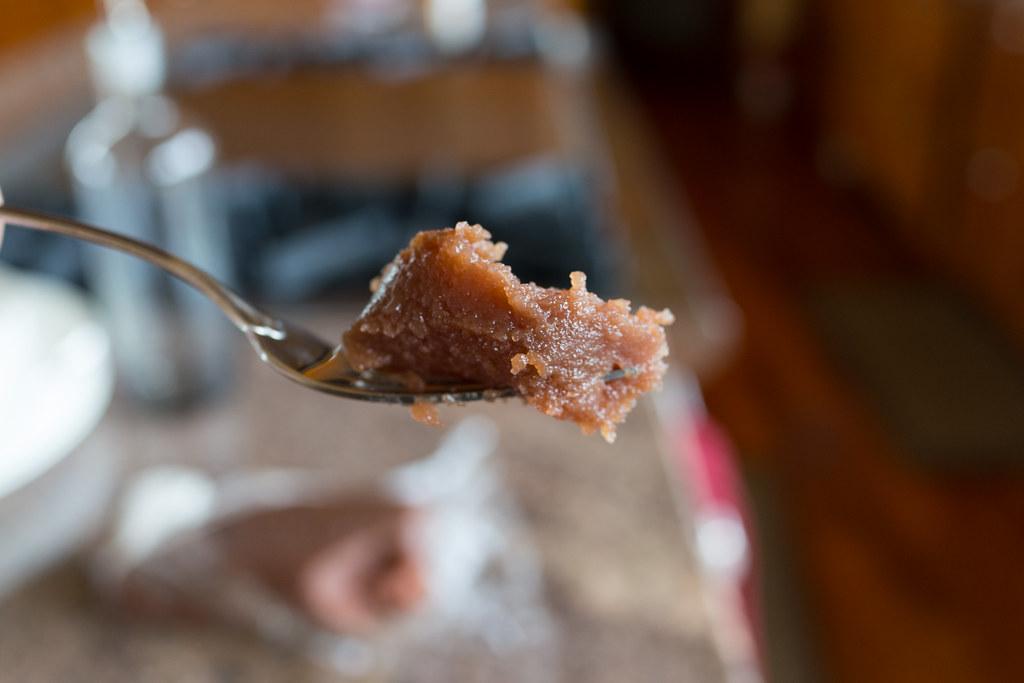 Kulolo from Aloha Aina Poi Company
Some people like one thick piece to hold and nibble. I like to have lots of thin pieces. I like to put it on my tongue and let it melt a bit...oh so good. A one-pound serving goes a long way, but leave kulolo at your desk and you'll be surprised by how quickly you finish it! Just one more slice...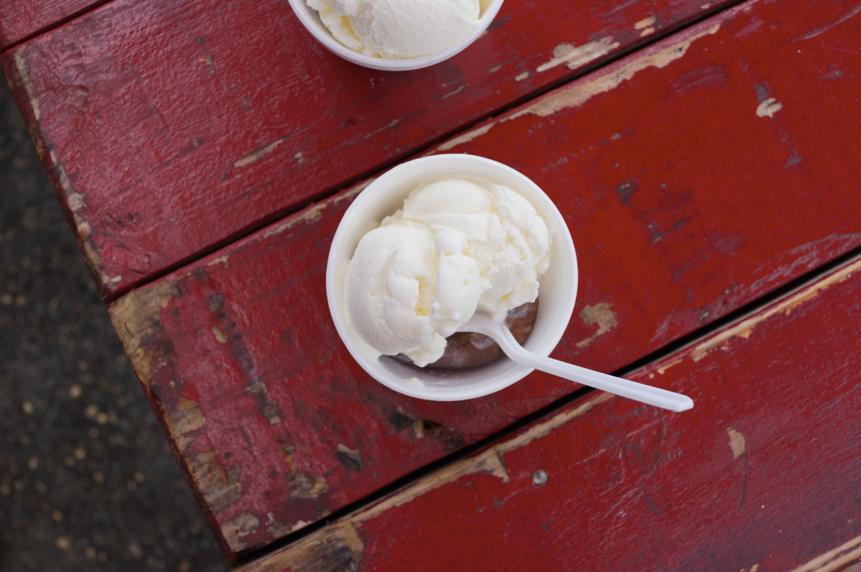 Hot kulolo and haupia ice cream at Waiahole Poi Factory 
There's a great Hawaiian food place called Waiahole Poi Factory in Kaneohe. Their signature dessert is called Lady of Waiahole - it's a cup filled with haupia ice cream and warm (almost liquified!) kulolo. Hot kulolo, cold ice cream. Super luscious. I think they microwave or steam the kulolo to get it that way.
Kulolo from Hanalei Taro & Juice Co.
Either way. Do not miss! Make sure you try kulolo at least once.