Korean Plate Lunch is a type of Plate Lunch, one that features Korean dishes like kalbi, meat jun, japchae, and much more! Here's everything you need to know about Korean Plate Lunch and where to eat it.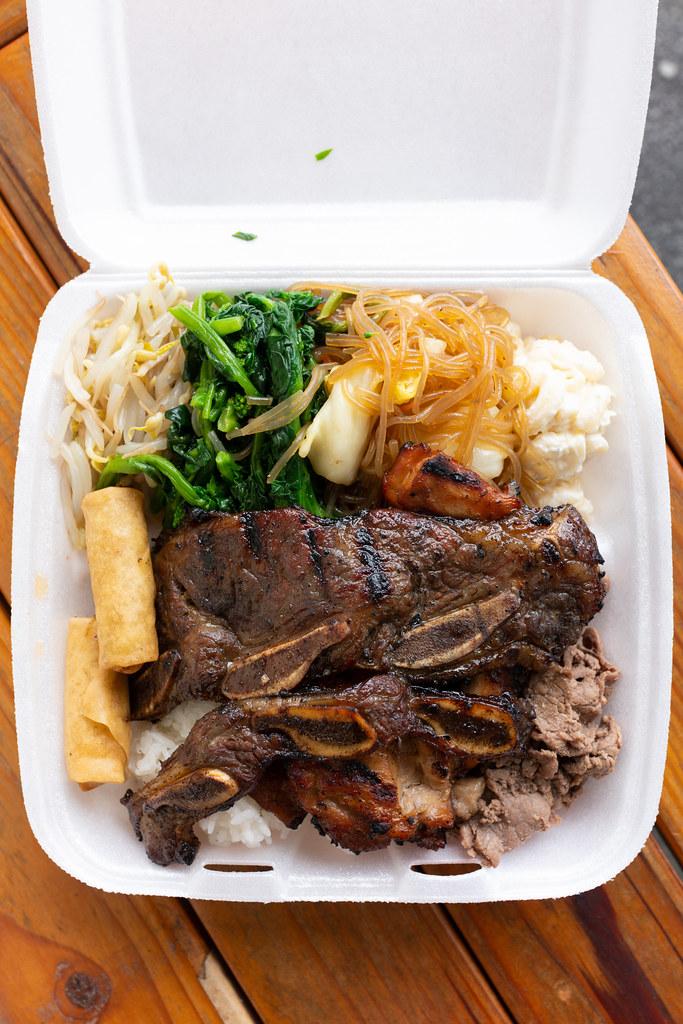 Korean Plate Lunch In Hawaii
We learned all about Local Plate Lunch and Hawaiian Plate Lunch. Today we're digging into Korean Plate Lunch!
It's no exaggeration to say that Plate Lunch is a way of life in Hawaii. Plate Lunch isn't a specific food item. It is a type of meal.
When you order a plate lunch, the entire lunch (starch, meat, vegetable/sides) is piled together one plate. Plate lunch is delicious, filling and inexpensive.
Hawaiian Plate Lunch features Hawaiian food.
Local Plate Lunch features local Hawaii food.
Korean Plate Lunch features Korean food (mostly traditional, but a few that are more specific to Hawaii...think of it as Korean food that has been Hawaii-ized).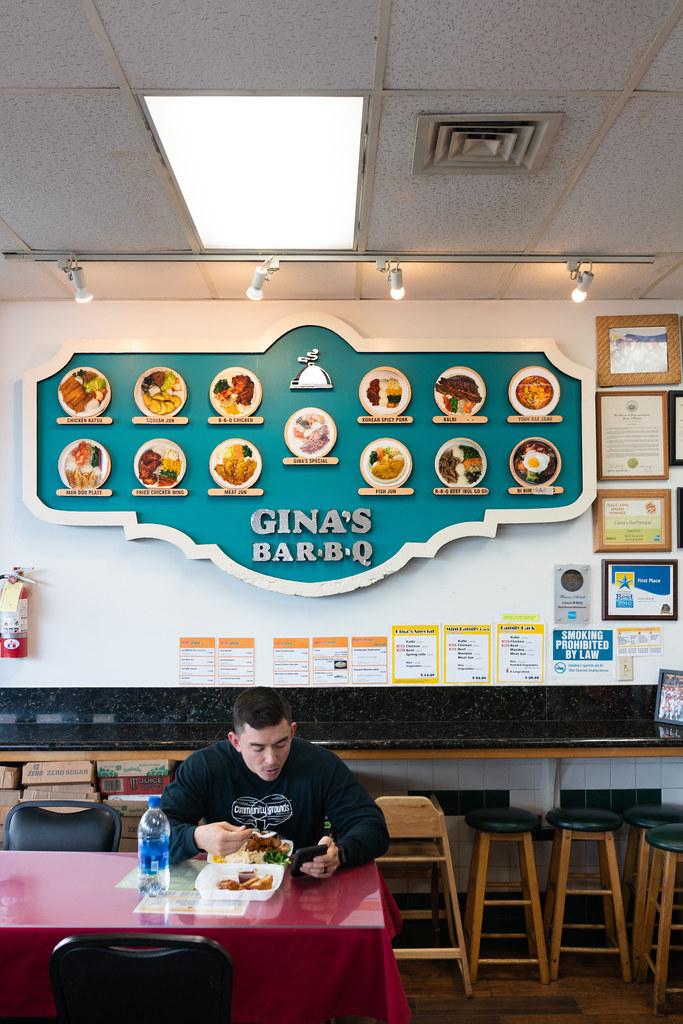 How To Order Korean Plate Lunch
First you select your main meat choice (kalbi and bbq chicken are popular options). All meat choices automatically come with rice.
Then select which side dishes you want. Depending on the size of your plate, you can select up to four side dishes. If you really love a certain side, you can ask for 2x of that side dish. As a kid I used to get 2x japchae and 2x mac salad.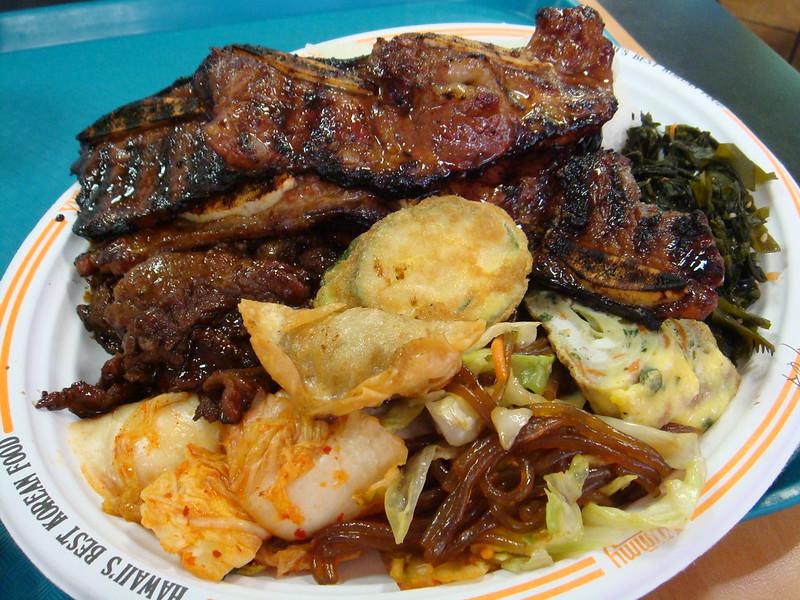 Some places pre-select the sides (like Palama Supermarket). Other places make many different sides each day (like Yummy's and Gina's BBQ) - the side dishes are laid out (in stainless steel containers, behind glass). Point and choose which side dishes you want. Neat, right?
Then sit back and wait. They should call your name in about 5-10 minutes. You'll be presented with a big hefty plate/box. The base of rice topped with meat. All the sides dishes are arranged next to rice/meat. It's one big (and onolicious!) happy family.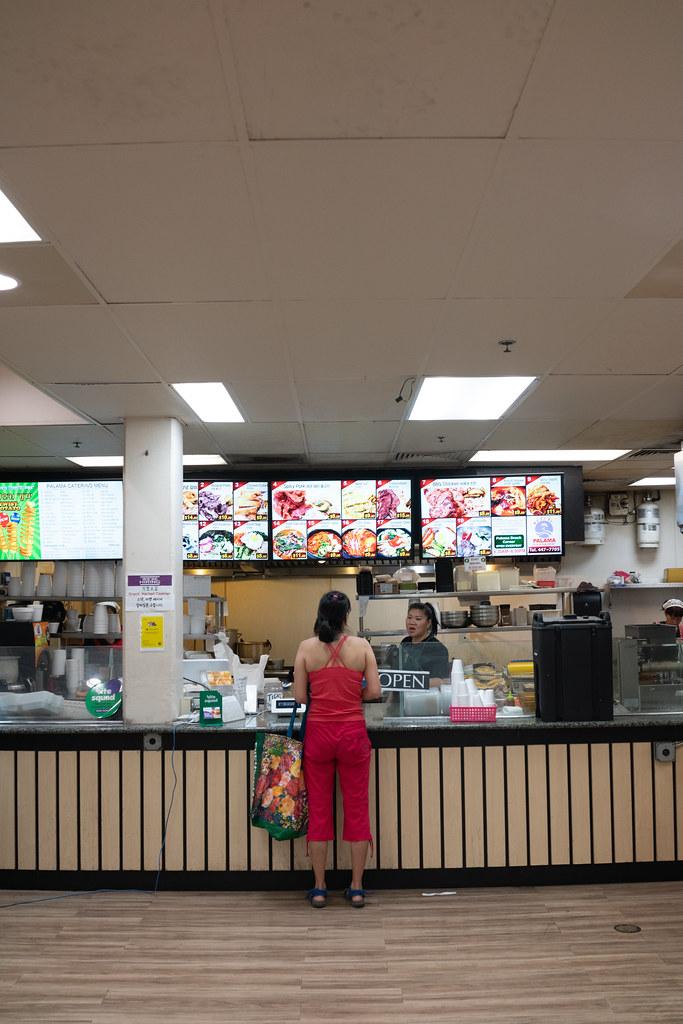 How To Eat Korean Plate Lunch
All these Korea Plate Lunch spots are fast and causal. Order at the counter and they call your name/number when the order is ready.
They all have enough seating for a quick lunch, but most people order it to-go. We often get Korean Plate Lunch takeout for dinner. Or pick up a big plate and take it to my grandma's house and eat there. It also easy to bring to the beach or park...just make sure to ask them to give you extra utensils. All you need is chopsticks, fork and knife (to cut the kalbi).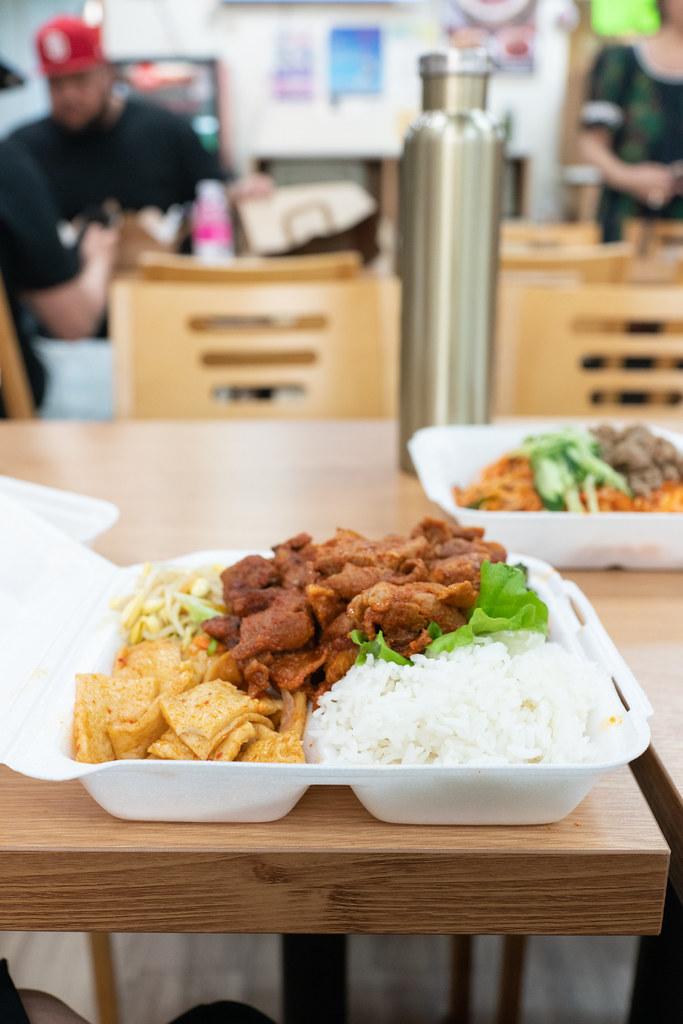 What's In A Korean Plate Lunch?
Like Hawaiian Plate Lunch, there are many dishes that can go inside a Korean Plate Lunch. For most plate lunches, you usually pick 1-2 types of meat and 4 side dishes.
These are the dish options that we typically select from:
Meat
Kalbi
BBQ Chicken
Spicy Pork
Meat Jun
Fish Jun
"Combo/Special" - all Korean Plate Lunch places have this options. It's for the indecisive and those who want a taste of everything. This option typically includes 2-3 types of meat and an extra items like mandoo or spring roll.
Main Starch
Rice. Some places let you pick between white and brown rice (it is a newer trend), but 99% of the time it comes with white rice.
Sides (vegetables, noodles/potatoes/pasta, and meats)
Seasoned and marinated bean sprouts
Seasoned and marinated watercress
Taegu
Kimchi cabbage
Kimchi cucumber
Corn
Japchae - which you can also make at home, recipe here
Potato Salad - heavenly when potato cubes are fried and then tossed with the mayo.
Mac Salad - like local-style macaroni salad but with a slight vinegar tang
Extras (add-on items)
Mandoo - pick between fried or boiled, we always end up with fried
Spring Rolls - not Korean, but we are in Hawaii where everything is naturally mixed together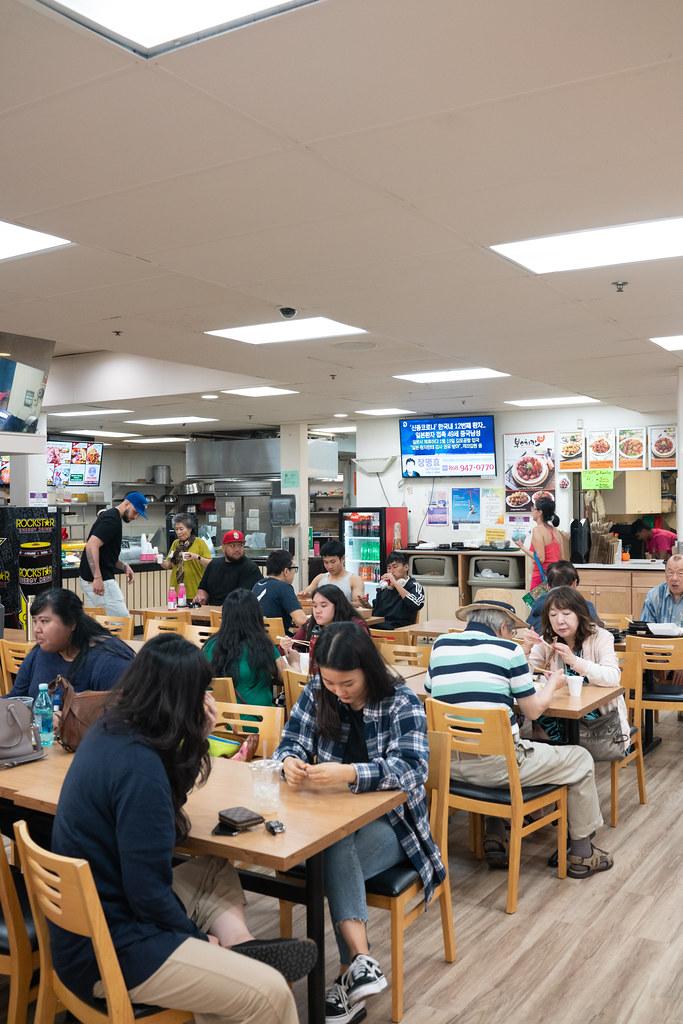 Where To Eat Korean Plate Lunch
Gina's BBQ (Oahu)
This is where I go most of the time! And half of the time I run into a friend or acquaintance there. All locals love Gina's. I always get the "Gina's Special Plate" which includes kalbi, bbq beef, and bbq chicken. It comes with a lot of rice and four of side dishes (side dishes change daily, pick and choose when you order). The portions are huge, and this one plate is enough to comfortably feed two.
Palama Supermarket (Oahu)
There's a small food court within Palama Supermarket (we like the 1670 Makaloa Street location by Ala Moana). We head straight to the plate lunch place in the back. My default order is either the meat jun, spicy pork or combo plate. Side dishes are whatever they make that day. P.S. If you're in a soup-y mood, they have very good Yook Gae Jang (spicy beef and vegetable soup) that is amazing with a big bowl of rice. For noodles, try the chilled and spicy Bibim Kook Soo, so good on a hot afternoon!
Yummy Korean BBQ (Oahu)
Yummy's is a long time local classic spot. They have multiple locations throughout Oahu, but we usually find ourselves at the Ala Moana location (in the Makai Market Food Court). We get the combo plate so I can have a taste of many things. They have a ton of side dish options (which is a huge draw), and I'm crazy for the potato salad...it is a must-get side. I also like the corn, marinated bean sprouts, and cucumber kimchi.