Pipikaula is a savory Hawaiian dish made of seasoned and semi-dried beef (pan-fry hot to serve). This is the story of pipikaula in Hawaii and where to eat it. Plus an easy recipe for a homemade pipikaula!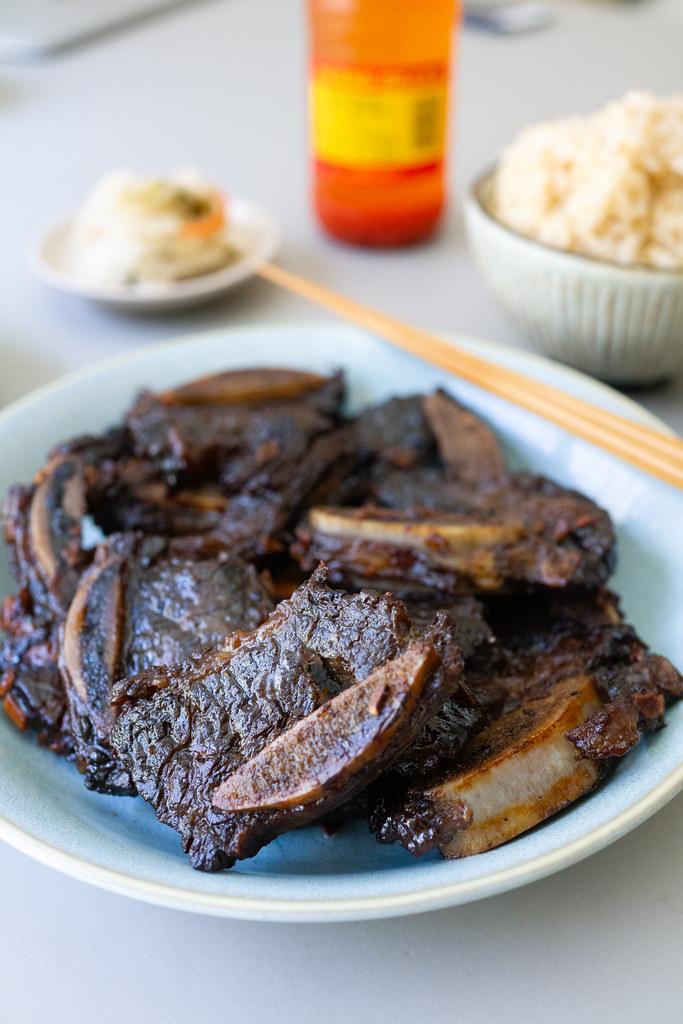 What Is Pipikaula?
Pipikaula is a Hawaiian dish (not a local Hawaii dish - here's the difference). It translates to "beef rope."
Pipikaula is made from beef that is salted and then semi-dried. It's made from either bone-in short rib or flank steak.
There are two common version of pipikaula. Some places serve pipikaula as a room temperature snack. Other restaurants pan-fry pipikaula, and serve it hot (this is the recipe we're making today).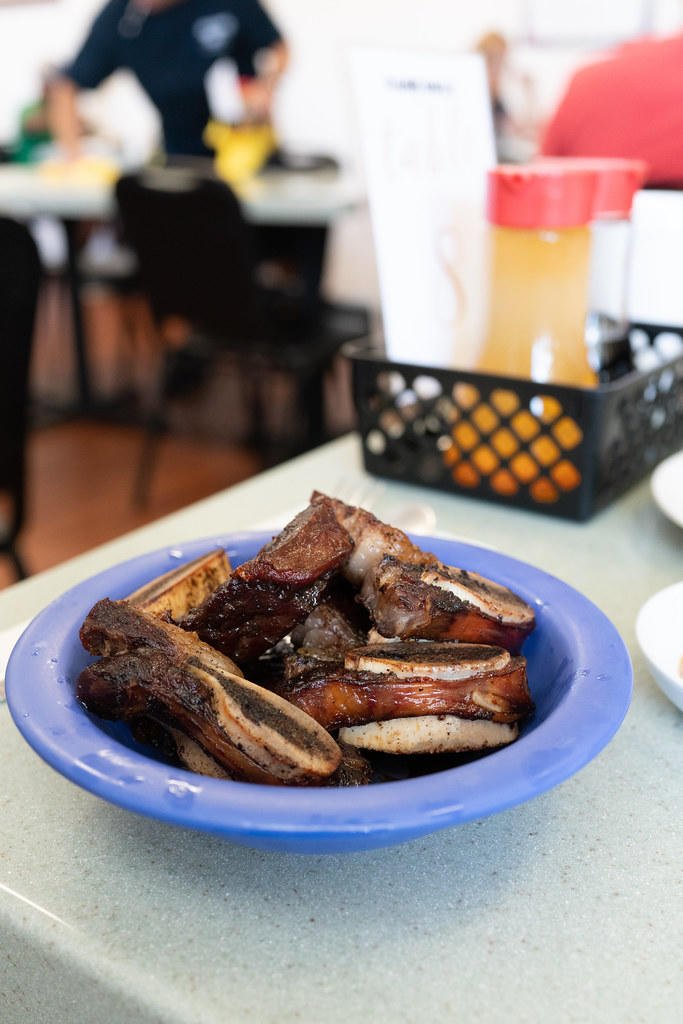 Pipikaula was created by paniolos (Hawaiian cowboys) in the 1800s. The paniolos cut beef into snackable strips, then seasoned and dried them under the sun. It was made to be a snack they could eat while driving cattle.
Like many famous Hawaii dishes, pipikaula is influenced by multiple cultures. Pipikaula is typically seasoned with shoyu (soy sauce). Shoyu was introduced to Hawaii via the Japanese and Chinese immigrants during Hawaii's plantation era.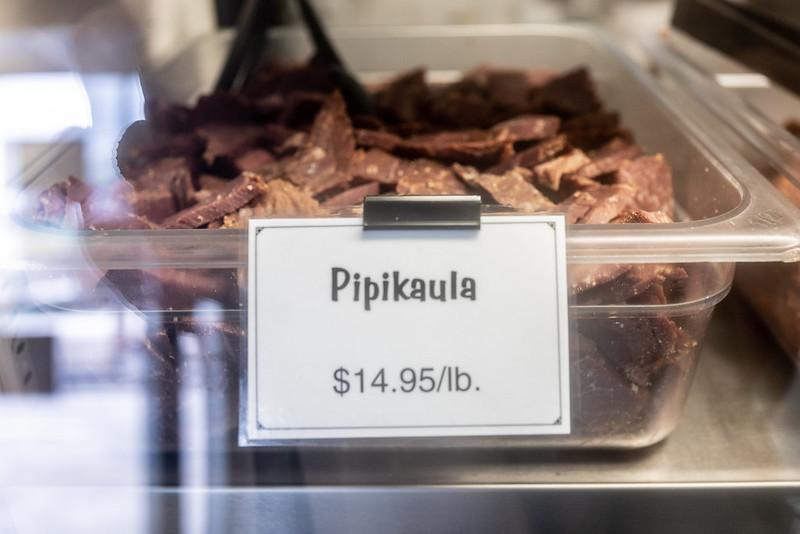 How To Pronounce Pipikaula?
Pipikaula is pronounced as: "pi-pi-kau-la"
(Hawaiian words are pronounced as single syllable chunks.)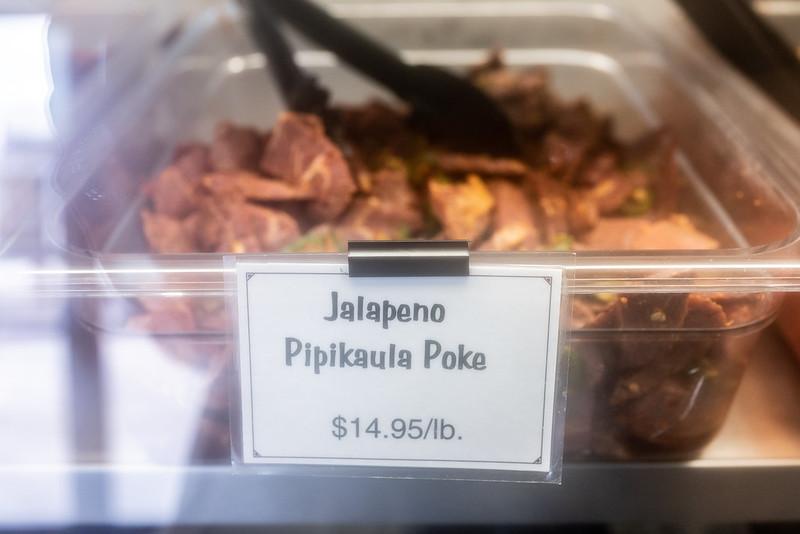 Is Pipikaula Beef Jerky?
People sometimes call pipikaula "Hawaiian beef jerky" which drives me nuts. Pipikaula is similar to beef jerky in that it's dried meat. But it not beef jerky.
It's better described as a dried beef dish. Why?
Pipikaula is not dried 100% (unlike the fully dried, packaged beef jerky found in the supermarkets).
Pipikaula requires another cooking step (pan-fry, deep-fry, smoke) after the drying step.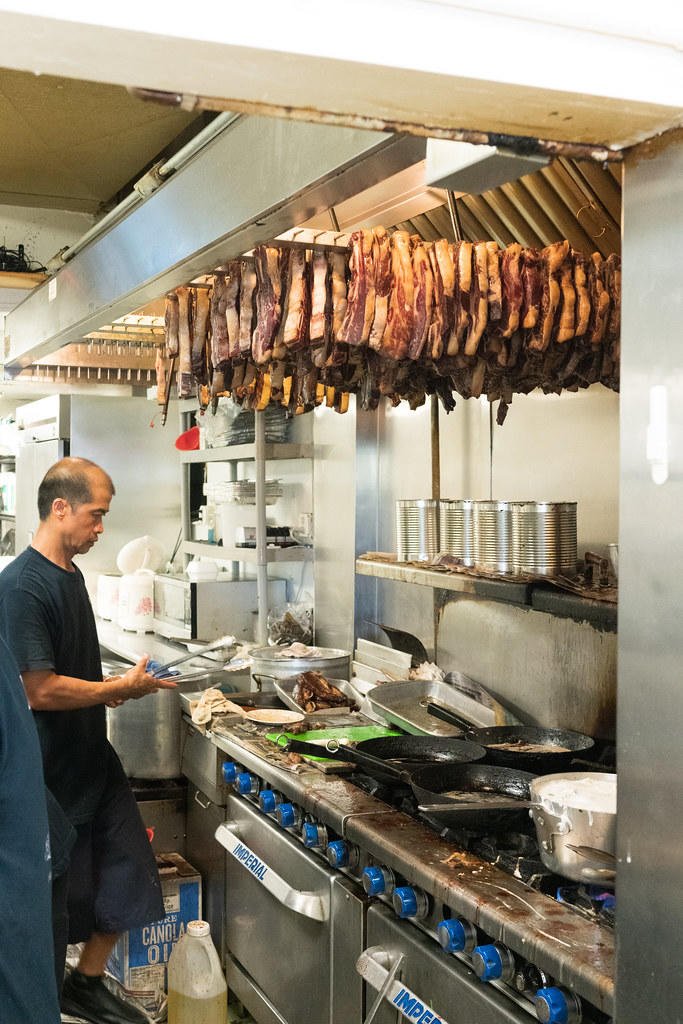 Styles of Pipikaula
You usually find two "styles" of pipikaula in Hawaii:
Hot and Juicy
Made with bone-in short ribs or flank steak. Partially dried and then pan-fried, broiled, or even deep-fried. Served hot.
This version has a slightly charred, crisp exterior, and is soooo juicy on the inside. This is my preferred style (try it at Helena's Hawaiian Food or make the recipe below).
Plain and/or Poke-Style
Made with flank steak. The plain style is partially dried, smoked or cooked in the oven at a very low temperature, and sliced thin. Served at room temperature.
The poke-style follows the same steps but the finished beef is also tossed with seasonings like Hawaiian sea salt, sweet Maui onions, ogo (seaweed)...basically all the seasonings used for ahi poke. That's why it's called "pipikaula poke."
How Is Pipikaula Sold?
Hawaii and local restaurants sell pipikaula by the plate or the pound or as part of a plate lunch with rice and other side dishes.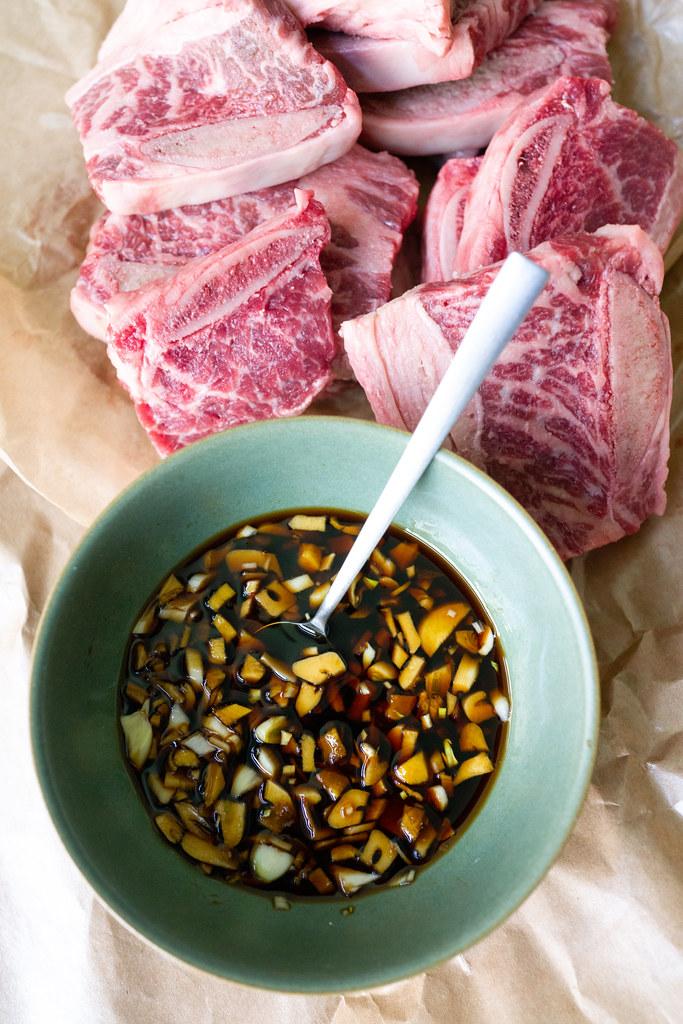 How To Eat Pipikaula?
This is the best part! Pipikaula is meant to be eaten with a whole spread of other Hawaiian dishes. See the first photo in this Helena's post? That's how to do it.
Eat pipikaula alongside with rice and poi. Share a lau lau and some lomi lomi salmon. Extra hungry? Add butterfish, chicken long rice, and kalua pig.
Don't forget sides of sweet Maui onion and Hawaiian sea salt. Dessert (which is often plated and presented at the same time as the savory food) is haupia! Now that's how you eat pipikaula.
Another popular way to eat pipikaula is as a pupu (appetizer/snack). Picture this: 6pm, end of a long work day. Get together with some buddies, cold drinks, and pipikaula (the version served at room temperature) on the side! Not bad at all.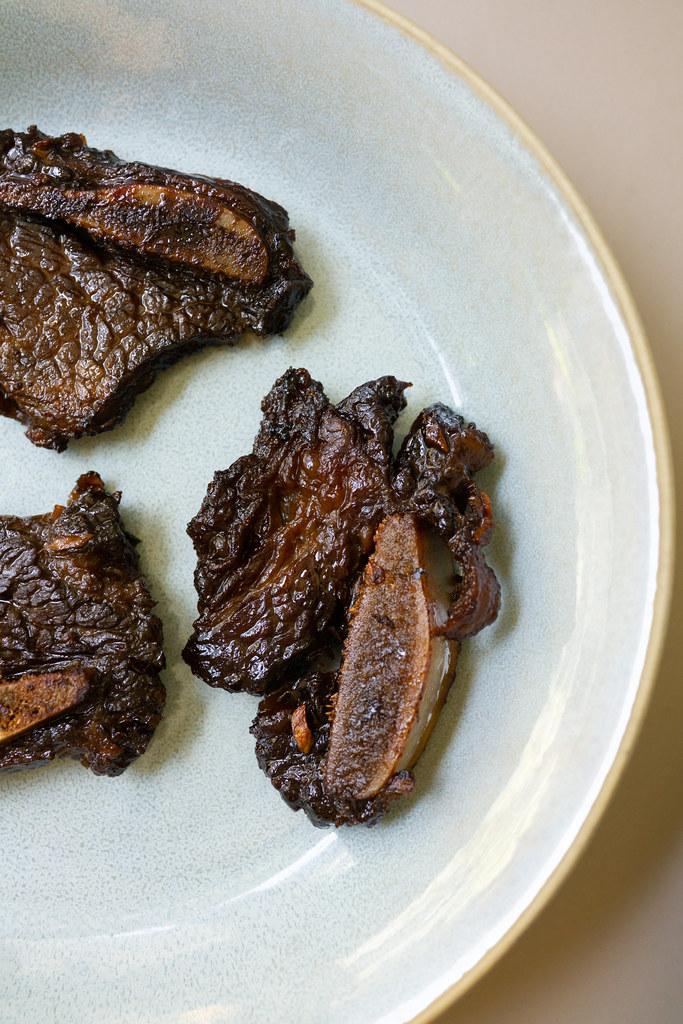 Where To Eat Pipikaula In Hawaii
Helena's Hawaiian Food (Oahu)
Everyone knows that Helena's makes the best pipikaula in Hawaii. This is the gold standard pipikaula and one you must try. Whenever my sister comes home from the mainland, Helena's is her first stop straight from the airport. Helena's pipikaula is so savory, hot and juicy.
They marinate bone-in short ribs in shoyu and hang it to dry for a few days. It's then deep fried and served hot. (The deep fry step is probably what makes this extra wonderful.) Helena's pipikaula is super tender and wowowow. They sell it by the small or large plate. Even if you are just one person, you want the large plate. Full post about Helena's here.
Yama's Fish Market (Oahu)
Yama's makes a pipikaula poke! This is a case in which the pipikaula is dried and then tossed with all the ingredients and seasonings we typically use for ahi poke. Full post about Yama's here.
KTA Super Stores (Big Island)
KTA is a local supermarket with multiple locations on the Big Island. Order the pipikaula by the pound or as part of a full plate lunch (eg. comes with everything from rice to poke and lomi lomi salmon). They make it poke-style like Yama's.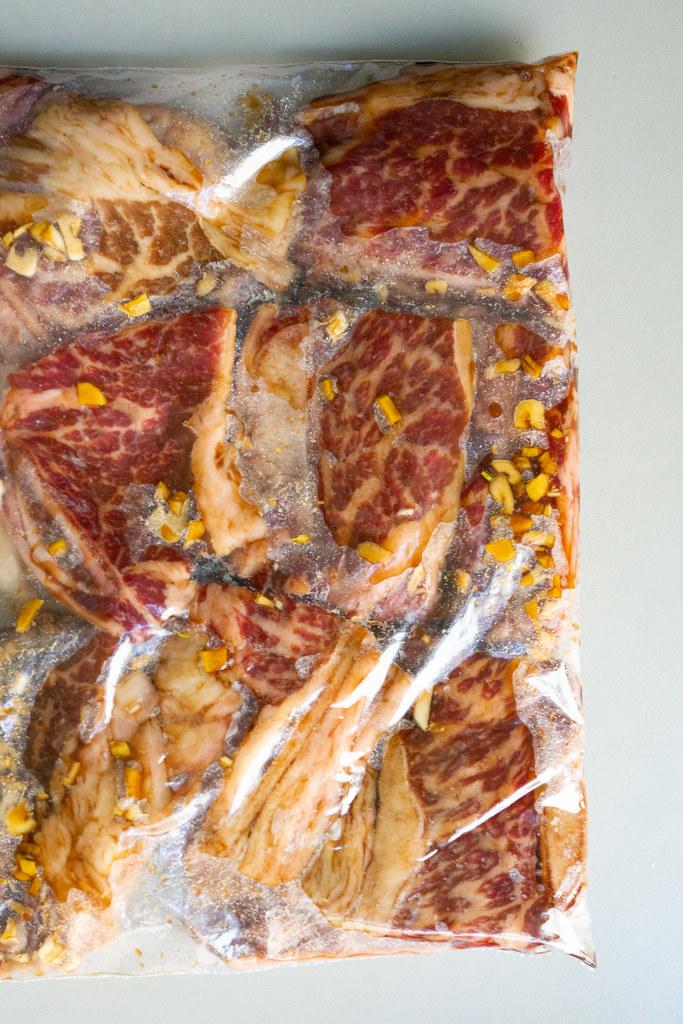 Pipikaula Recipe
See below and enjoy ^_^
Yield: Dinner for 2
Pipikaula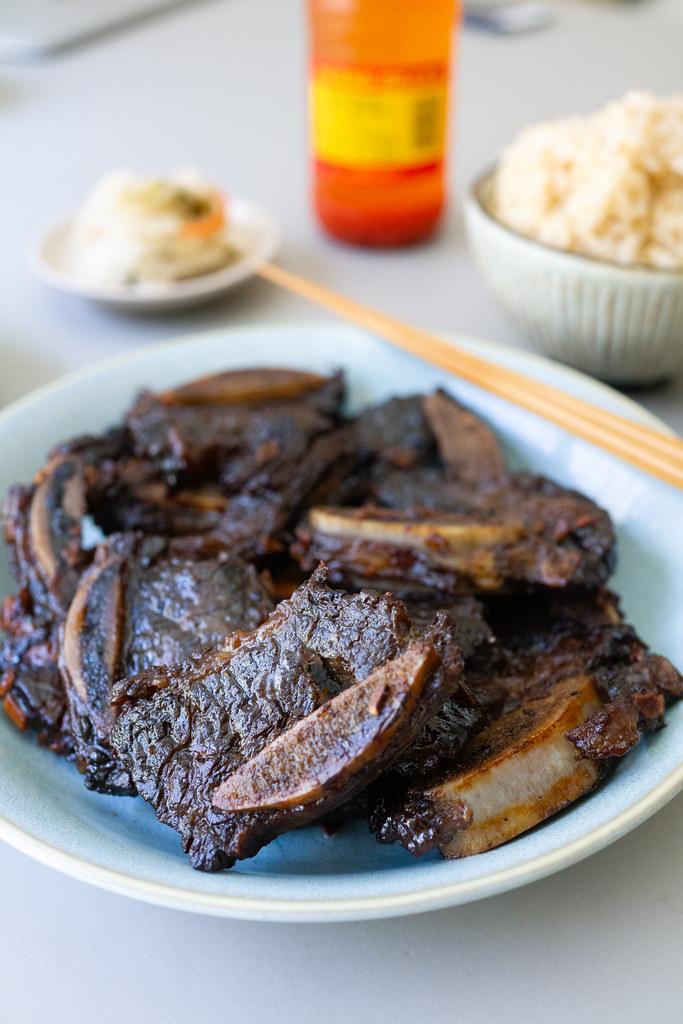 Pipikaula is a Hawaiian dish of seasoned and semi-dried beef. There are two main styles of making pipikaula and this one is inspired by the pipikaula served at Helena's Hawaiian Food, a famous Hawaii restaurant. Bone-in short ribs are marinated overnight, slowly baked in the oven, and then pan-fried till crisp. It is super onolicious ^_^
Total Time
6 hours
10 minutes
Ingredients
3 pounds flanken-cut short ribs, cut into individual pieces (one bone for each piece)
6 cloves garlic, minced
2-inch knob of ginger, peeled and minced
Instructions
In a big resealable plastic bag, combine the short ribs and marinade ingredients (the soy sauce, sugar, garlic, and ginger). Seal the bag and marinate overnight in the refrigerator.
Next day, turn the oven to 170F. Bake the marinated short rib pieces in a single layer for 6 hours. You want to bake it until it's nearly (but not completely) dried. Aim for 75% dry. After this step, you can store the pipikaula in the fridge for up to three days before serving.
Once you're ready to eat, bring the pipikaula to room temperature. Pan fry over medium-high heat for about 1-2 minutes on each side, until it's the exterior is crisp. Serve with rice ^_^