Manoa is an Oahu neighborhood popular for Manoa Falls hike and proximity to University of Hawaii and Punahou School. Manoa also has great food, here's where to eat.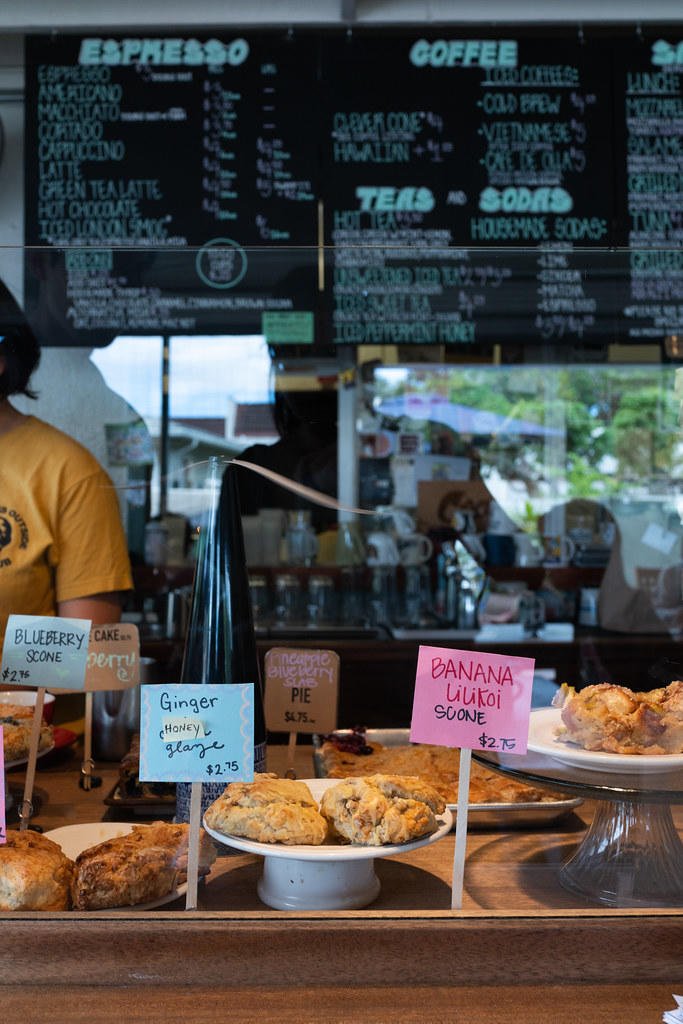 Pastry offerings at Morning Glass Coffee
Manoa Neighborhood
Welcome to Manoa! Also called Manoa Valley (because it's tucked within a valley), this is one of my favorite neighborhoods in Honolulu. It's primarily residential, but offers many hidden gems and great eats.
Unless you're a local or student/faculty member at University of Hawaii or Punahou School, odds are you didn't head into Manoa *just* to eat (though that is reason enough).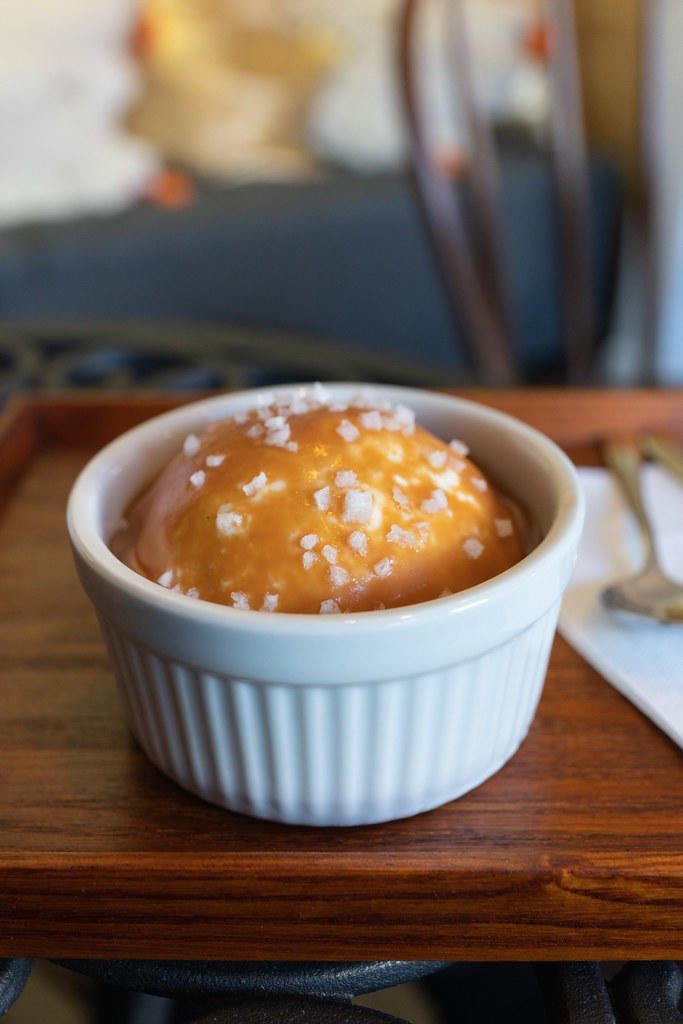 Housemade vanilla ice cream with salted caramel sauce at Choco le`a
Most visitors find themselves in Manoa enroute to Manoa Falls Trail hike (this is a cool and shaded hike, great for beginners. Reward at the end is a beautiful waterfall!)
Manoa is a quiet, well kept neighborhood. Aside from food, I also love the local library, visiting Lyon Arboretum botanical garden (bring mosquito repellent), and even running errands in Manoa. It's just a 15-minute drive from Waikiki, so there's no reason not to check out the neighborhood.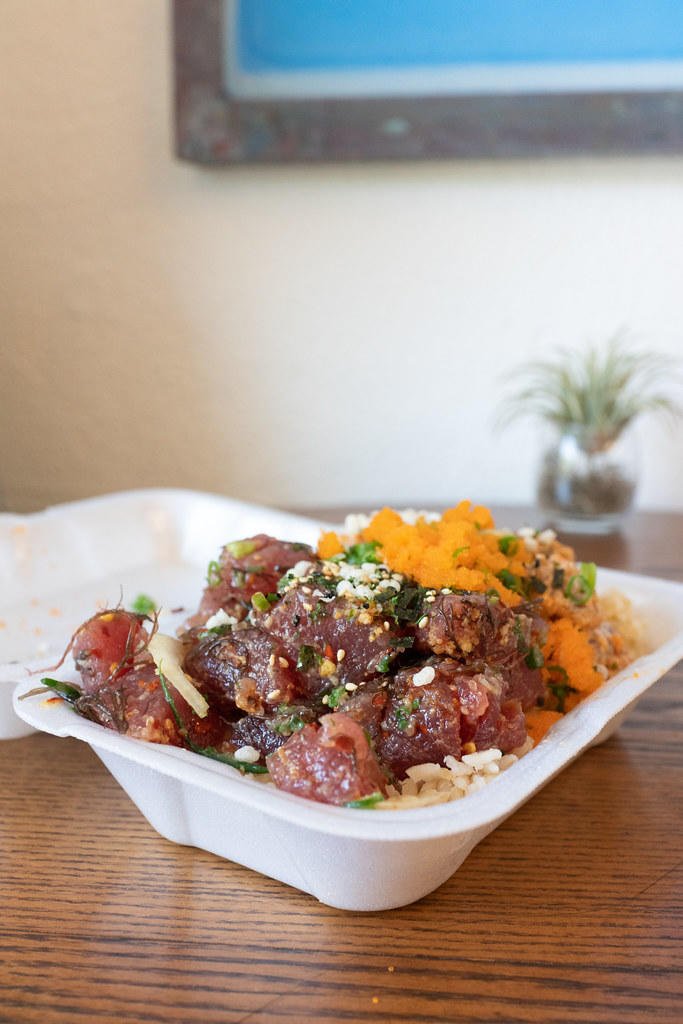 Ahi poke on rice at Off The Hook Poke Market
Manoa Restaurants
Whatever your reason for being in Manoa, you can count on having a great meal and dessert! This is where to eat (listed in alphabetical order):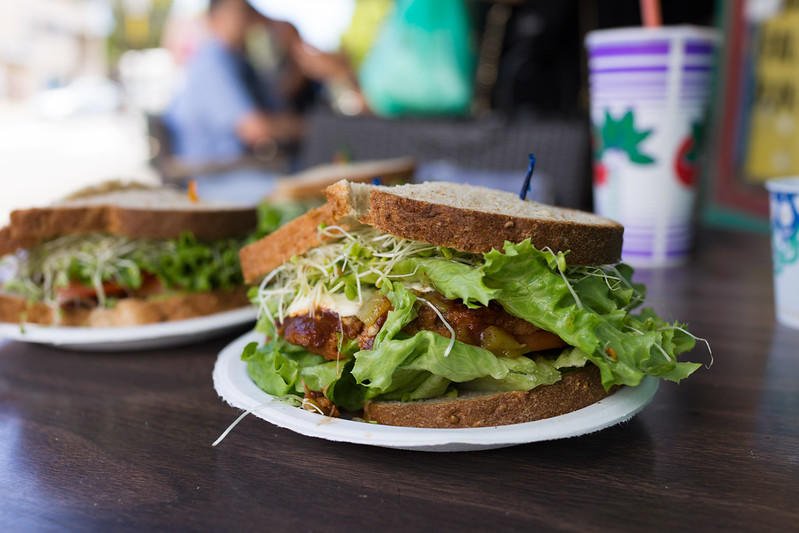 Hot eggplant melt (with papaya seed dressing) at Andy's
Andy's is the most famous food spot in Manoa. They've been here forever and everyone loves them. Andy's fits the bill for many occasions:
Blueberry pancake breakfast with parents and friends on the weekends
You can easily walk here from UH or Punahou School for lunch (we did this a lot in high school). Sandwiches, smoothies, and good company...what more do you need?
All the "in the know" people who hike Manoa Falls know to pick up an Andy's sandwich (and muffin or cookie) pre/post hike.
2904 E Manoa Rd, Honolulu, HI 96822
The original Bangkok Chef location is in a garage in Liliha. They've since expanded to multiple locations throughout Oahu. The Liliha original is still my favorite location, but this Manoa location is a close second. They have all your reliable Thai dishes (sometimes you just want pad thai and green curry :), plus great tapioca desserts (check in the fridge next to the cash register). There are tables for dine-in but we prefer to get takeout for lunch/dinner at home. 2955 E Manoa Rd, Honolulu, HI 96822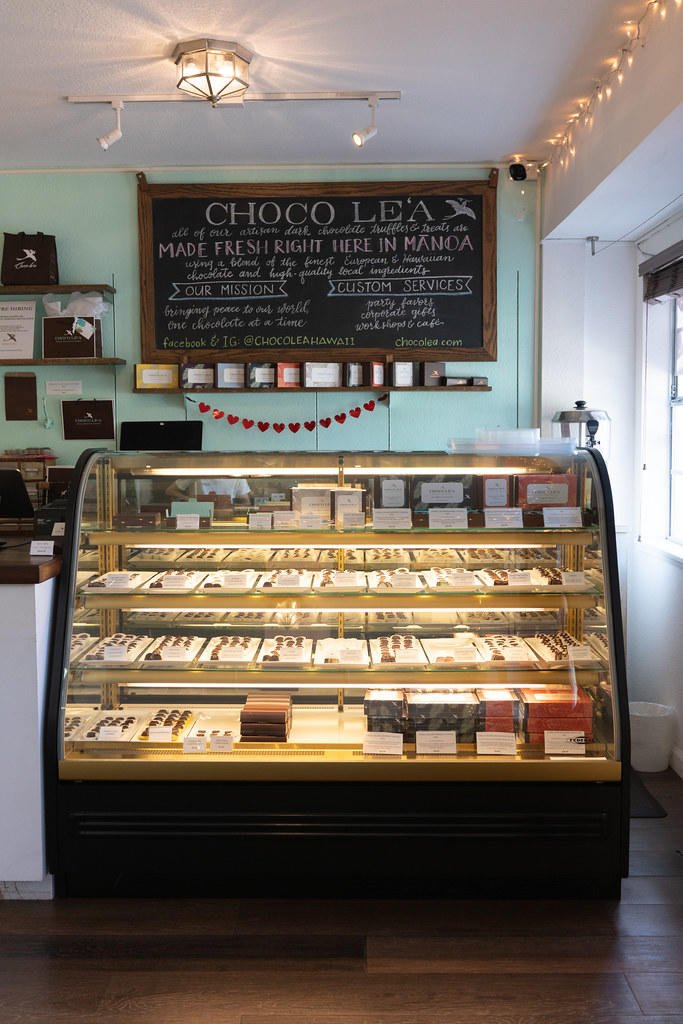 Chocolate truffle case at Choco le`a Chocolate
Chocolate everything! Housemade chocolate truffles incorporate many neat local ingredients like chocolate mochi truffles, peanut butter and guava truffles, lilikoi (passion fruit) truffles...they even made niao gao truffles this year. Not in a truffle mood? You can also get hot chocolate and housemade vanilla ice cream with a pour of silky salted caramel (second photo from top). 2909 Lowrey Ave, Honolulu, HI 96822
Hamburger steak and fried chicken plate lunch with rice and cauliflower mac salad at Feast
Local plate lunches, elevated. Order at the counter and seat yourself. There's plenty seating so this place is good for groups. My go-to dishes at Feast: salt beef watercress soup (a popular/classic Hawaii dish which we have a recipe for here), hamburger steak and fried chicken plate lunch (pictured above), and the sake salmon chazuke. 2970 E Manoa Rd, Honolulu, HI 96822
A wonderful neighborhood bakery turning out everything from baguettes to sourdough loaves and breakfast sandwiches and paninis for the lunch crowd, Fendu Boulangerie has something for everyone. They also use many local flavors in their pastries and desserts - think guava cheesecake, local banana bread, and lychee danishes. Manoa Marketplace: 2752 Woodlawn Dr #5-119, Honolulu, HI 96822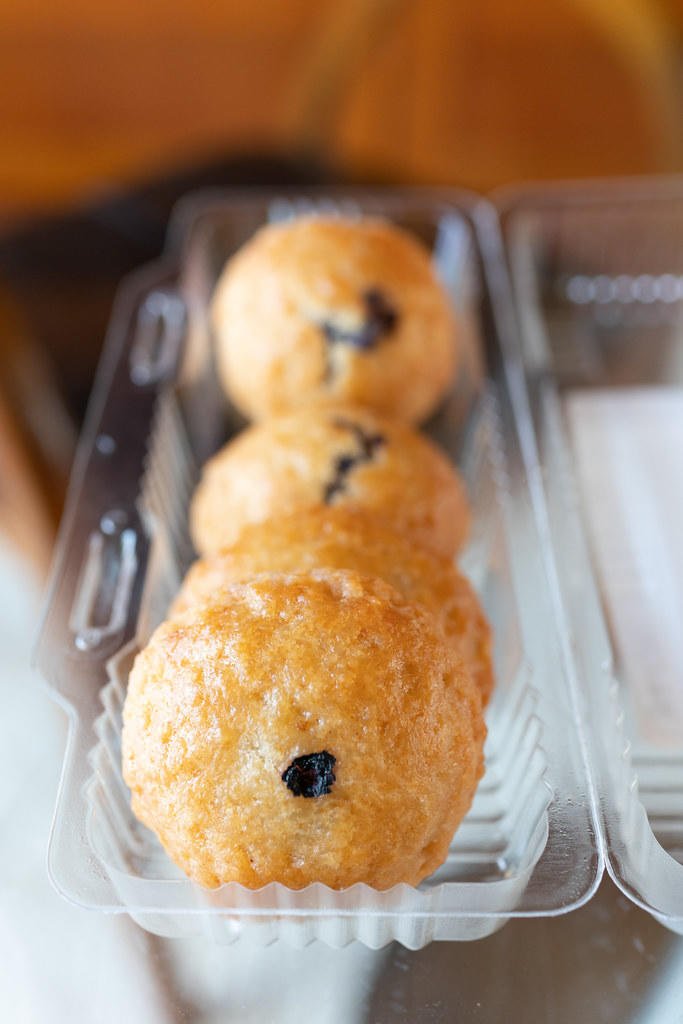 Manju (flown in from Home Maid Bakery on Maui) at Longs Drugs
Longs is technically a drug store and not a restaurant. But! It's a drug store unlike any other. Here you'll find tons of local snacks and sweets - everything from li hing mui treats to manju flown in from Maui and even frozen chili from Zippy's. Full post on Longs Drugs here. Manoa Marketplace: 2750 Woodlawn Dr, Honolulu, HI 96822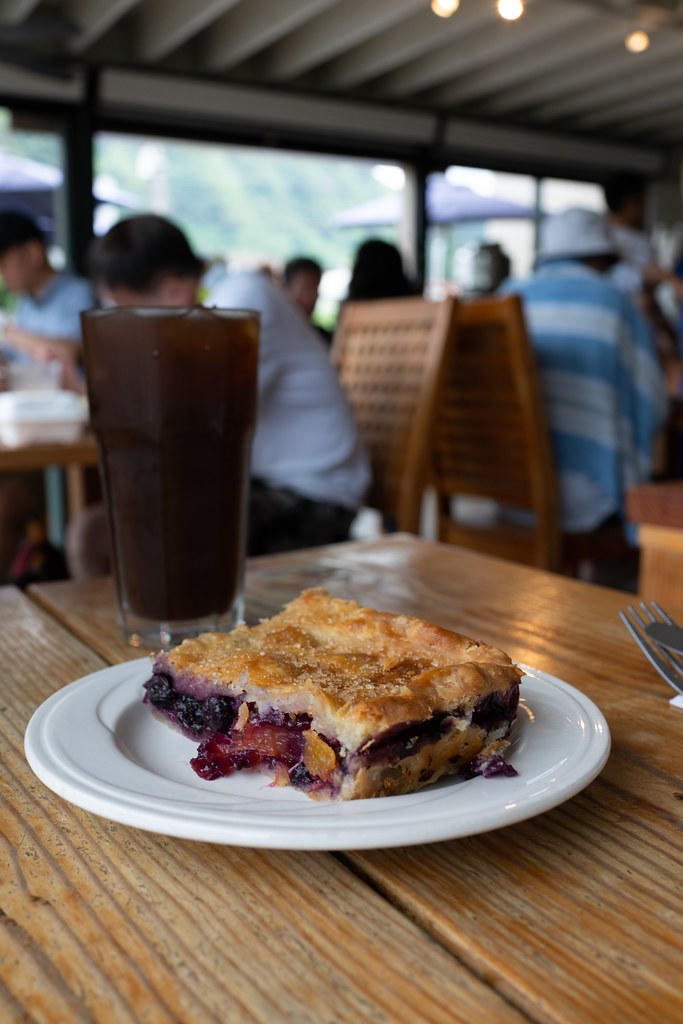 Blueberry slab pie at Morning Glass Coffee
A very fun and hip neighborhood cafe/coffeeshop. Morning Glass has an impressive coffee, tea, and housemade soda menu (get the ginger soda). They also make great pastries in-house. They have salads/sandwiches, but it's best to stick to the drinks and pastries here. It's peaceful on weekdays but can get crowded on the weekend. 2955 E Manoa Rd, Honolulu, HI 96822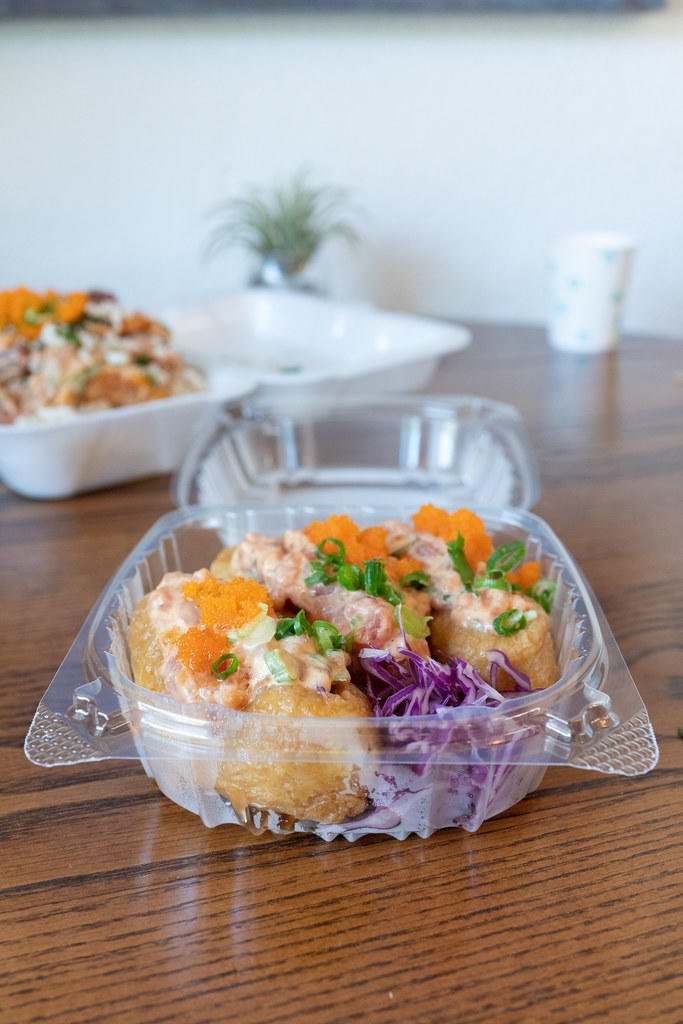 "Poke Bombs" at Off The Hook Poke Market
Craving poke? You've come to the right spot. The poke selection includes Hawaiian style, miso ginger, and the classic shoyu poke to name a few. You can order the poke by the pound, as part of a poke bowl, or in a sampler set of 9 different poke options. My go to dish here? The "poke bombs" which is a trio of aburaage (fried and simmered tofu pouches which we call "cone sushi" in Hawaii) stuffed with rice and poke. Note: Outside of Manoa, make sure to check out Ono Seafood, Kahiau Jerky, Ahi Assassins, and Maguro Brothers for poke. 2908 E Manoa Rd, Honolulu, HI 96822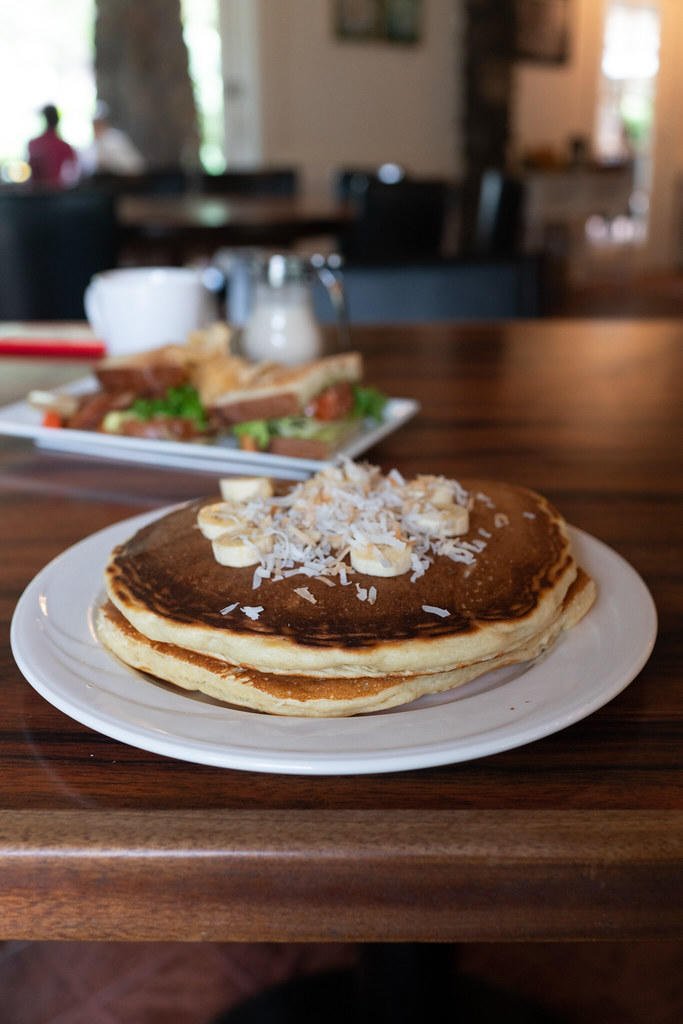 Banana-Macadamia Nut Pancakes at Waioli Kitchen & Bake Shop
Waioli's an iconic Manoa restaurant (previously owned by Salvation Army, and also part of the National Register of Historic Places on Oahu). They used to offer an afternoon tea service, but alas, no more. Not to fret, the new owners did a super job streamlining the menu, focusing on breakfast, sandwiches and pastries. They bake all breads and pastries in-house. Order at the counter and seat yourself. They bring the food to your table. It's quiet, spacious, affordable, and beautiful...not much more you can ask for! I often meet friends here for lunch, Waioli is a real Manoa gem. 2950 Manoa Rd, Honolulu, HI 96822