Musubi Cafe Iyasume makes 38 different types of musubi (many include Spam). With seven convenient locations across Honolulu, this is a popular musubi spot for locals and visitors.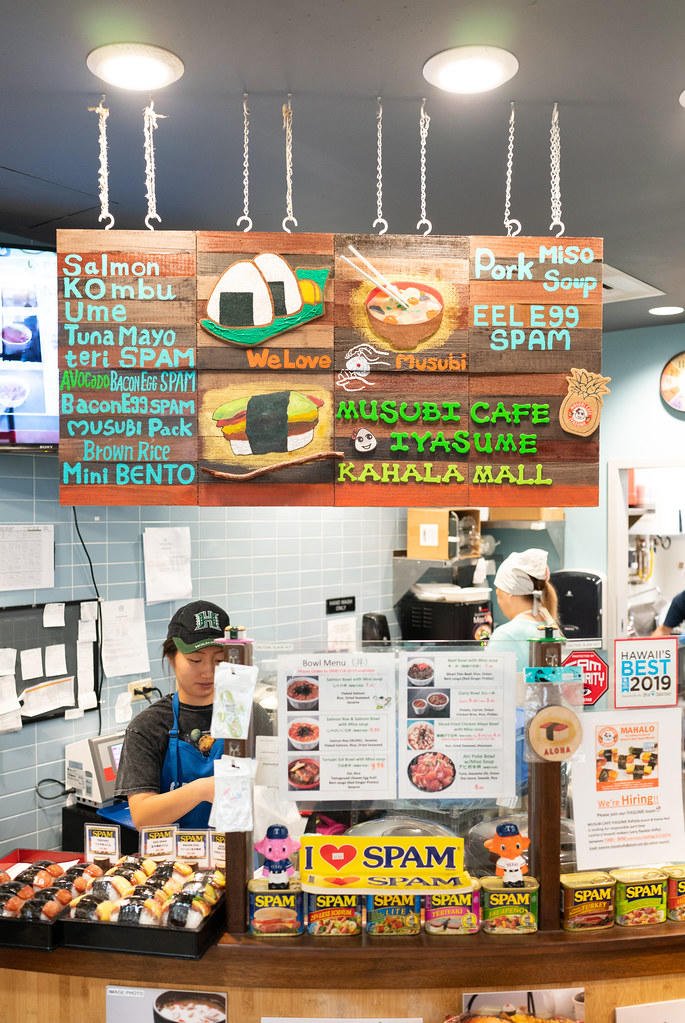 Musubi Cafe Iyasume, Kahala Mall location
What Is Musubi Cafe Iyasume?
Musubi Cafe Iyasume is musubi (rice ball) heaven! They make some of the best musubis in Hawaii and they have the largest variety in town (including many variations on Spam Musubi).
Musubi Cafe Iyasume has seven locations in Honolulu, and they are all casual takeout spots. These musubis come in handy for afternoon snack, lunch, breakfast, easy dinner...any time you can imagine!
Pick up a few musubis before heading on a hike, spending the day at the beach, etc. Musubis also makes a great airplane treat (easy to pack, doesn't smell, very tasty). One musubi is a snack, two is a meal.
Musubi Cafe Iyasume is famous for musubi but they also make many simple Japanese dishes like curry over rice, ahi poke bowls, miso soups and mini bentos that include karaage (Japanese fried chicken).
What Is Musubi?
Musubi are rice ball snacks. It's made by forming white rice into either triangular or rectangular shapes. A filling or topping (including meat, vegetables, and pickles) is typically added. Then the whole thing is wrapped in nori (seaweed). Musubi is eaten at room temperature.
Musubi Cafe Iyasume makes both the triangular or rectangular type of musubi. The rectangular ones all include Spam plus something else (like unagi, omelet, bacon, avocado, etc). The triangular ones include a variety of fillings ranging from spicy cod roe, to plum, and fried chicken mayo.
Spam-Omelet-Avocado-Unagi Musubi
Musubi in Hawaii
Musubi is a very popular snack in Hawaii. You'll see musubis available for sale in all supermarkets, local food stores, even gas stations and 7-Eleven! We grew up eating musubi from the school cafeteria and at birthday parties, potluck parties, etc. The eating culture in Hawaii is very causal and musubis are a great example of that.
Note: I always say the pinnacle of Hawaii dining is found in all the causal foods (think shave ice, malasadas, chicken long rice, haupia, kulolo,...and Spam musubi!)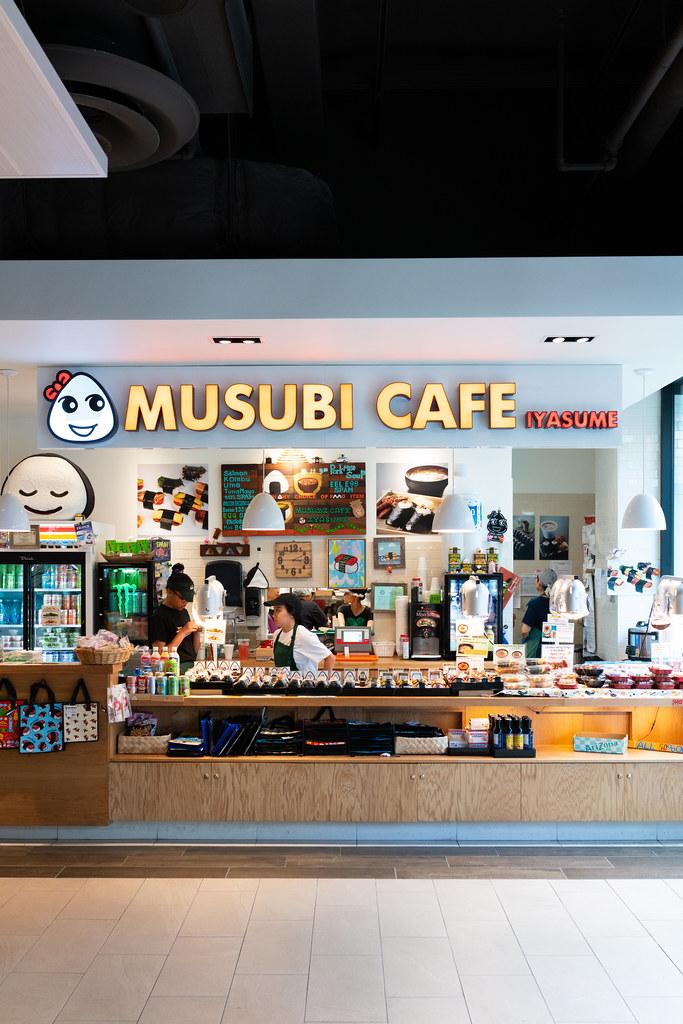 Musubi Cafe Iyasume, Ala Moana Center 1 location
Where Is Musubi Cafe Iyasume?
There are seven locations in Honolulu:
I prefer the Kahala Mall and two Ala Moana Center locations because you can find ample seating throughout both shopping malls. The other locations are designed more as a quick takeout/grab-n-go.
What To Order At Musubi Cafe Iyasume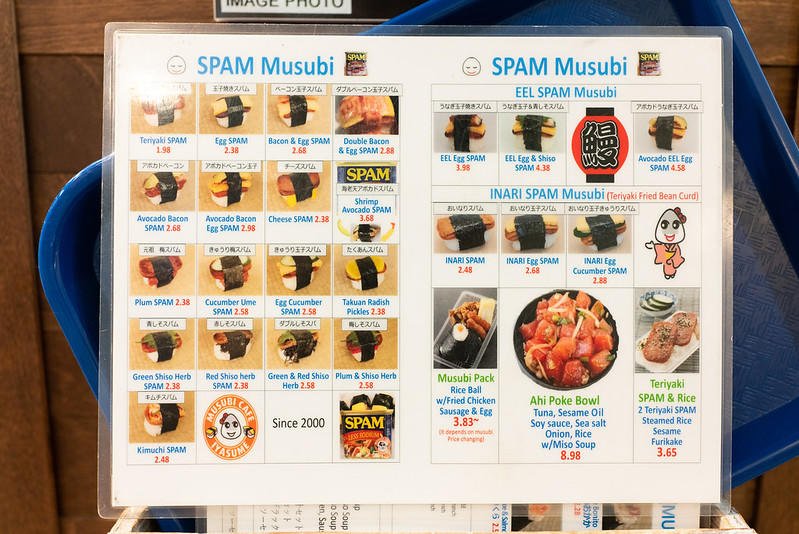 Musubi menu
Musubi!
The musubi menu here is incredible. If you only get one musubi, make it the Spam-Omelet-Avocado-Unagi Musubi (third photo from top) - this is the ultimate deluxe musubi. Unagi (eel) is already a treat, and then when you couple it with Spam, omelet, and avocado...ahh wonderful, wonderful! This musubi can be a little tricky to eat because it's piled high, but make sure to get a taste of everything in one bite.
You can also get plain Spam Musubi, Kimchi-Spam Musubi, Cheese-Spam Musubi, Cucumber-Ume-Spam and Green and Red Shiso-Spam Musubi! The flavor combinations are spot on (it's hard to go wrong with Spam). They're always inventive but never too crazy. And most importantly, always delicious.
Last time I checked, Musubi Cafe Iyasume had 38 different musubis on the menu. That is incredible.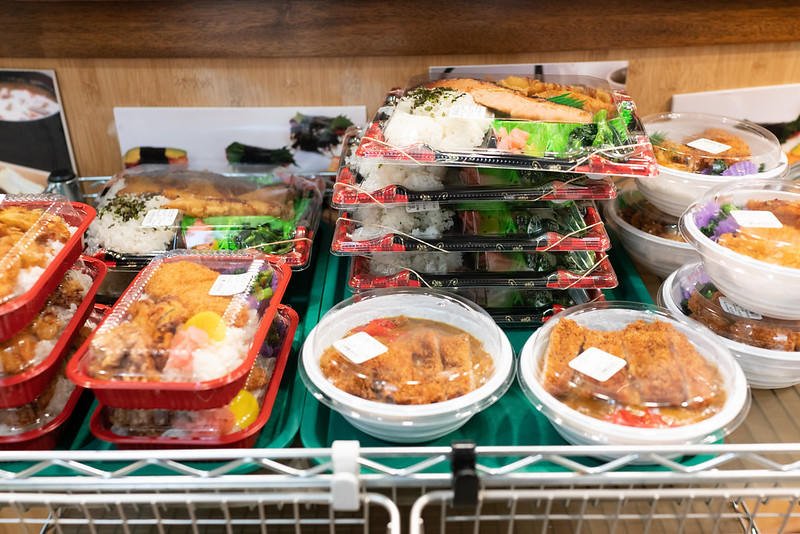 Bento offerings (Kahala Mall location)
Bentos
I often order the "musubi pack" mini bento for breakfast. It includes one musubi (flavor always changes, but it's a triangular non-Spam musubi), karaage (fried chicken), two little fried sausages, and omelet. It costs about $4 and is an excellent breakfast deal.
Small curry rice
Curry Rice
Many food items at Musubi Cafe Iyasume are already prepared (making this a place a great stop if you need to get food fast). A small portion of the menu is devoted to hot dishes prepared to order. This includes teriyaki eel over rice, gyudon (thin sliced beef) over rice, ahi poke bowls, and my personal favorite...curry over rice!
The curry bowl comes in big and small sizes. If I'm also getting a musubi, I'll order the small curry rice bowl. If not, I'll order the big curry rice bowl. It's a simple and very satisfying Japanese curry with carrots, potatoes, and onions cooked in a chicken broth base. So comforting.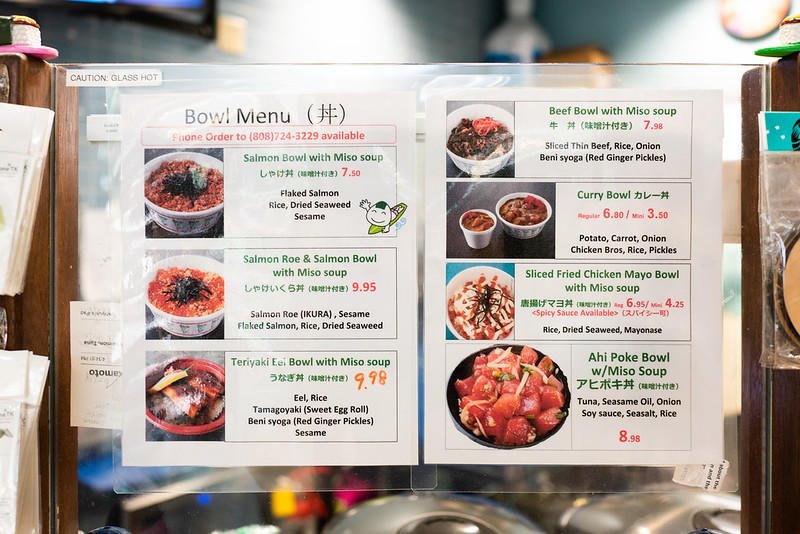 Menu for made to order dishes
Musubi Cafe Iyasume: Insider Tips
Go-to dishes: Spam-omelet-avocado-unagi musubi and mini curry rice bowl
I like the Ala Moana Center and Kahala Mall locations best because you can get seating at the mall easily. Other locations don't really have seating.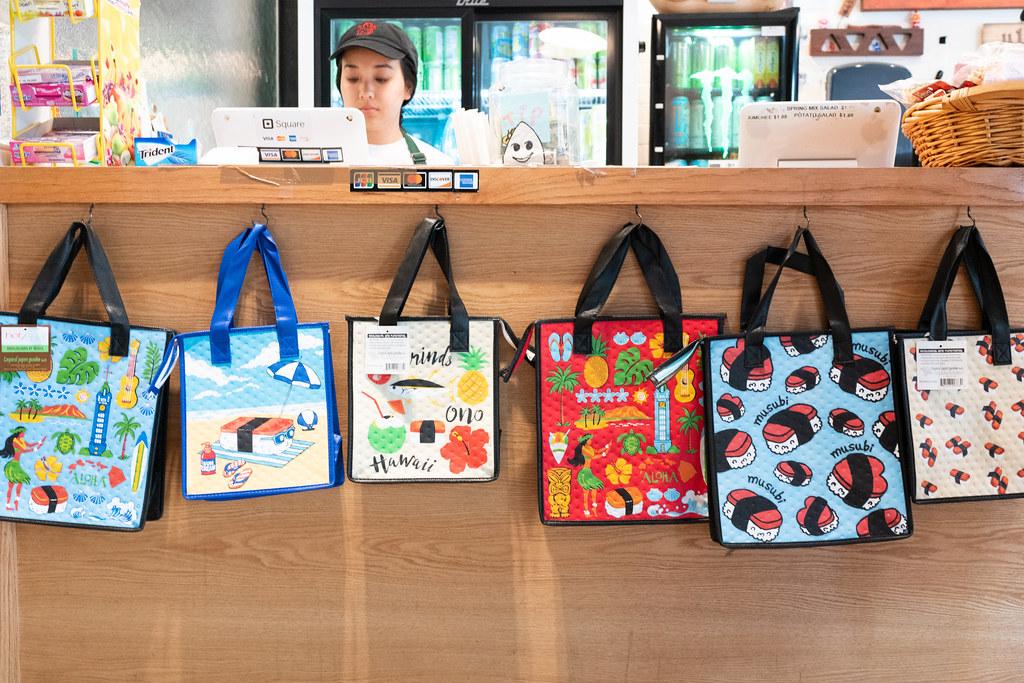 Musubi Cafe Iyasume, Ala Moana Center 1 location
Musubi Cafe Iyasume: Info