7-Eleven Hawaii is unlike any of the 7-Eleven locations on the mainland. The Hawaii locations are full of local treats and snacks ranging from spam musubi to manapua and even lilikoi and POG Slurpees!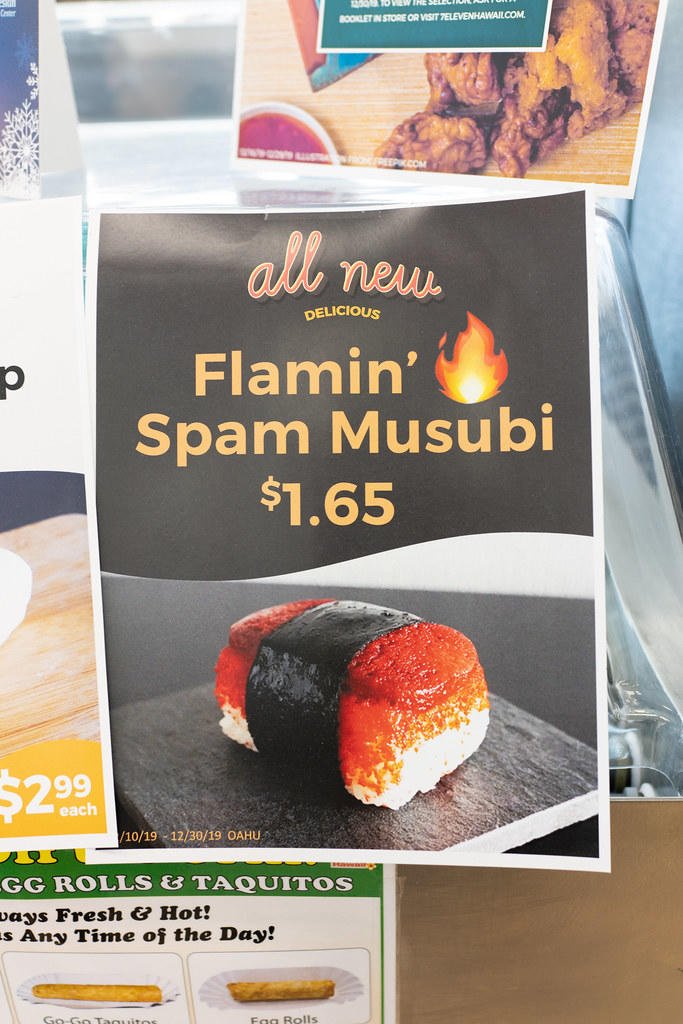 Whether you spell it 7-Eleven Hawaii or 7-11 Hawaii, you must make a point to stop by a 7-Eleven location when in Hawaii. I tend to avoid 7-Elevens on the mainland, but the Hawaii ones are a real gem. First of all, they're pretty clean and not scary or dingy. (Some locations are better than others though, try look for the bigger ones.) Second, they've got really neat local foods.
Below, 9 snacks you can only find at 7-Eleven Hawaii!
1. Spam Musubi!
Most important thing at 7-Eleven Hawaii: spam musubi! We have a whole post about spam musubi here - read that first, and then stop by 7-Eleven and take your pick. Do you want a regular spam musubi? Or do you want one brushed with teriyaki sauce? Maybe a deluxe spam musubi (which has egg and furikake in addition to the spam)? The options are endless.
One is a snack, two is lunch. These hot musubis really hit the spot when you're hungry and just need a little snack to satisfy before dinner. Or when you need to grab a quick post-beach/hike treat. Spam musubi always saves the day.
2. Local Slurpee flavors
Super neat! In addition to all the regular Slurpee flavors, you can get Lilikoi (also called passion fruit) and POG Slurpee! POG stands for passion fruit-orange-guava and you can read about everything POG in this post. Sometimes they also feature even more special flavors like lychee (that was my all time favorite).
We love to "li hing" everything in Hawaii. Li hing mui is a dried plum snack that is popular in Hawaii. It comes in multiple forms, and the powder form (called "li hing powder") is what we use to sprinkle over fresh fruits and gummy candied. Li hing gummies are a big deal in Hawaii. You'll see li hing gummies at every supermarket, drugstore, and crack seed store in Hawaii.
7-Eleven has a pretty solid offering of li hing gummies including their own brand and other local brands. Definitely get the li hing gummy bears first, and then brand out to li hin sour belts, li hing apple rings, etc. The world is yours!
4. Local Bentos
Every 7-Eleven has a refrigerated section and the Hawaii ones are filled with multiple types of spam musubi (some people like to buy them cold so that they can heat them up later), manapuas (bottom right in the above photo), and lots and lots of sushi hand rolls and bentos including items like chow fun, cone sushi, hamburger steak, etc.
5. Dave Ice Cream
Dave's Ice Cream is a popular local ice cream company. They have several retail locations throughout Oahu island, and we love getting multiple pints and having ice cream parties at home. Green Tea and Chocolate Macadamia Nut are my two go-to flavors from Dave's...luckily, 7-Eleven happens to carry both.
6. Local Baked Goods
Don't overlook the pastry case at 7-Eleven Hawaii. You'll spot all the usual donuts and stuff. But look closely and you'll see many speciality local baked goods. This includes items like:
Filipino pastries from Nading's Bakery. Think Ube Ensaymadas, Guava Pianono rolls, and Nading's famous Spanish Rolls (sweet and salty and super buttery...these are really good toasted).
Mochi! Usually the plain chi chi dango.
Poi mochi donuts!
7. Snacks from Asia
"Exclusive Snacks - Direct from Korea!" How cool is that? Because of our geographical location, Hawaii is rich with Asian food and ingredients. Even 7-Eleven gets in the game. This sections changes from time to time but you can always expect to find neat snacks from different parts of Asia.
8. Manapua!
There's a whole warm case devoted to manapua and pork hash (which you can also find at old school places like Char Hung Sut). Pork hash is similar to siu mai, but much, MUCH bigger in size. Seasoned pork and shrimp is stuffed inside a wonton, then wrapped (with the top left open) and steamed. Makes a nice warm snack...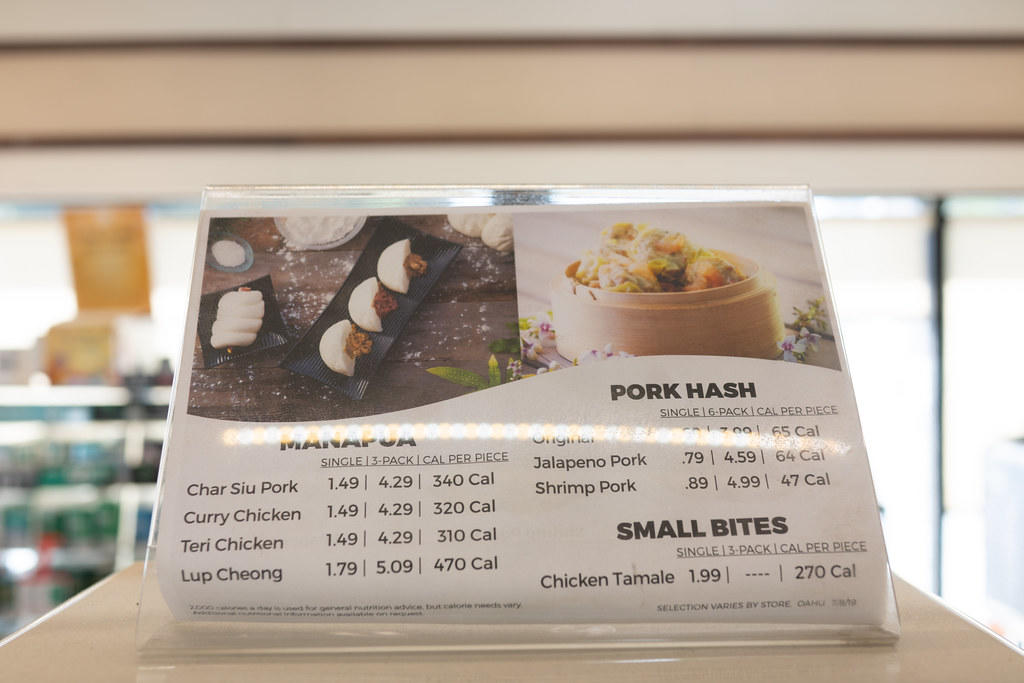 Here's a closer look at the manapua and local dim sum menu. Manapua are big and fluffy steamed buns stuffed with both sweet and savory fillings. They have four types of manapuas here: char siu manapua, curry chicken manapua (I used to eat this one a lot when I was a kid), teriyaki chicken manapua, and lup cheong chicken.
Remember the Kulolo post? Kulolo is a Hawaiian dessert made of our kalo (taro) and coconut milk. It's very rich with a texture between fudge and mochi. The taste? Nutty, almost caramel-like flavors. Kulolo is very labor intensive to make, so people rarely make this at home. You have to know where to get kulolo (this post can answer all your kulolo questions)...so it is kind of crazy that 7-Eleven sells kulolo! But not all locations. It's a hit or miss, depends how lucky you are. I see kulolo most regularly at the 2028 Wilder Avenue location (next to Punahou). They sell the Pomai Kulolo brand.