Hawaiian sweet potato (also known as Okinawan sweet potato) is a staple ingredient in Hawaii. Famous for its vibrant purple color and numerous health benefits, this sweet potato is featured in many Hawaii dishes!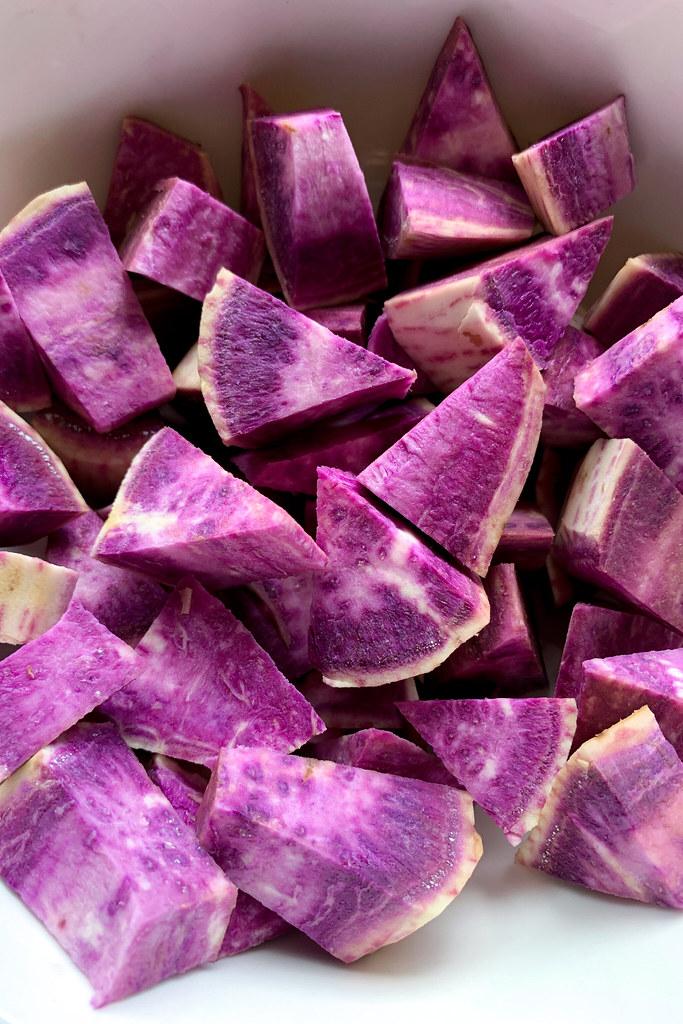 What Is Hawaiian Sweet Potato?
Have you meant the Hawaiian Sweet Potato (aka Okinawan Sweet Potato)? This beautiful purple potato is a staple of our Hawaii eating life.
The skin of this potato is a light brown color. Cut it open to reveal a deep purple inside. It's quite stunning!
The Hawaiian Sweet Potato goes by a few other names:
Okinawan sweet potato
Purple sweet potato
Purple yam
Beni-imo
Hawaiian Sweet Potato is very healthy and has even been coined a superfood. They're nutritious and high in fiber and antioxidants (even more antioxidants than blueberries). Most importantly, they're just so onolicious!
Neat fact: Hawaiian Sweet Potato is not part of the potato family. It is part of the morning glory family.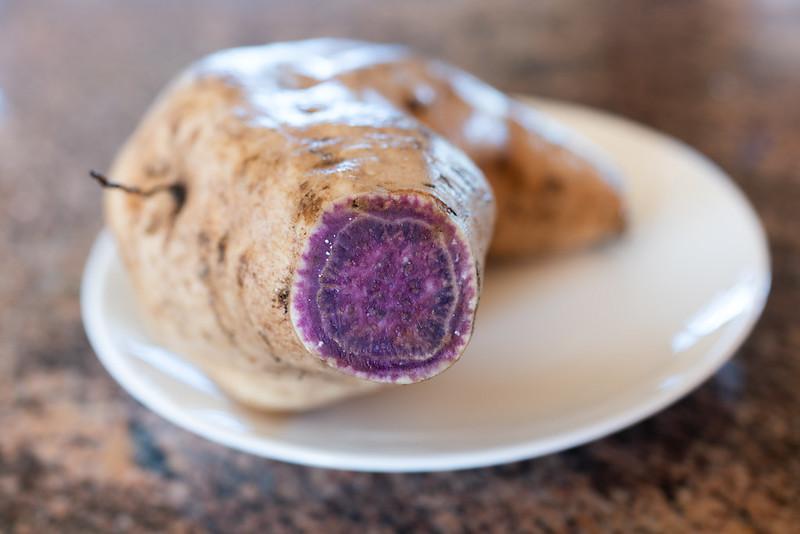 Hawaiian Sweet Potato Versus Okinawan Sweet Potato
What's the difference between Hawaiian Sweet Potato and Okinawan Sweet Potato? Hang with me, this part may get confusing.
There are two families of sweet potatoes that grow in Hawaii:
(Original) Hawaiian Sweet Potato
This specific variety is currently being revived in Hawaii. It's believe to be one of the original plants that the Polynesian voyagers brought to Hawaii (these group of plants were called Canoe Plants). We don't see the "original" Hawaiian Sweet Potato often in Hawaii, though hopefully that will change in the future.
99% of the time when people mention "Hawaiian Sweet Potato," they're actually referring to "Okinawan Sweet Potato" (more on that below) and not the "original" Hawaiian Sweet Potato described above.
Okinawan Sweet Potato
Purple sweet potato is common in Japan and Okinawa where it is used in many sweet and savory dishes. Okinawan Sweet Potato was brought to Hawaii via Japanese and Okinawan immigrants during the sugar plantation era of the 1800s. It became very popular in Hawaii and was incorporated into lots of local and Hawaiian cooking.
Fast forward a few centuries, and what was originally called Okinawan Sweet Potato is now also known as Hawaiian Sweet Potato because it's so popular in Hawaii. People use the two names interchangeably. This is the potato that we reference in this post and the one we mainly use in day to day Hawaii cooking.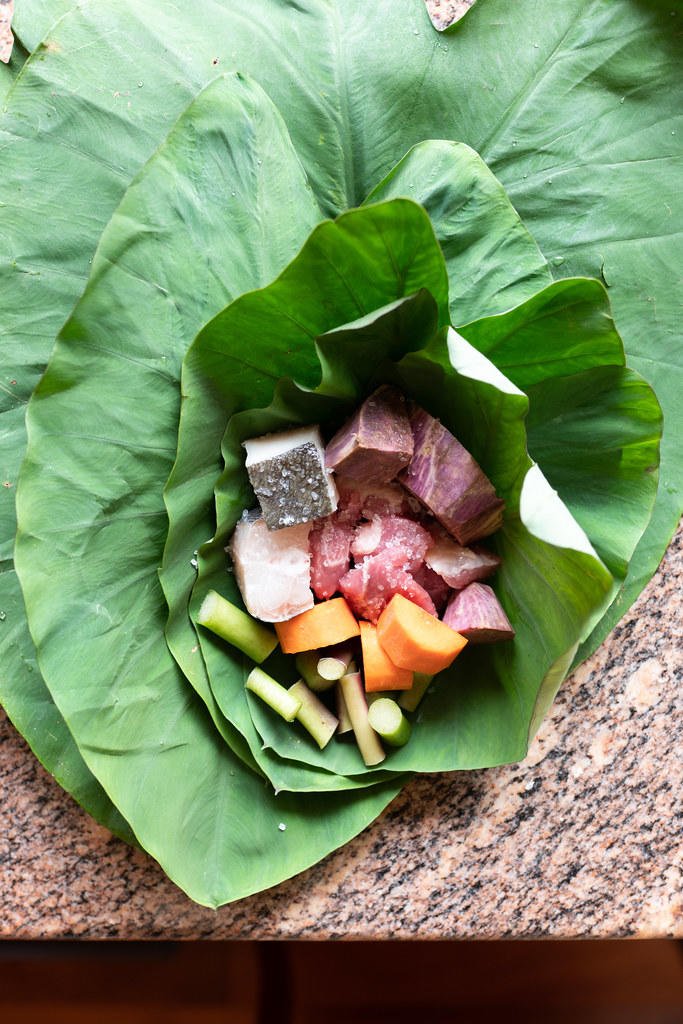 What Does Hawaiian Sweet Potato Taste Like?
Think of a regular potato, but deeper in flavor and also sweeter in taste...almost like there is a soft honey note. They're slightly more dense, creamy in texture, and has a rich fullness.
Where To Buy Hawaiian Sweet Potato?
In Hawaii you can find purple sweet potatoes at most markets and supermarkets. We usually get them from Chinatown, Foodland, KCC Farmers Market, or Kaka'ako Farmers Market.
It's harder to find on the mainland, but you may have some luck at Japanese or Chinese markets.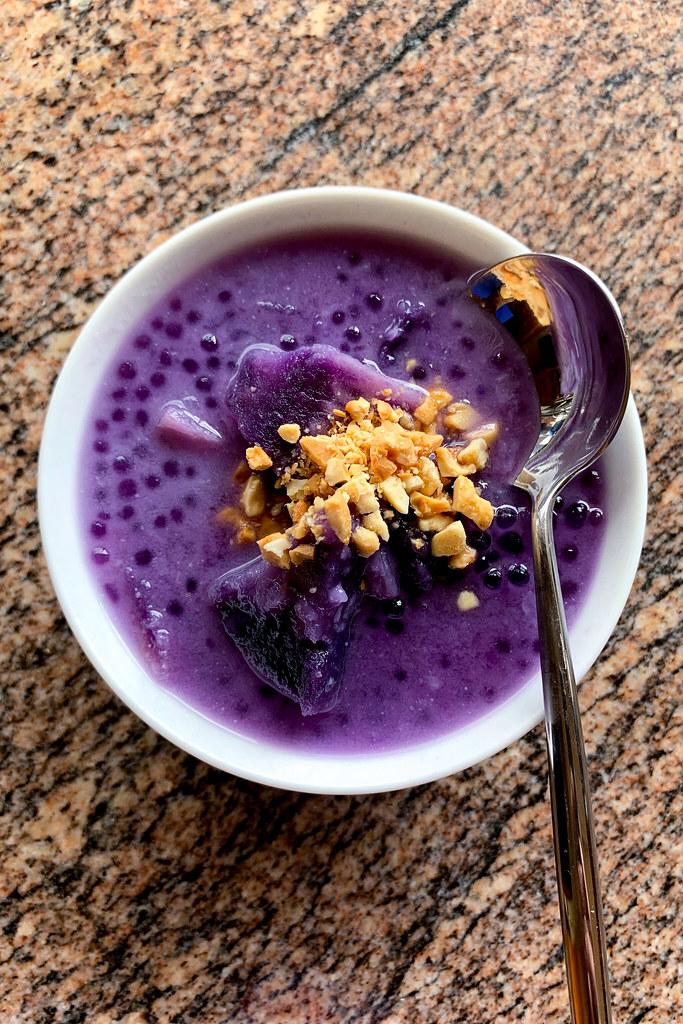 How To Cook Hawaiian Sweet Potato?
There are endless ways to cook purple sweet potatoes. Cook and work with them they way you would a regular potato. These are the three most popular:
Steam
My grandma does the steaming method often. Just steam the potato with the skin on for 30 minutes (until you can easily poke through the flesh with a fork). Eat warm! No need to season with anything, it's so wonderful on its own. We'll steam several at a time and save leftovers for breakfast the next morning.
Roast
Rub the outside skin with a bit of olive oil and salt, then roast in the oven for 45 minutes. Put it on a plate, and split it open (as if you were making a regular baked potato. Fluff up the insides and eat with a fork.
Mashed
Peel the skin, cut the potatoes into large chunks, and boil for 30 minutes until soft. Drain and then mash the potatoes. Add coconut milk and a pinch of salt while mashing. It's basically mashed potatoes, but a sweet version! So good.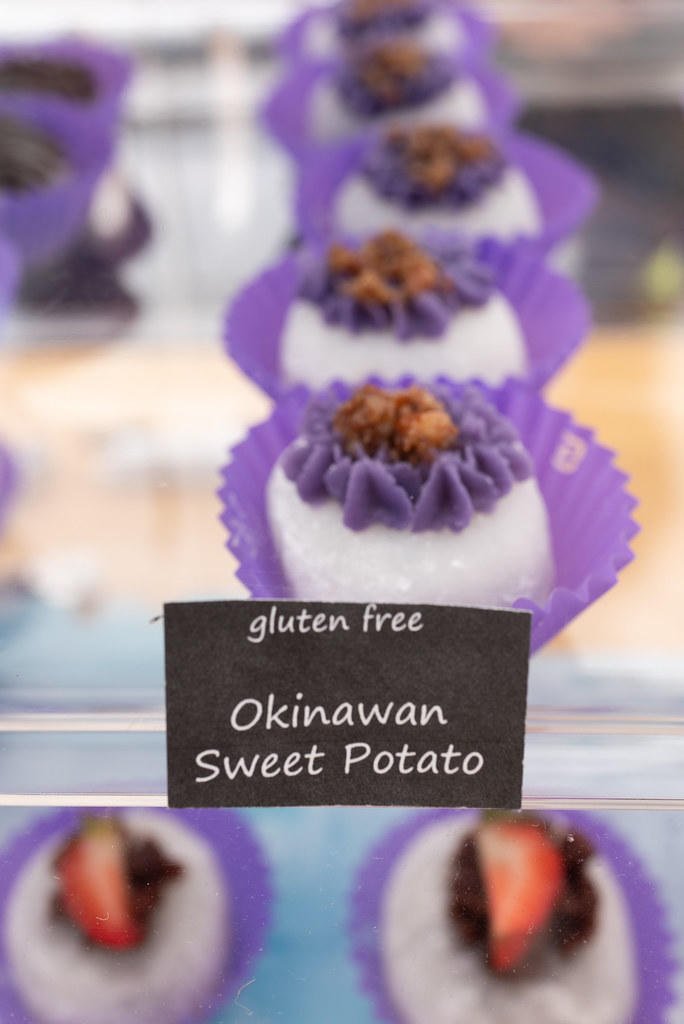 Hawaiian Sweet Potato Desserts and Dishes
Purple sweet potatoes are wonderful on their own, and even more amazing when turned into a dessert or savory dish!
These are some of my favorite ways to eat Hawaiian sweet potatoes:
Okinawan Sweet Potato Mochi at Kaka'ako Farmers Market
We spend Saturday mornings at either the Kaka'ako Farmers Market or KCC Farmers Market. Both markets have a nice mix of prepared savory dishes, snacks, fresh fruits, vegetables, meat, and fish...and of course, dessert! Izu is a regular vendor, offering an assortment of fresh mochi by the piece. I usually order the fresh strawberry mochi or Okinawan sweet potato mochi.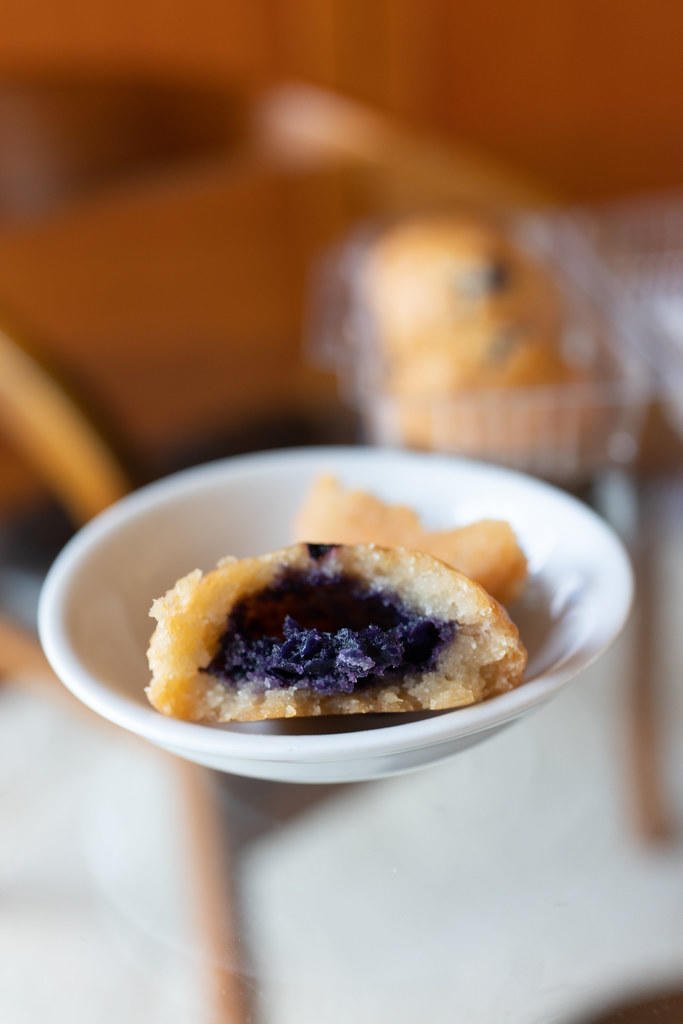 Imo (Sweet Potato) Manju from Home Maid Bakery
Do you know about Manju? Manju is a Japanese pastry, but it's also popular in Hawaii. The Hawaii version is slightly different - baked golden and so flaky, filled with everything from coconut, apples, and purple sweet potato. Hawaii's most popular manju maker is Home Maid Bakery. They're located in Maui, but lucky for those of us on other islands, they ship and sell to other markets. On Oahu, we can find Home Maid Bakery's manju at the Manoa location of Longs Drugs.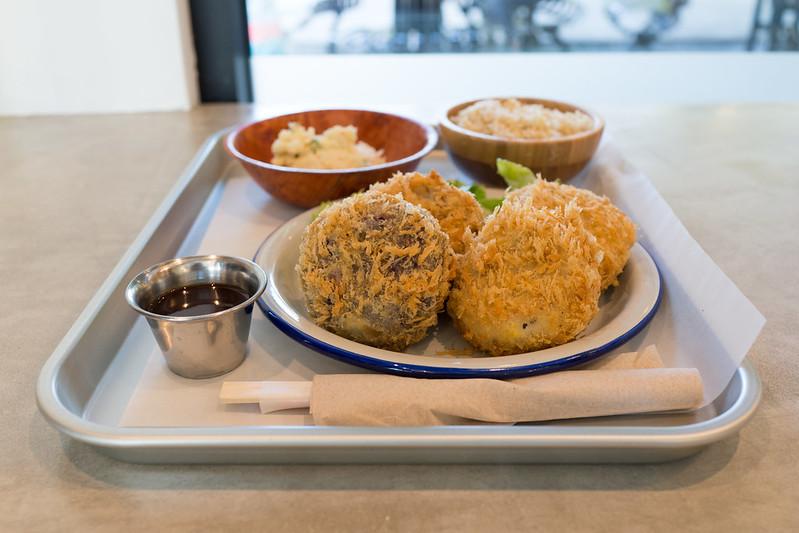 Purple Sweet Potato Croquettes at Pioneer Saloon
Pioneer Saloon is a popular plate lunch (with a Japanese twist) spot with two locations in Honolulu. I often order their croquettes (because I love potatoes and especially when they are mashed, battered with panko, and deep fried). The croquette plate comes with four golden croquettes. Two are made with regular potatoes, and two are made with purple sweet potatoes. Dip them in the sweet katsu sauce and eat with rice!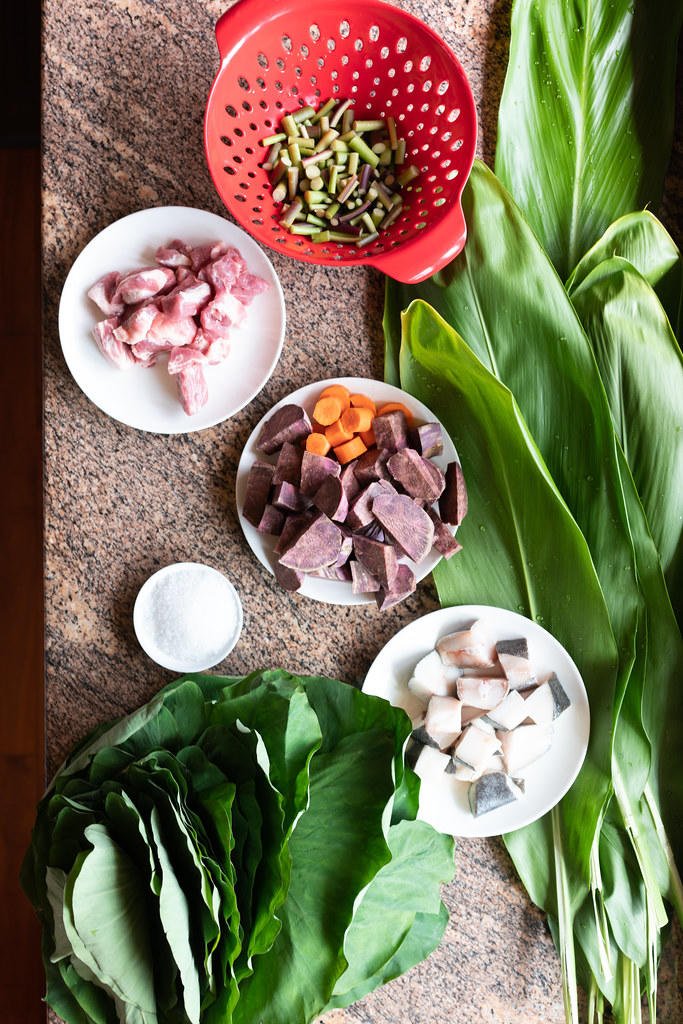 Purple Sweet Potato in Lau Lau
Purple sweet potato is a popular ingredient in lau lau, a savory Hawaiian dish made of pork, butterfish, and vegetables (including cubes of purple sweet potato) wrapped in lu'au leaves and ti leaves. We steam the lau lau and eat it with rice and poi. Here's how to make it at home.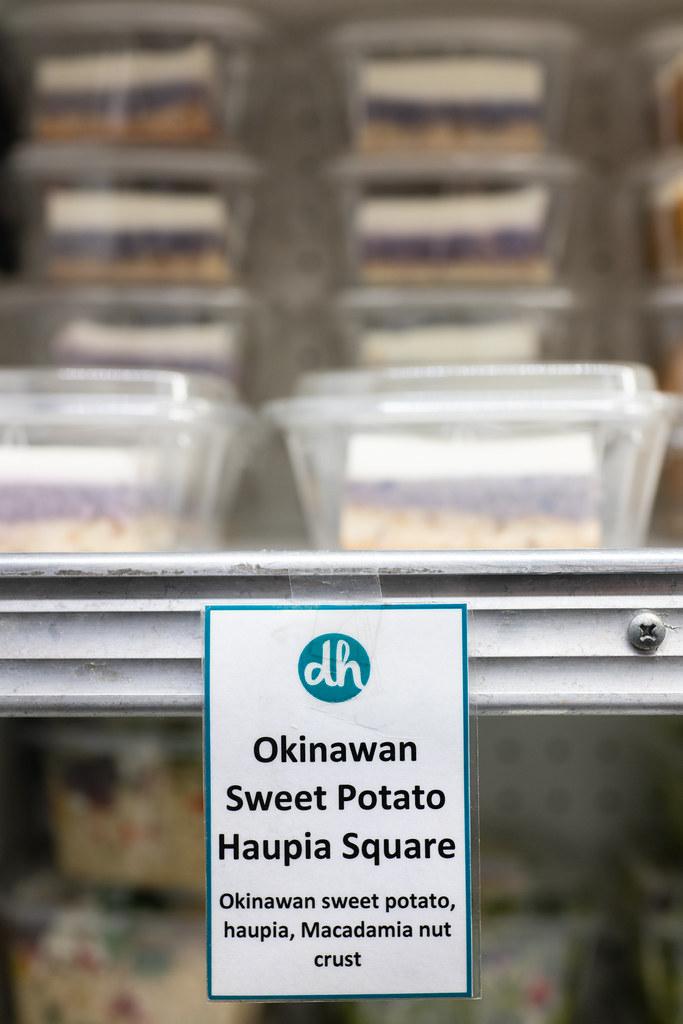 Purple Sweet Potato Haupia Squares
You can't leave Hawaii without trying a purple sweet potato haupia square. It's a three-layered bar dessert:
Bottom layer: shortbread crust
Middle layer: purple sweet potato filling
Top layer: haupia!
Where to find these squares? Everywhere! Lots of families make them at home (I'll post a recipe soon). You can also find them at local bakeries like Yama's Fish Market (I love this place), Pipeline Bakeshop & Creamery, Kuhio Grille, and Diamond Head Market & Grill. Many local supermarkets also make these bars in-house, and you can buy them at Times Supermarket and Foodland Hawaii.
Purple Sweet Potato Tapioca...make at home!
My mom and I often make Purple Sweet Potato Tapioca at home. It's a wonderful dessert that combines Vietnamese chè (sweet soups/desserts) and Hawaii's love for tapioca puddings. The tapioca is topped with a crushed salted peanuts. We love to eat it hot the day we make it, and then have leftovers cold the next day. The purple sweet potatoes naturally stain the tapioca a brilliant shade of purple. It makes me happy just to look at this dessert. Recipe here.