Whole Foods Hawaii is very different (and I daresay, better) than mainland Whole Foods. We have many Hawaii-only items like poke, li hing mui, and mamaki, come take a look!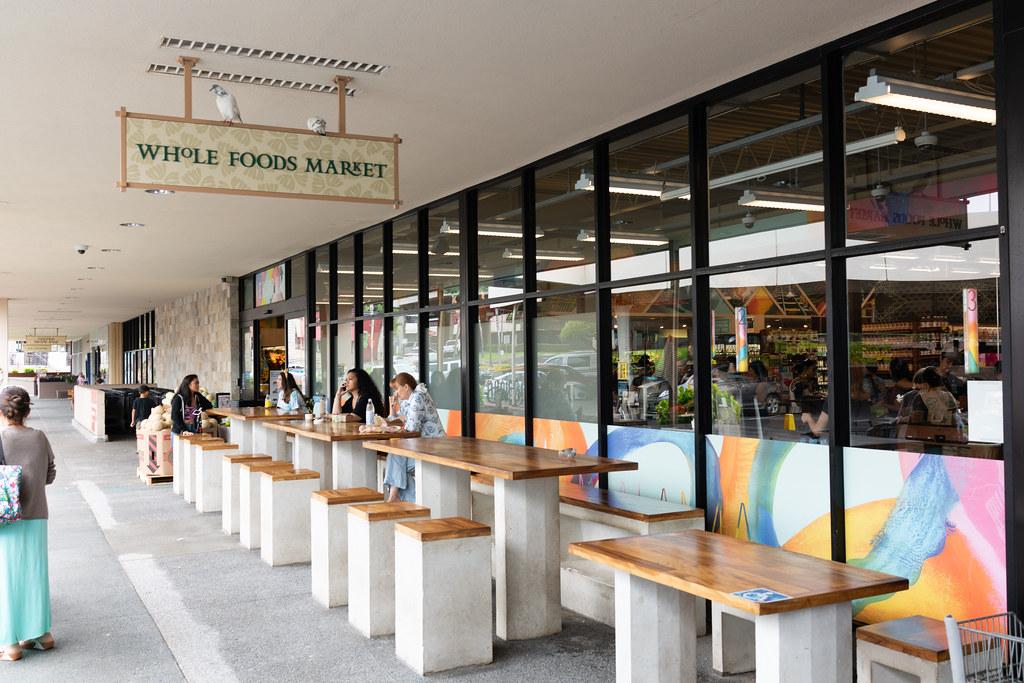 At risk of sounding too proud of my home state (but what a wonderful place!), many things are better (and cleaner) in Hawaii. The fast food places are nice, the service is friendly. Even the 7-11 stores here are fun. We can add Whole Foods into this list.
I run into friends at Whole Foods Hawaii, and sometimes I eat lunch there. Whole Foods has four Hawaii stores (three on Oahu and one on Maui). If I had to rank the Oahu stores, I'd put them in this order: Queen, Kahala, and Kailua. Whole Foods Queen is the newest and biggest. They even have a restaurant/bar and multiple food vendors. I also like Whole Foods Maui which is conveniently right by Kahului airport.
One thing all Whole Foods Hawaii stores have in common are special Hawaii items offered only at Hawaii stores. Here's what to get at Whole Foods Hawaii.

What to get at Whole Foods Hawaii
The below list of Hawaii-only items are listed in no particular order, and I hope you can try them all 🙂 .
Local Fruits!
The fruits in Hawaii are out of this world. The mangoes are nuts! So are the papayas. We have sweet pineapples, baby coconuts, and giant jackfruits. Don't even get us started on lychee season, oh man!! Always start at the fruit section of Whole Foods Hawaii and load up on the local stuff.
Valley Isle Kombucha
You already know how much I love Valley Isle Kombucha 🙂 . This Maui-based kombucha company makes some memorable flavors (using all local fruits), make sure to try the Papaya-Lime, Guava-Pineapple, and Island Watermelon.
Poke (and Local Fish)
Whole Foods doesn't make the best poke, but they have good and reliable poke options that satisfy in a pinch. You can get the poke by the pound or order poke bowls. Depending on when and which location you visit, they might also have a selection of local fish.
Local Hot Sauces
So many different kinds of hot sauce! My two go-to brands: ADOBOLOCO and Hawaiian Chili Pepper Sauce (made by Kauai Juice Co.).
OnoPops Hawaii
OnoPops makes organic and fun local flavor popsicles. Neat flavors: butter mochi, crackseed lemon peel, guava chiffon, and pickled green mango.. Not-so-secret secret: they also make the shave ice syrups for many local shave ice shops around town.
Pono Pies
Pono Pies are made in Maui. What makes them special? They're made out of breadfruit! And a bunch of other good-for-you ingredients, but breadfruit is the base. The pies are eaten cold (also good frozen, tastes like ice cream). They have flavors like sweet potato-haupia, mango, and lilikoi (passion fruit). Find these in the refrigerated section.
Local Juices
Hawaiian Sun and Aloha Maid are the two most popular local canned "juice" brands. I have "juice" in quotations because the nutritional value of these drinks are more akin to soda heheh. Whole Foods carries the whole range of Aloha Maid flavors and my two favorites are the Pass-O-Guava (aka POG) and Lilikoi Passion.
Local Vegetables
So many local vegetables!! We grow some of the most beautiful fruits (which you saw at the top of this post) and vegetables in Hawaii. While you can find all the basics (eg. kale, cabbage, tomatoes, etc) look out for the more unusual vegetables. Pictured above is are hearts of palm (I love these shaved raw in salads). Whole Foods Hawaii also carries Chinese long beans and really sweet local bean sprouts.
You know how on the mainland you have to go to Asian markets for Asian vegetables? Well thats not the case in Hawaii! You can find some Asian vegetables at Whole Foods (this would be unheard of on the mainland).
Mamaki
I'll do a stand alone post on Mamaki soon, but Mamaki is a Hawaiian medicinal herb that got real mainstream popular in the past five years. You can find hot mamaki and cold brew mamaki on many restaurant menus. Some places like to make mamaki blends (goes especially nice with mint). Mamaki has a really earthy, bright flavor. Brew it like a tea. Definitely give it a try.
Local Chocolate
Whole Foods carries three popular chocolate brands: Lonohana, Manoa Chocolate (they also carry cacao nibs from Manoa Chocolate) and Waialua Estate. Bet you didn't know we grow all this cacao in Hawaii 🙂
P.S. A full post on all the best Hawaii chocolate brands.
Local Cheese
The cheese selection changes often, but you can always find a few local cheese brands. For some reason we have a lot of goat cheese in Hawaii!
Li Hing Mui
Li Hing Mui is dried plum powder that we love to sprinkle on everything. Best afternoon snack? Li hing apples and li hing pineapples. We also love li hing gummy bears, and li hing shave ice. There are a million things you can do with li hing mui, and Whole Foods carries a natural li hing mui powder.
FYI, Grandpa's Mui comes from the owners of OnoPops Hawaii (the popsicles mentioned earlier in the post). A separate blog post about Li Hing Mui is coming soon.
Don't forget about the butter mochi, yes, yes! They make plain (pictured) and chocolate butter mochi, both baked in-house and sold by weight. Note: I've only seen butter mochi at the Kahala Mall location.
Local Hawaii Totes!
Local totes! When you come to the islands you'll see people carrying these totes all around town. It's sort of a friendly ongoing joke that you can tell someone is a tourist if they carry a Whole Foods Hawaii tote heheh. It's true actually. I don't know any local people who own a tote, but I know many people who have visited and brought back totes for themselves or to give as gifts. They are pretty handy and do the job 🙂 .
INFO: There are four Whole Foods Hawaii locations. Three stores on Oahu (Queen - 388 Kamakee Street, Kahala Mall - 4211 Wai'alae Avenue, and Kailua - 629 Kailua Road) and one store on Maui (Maui Mall - 70 East Kaahumanu Avenue).