Valley Isle Kombucha makes kombucha with local fruits (like passion fruit, pineapple, and guava). Find them at local Hawaii markets or visit their cafe/kombucha bar in Maui.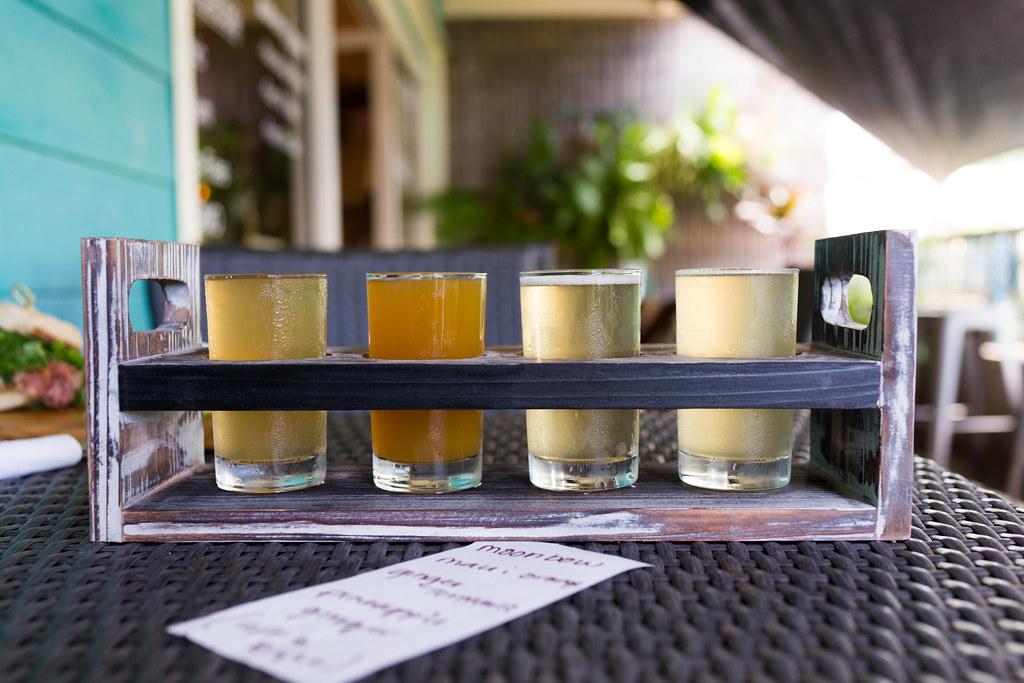 I grew up in Honolulu, on Oahu island. People not from Hawaii tend to think we travel often and easily from island to island via boat/ferry. That is not the case. Plane is the only logical option (and those interisland tickets always cost more than you'd think)...
Unless you have close family/friends or work on another island, you tend to stay on the island you live on. Growing up, I'd take an interisland trip maybe once a year (either for family vacation or school field trip).
It wasn't until I moved to NYC, and started traveling lots for work that I realized I really missed out on traveling to other parts of Hawaii. It was like I needed to leave Hawaii to fully understand how special it was. Nowadays I make a point to travel to all the main Hawaiian islands as much as possible. Aside from Oahu, I'm in Maui the most, followed by the Big Island. I love Kauai and Lanai. And I hope to get to Molokai soon (mainly for the original hot bread location!)
Visiting Valley Isle Kombucha
My husband and I were in Maui recently. We stayed in Lahaina (which is the west side of the island), and visiting Valley Isle Kombucha was at the top of my list. I love kombucha, and Valley Isle Kombucha makes my favorite. It's extra bright and effervescent. The local fruit flavors (they have so many different ones) come through real clear. (One day I'll try make kombucha myself, in the meantime, I am happy to support local kombucha businesses 🙂 ).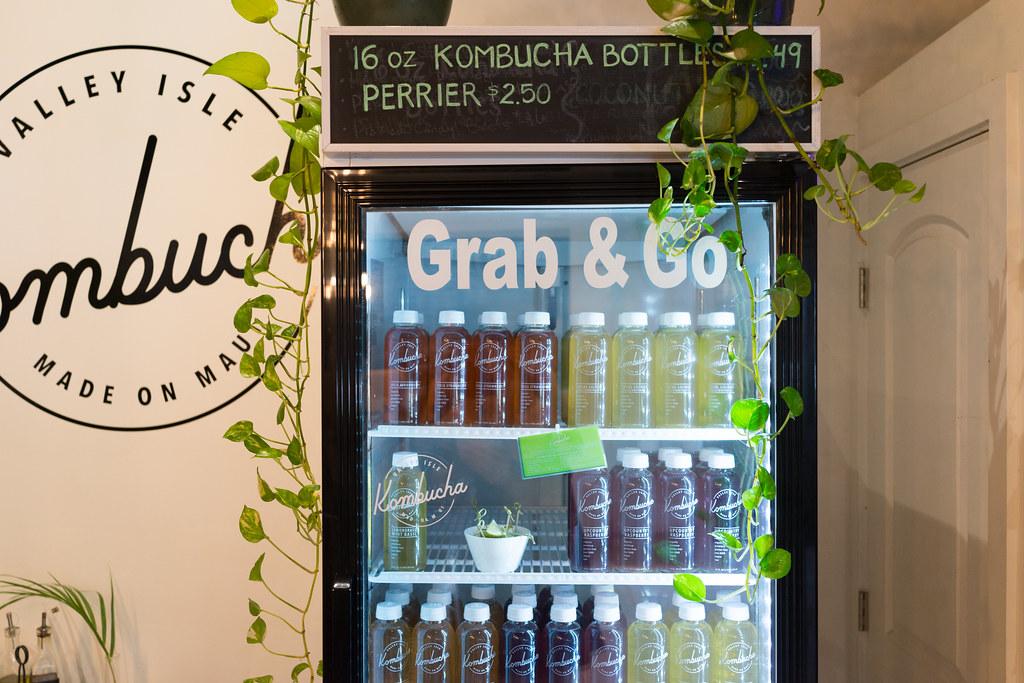 We can find their kombucha at markets all over Oahu (Whole Foods or Down to Earth both have a good selection). If you're in Lahaina, check out the brand's cafe/kombucha bar called Alchemy Maui. It's located within an industrial building.
Valley Isle Kombucha (the kombucha factory, not officially open to the public) and Alchemy Maui (their cafe/kombucha bar) are next door to each other.
What to get at Alchemy Maui
In addition to kombucha, Alchemy Maui has a full food menu which includes a great pastrami sandwich (the pickles are no joke either). Look at all those frills on the pastrami! I love how it's sliced super thin. FYI, that picture is of a half sandwich (we split it because we were going to a wedding right after). They serve it on bread from Maui Artisan Sourdough (they bake right upstairs).
Wall of Kombucha Taps
But back to the kombucha. Alchemy Maui has this wall lined with kombucha taps. It's a kombucha fever fantasy. But real life! And they have all these new and different flavors that you can't find bottled at the supermarket. (It's sort of like their test taps/kitchen. The flavors that sell well make it to bottle form.)
Too hard to decide on just one? Get a flight of flavors. We did a tasting of these four flavors in the photo above. The pineapple-ginger was my favorite of that bunch.
Go-To Kombucha Flavors
And then you can also get some bottles to take home or for the car ride. Drinking a bottle a day would make me so happy. If you find them at the local market, look for these flavors (aka my go-to favorites):
Island Watermelon
Kula Strawberry
Papaya-Lime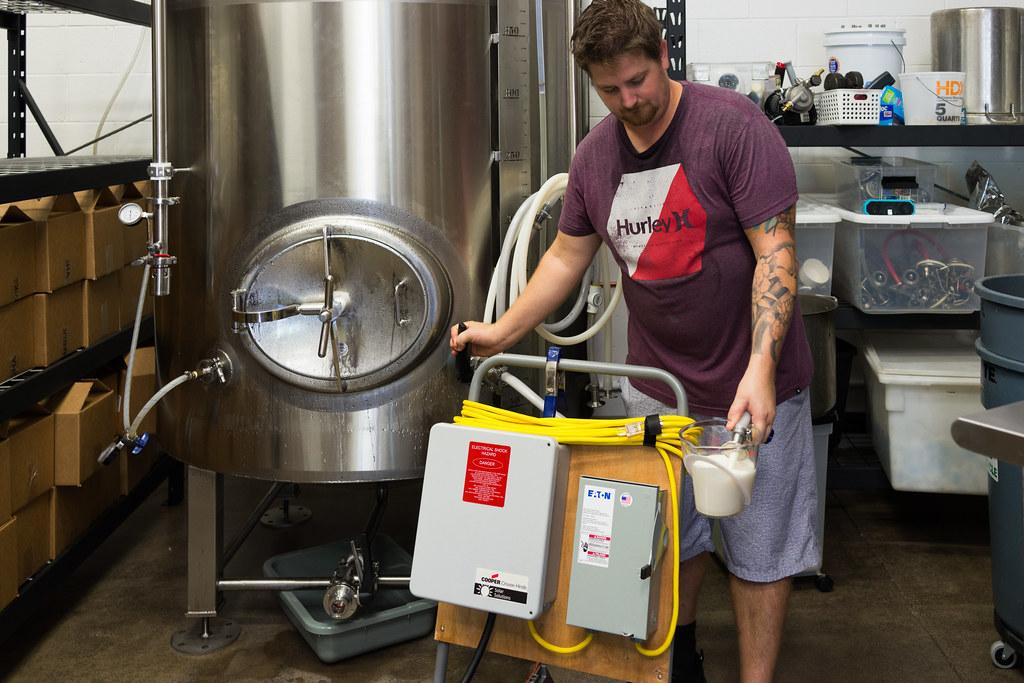 I think they could tell how excited I was to be there, so they invited us over see the kombucha making facilities next door...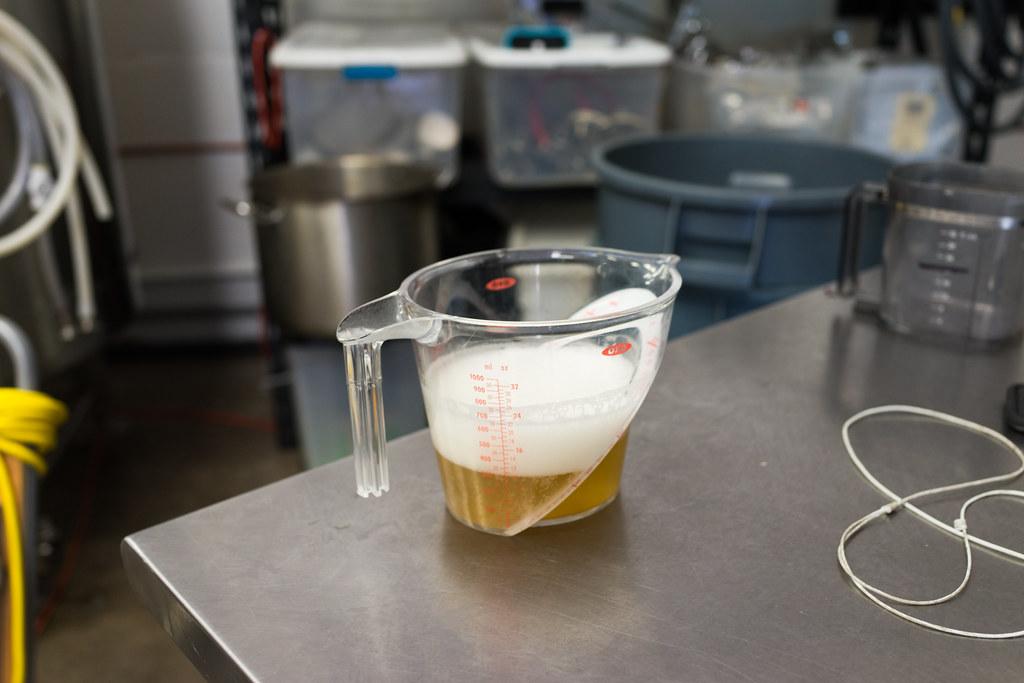 ...we got to taste different steps of the kombucha process, so magical!! Till next time ^_^
INFO: Valley Isle Kombucha / Alchemy Maui | 157 Kupuohi Street J1, Lahaina, Hawaii 96761 | (808) 495-8886 | valleyislekombucha.com
COST: Sandwiches/bowls/tacos: $10-22, Kombucha on tap: $5-7 (10-16oz) or $14 for a tasting flight (6oz each) of four flavors
HOURS: Mon–Thurs: 11am–4pm, Fri: 11am–8pm, Sat-Sun: closed