Afternoon tea at Halekulani Hotel, one of Hawaii's best afternoon tea spots. We're taking a detailed look at the menu, food (and tea!) offerings. Plus a few tips for your next visit.
Hong Kong is full of afternoon tea options. As is New York City. And London. And especially Singapore! But after you visit a few, they all start to feel the same.
But Hawaii afternoon teas are very different from the rest of the world. The Hawaii spots have an ideal blend of ambiance, location (tea with ocean views are the norm), and that aloha spirit. That's why I love afternoon tea in Hawaii.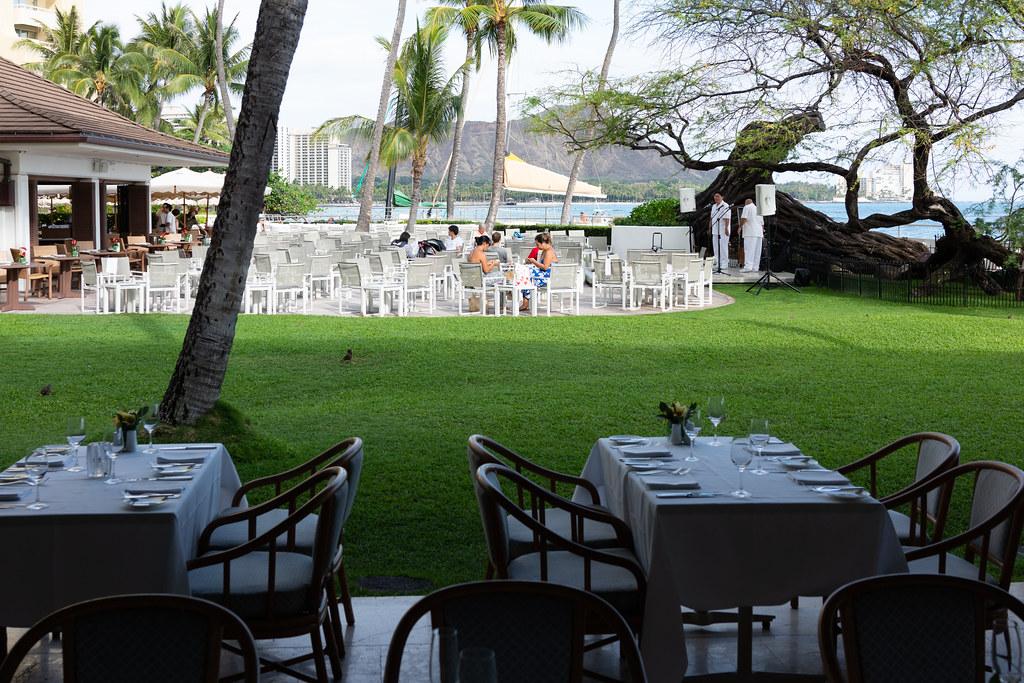 While there aren't tons of tea places in Hawaii (quality over quantity!), what we have is special...
A big part of that has to do with the location. A half-inside/half-outside seating arrangement is standard for Hawaii afternoon teas. You get a bit of ocean and sunshine, but you're still secluded and safe. The best is when there are soft trade wind breezes.
The main Hawaii afternoon tea spots are located at hotels. We visit them regularly, and we're at the Halekulani today. Tea is served daily from 3-4:30pm, make a reservation in advance.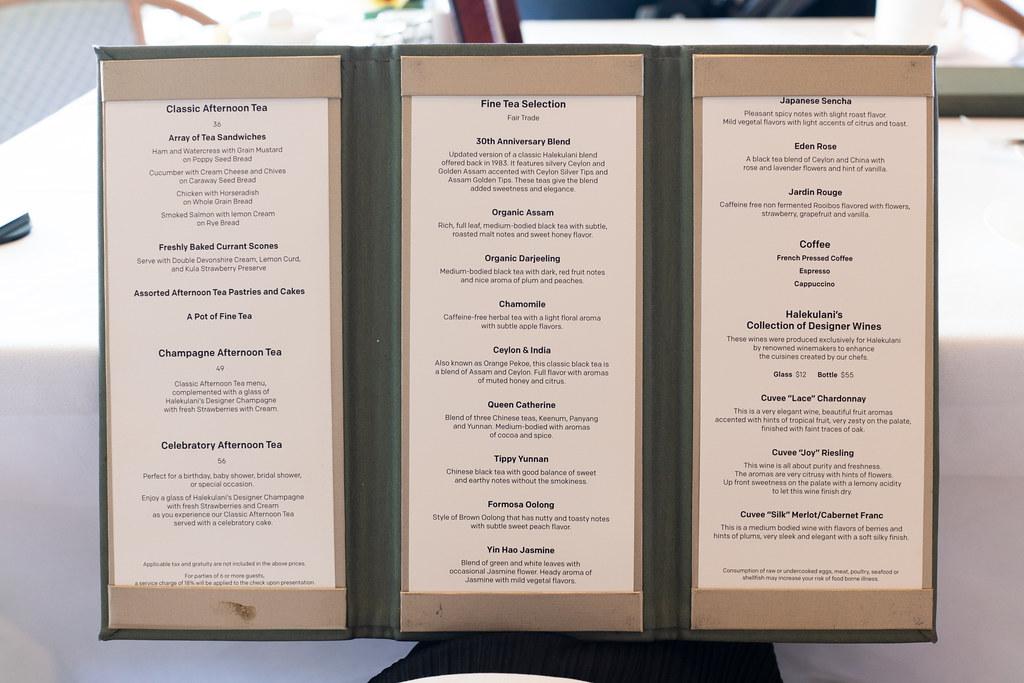 Afternoon Tea Menu
First things first, menu! These are the offerings:
Classic Afternoon Tea ($36) - The standard sweets + savories, scones, and tea
Champagne Afternoon Tea ($49) - The Classic Afternoon Tea plus champagne and bowl of strawberries and cream
Celebratory Afternoon Tea ($56) - The Champagne Afternoon Tea plus a slice of cake
Tea Selection
There are 12 teas to select from. Most popular is the 30th Anniversary Blend tea (that's the one in the top left). It's an updated blend of the original blend Halekulani offered back in 1983. The tea has a balanced mix of Ceylon and Golden Assam, plus Ceylon Silver Tips and Assam Golden Tips.
The 30th Anniversary Blend tea is a great go-to afternoon tea type of tea, especially when you're in an add-milk-and-sugar mood.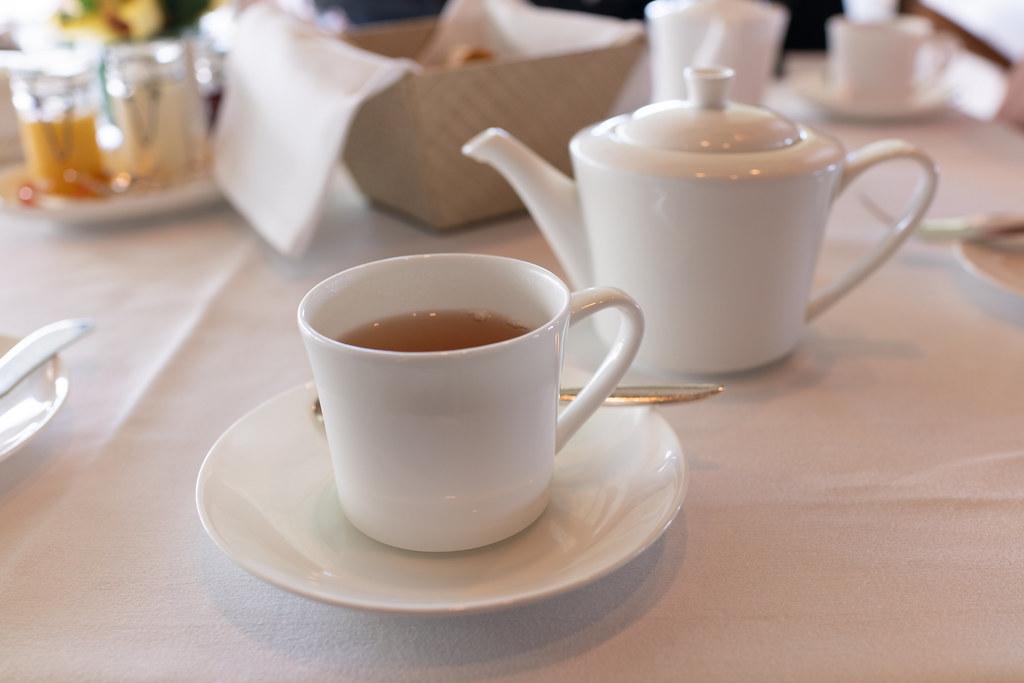 The tea selection also includes classics like Taiwanese Oolong, Japanese Sencha, Chinese Jasmine, Indian Darjeeling and Assam, and a few herbal offerings (eg. Rose, Chamomile, and Rooibos). Pictured above is the 30th Anniversary Blend tea.
Scones and Financiers
Now we eat. After tea is delivered/poured at the table, out comes a basket of currant scones and poppy seed-lemon financiers (though they are shaped like canelés). They are warm and wonderful.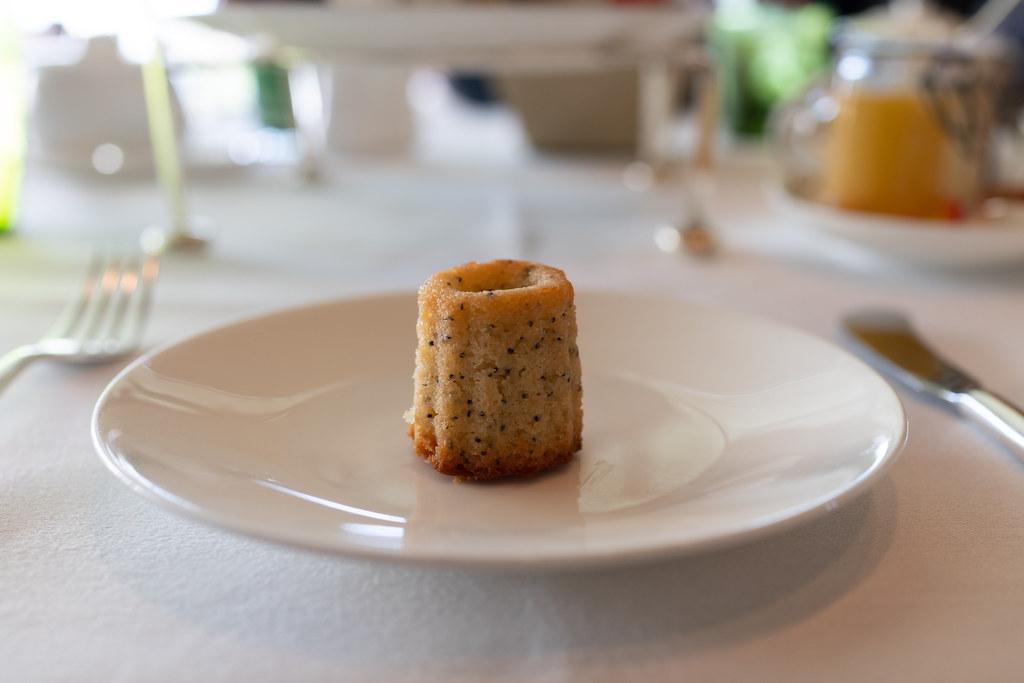 You get two scones and two financiers per person (though they often add a few extra financiers, no complaints here 🙂 ).
To accompany the scones:
Lemon Curd
Double Devonshire Cream
Kula Strawberry Preserves (Kula is a district on Maui island that's famous for strawberries)
Secret Poha Berry Jam
These three accompaniments are necessary with the scones. If you want to really upgrade the experience, nicely ask your server for the Poha Berry Jam. The Poha Berry Jam comes only with popovers at lunch/dinner brunch. But if you ask politely, there's a good chance they'll be happy to bring it out.
Here is is! Poha berry is a local berry similar to gooseberry. They're part of the tomato family, cherry-size, golden color, and come with a pretty husk. Peel off the husk and pop the berry in your mouth. Poha berries are sweet, tart and make great jam.
Afternoon Tea Savories
A classic afternoon tea comes on three tiers (savories on the bottom, scones in the middle, and sweets on top).
Because Halekulani serves the scones in the basket (which I prefer, because they stay warm longer), they use a two tier system. This is the bottom tier with four savory options.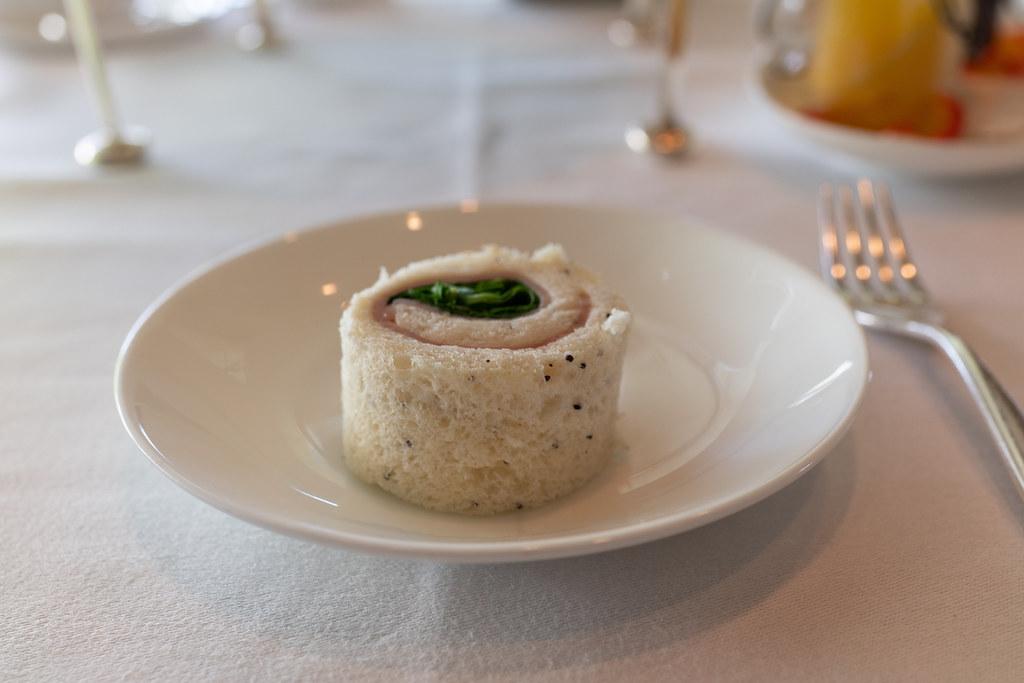 First is the ham and watercress with grain mustard. Rolled on poppy seed bread.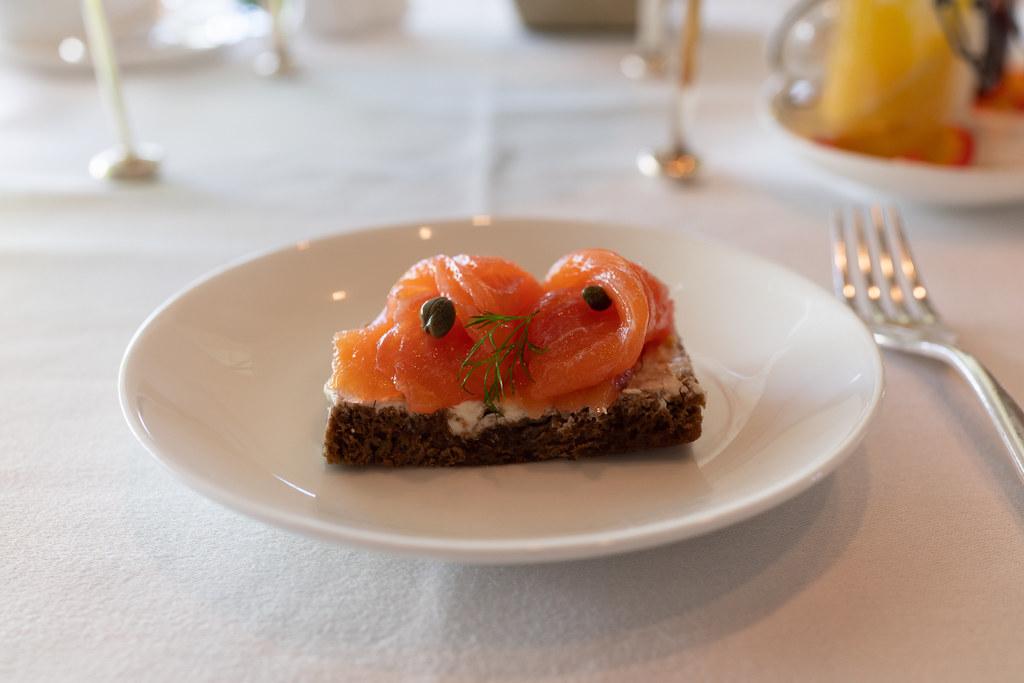 Second, smoked salmon with lemon cream cheese on rye bread.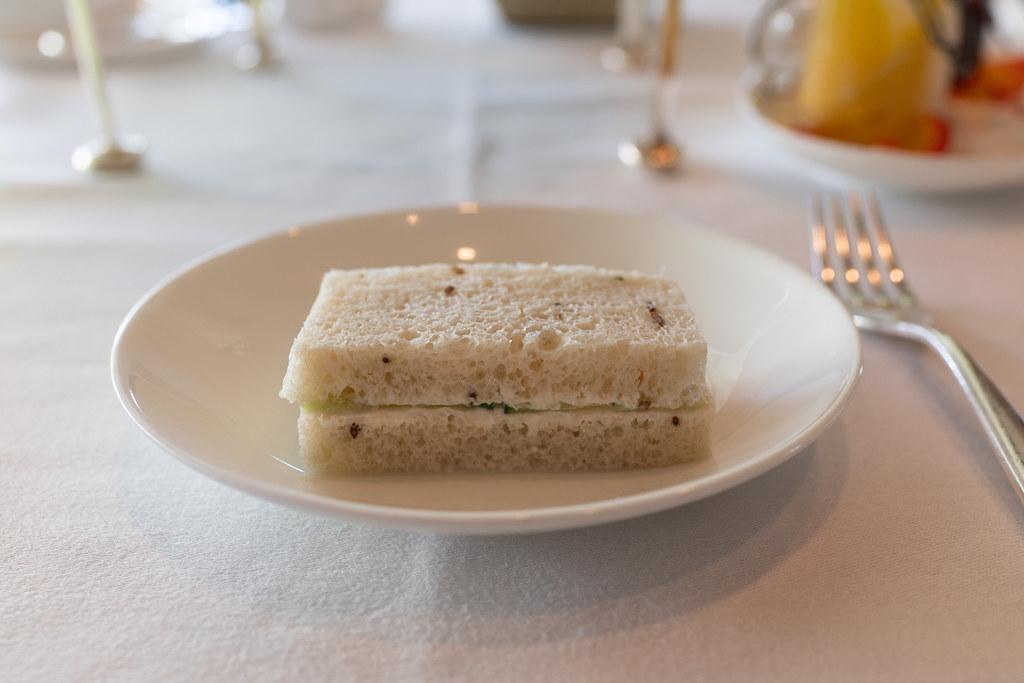 Third, cucumber with cream cheese and chives on caraway seed bread.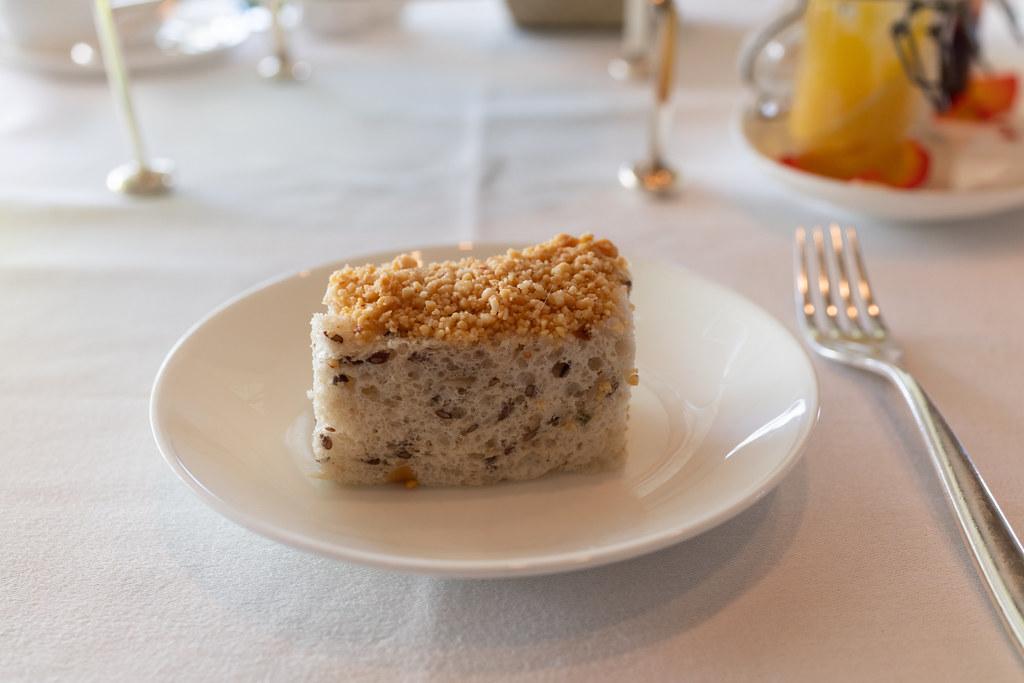 Fourth, chicken with horseradish on whole grain bread. On top is this sweet-salty peanut crumble crunch. This last sandwich has been on the menu forever. I've been having tea at Halekulani since middle school and I still remember eating this my first visit.
Afternoon Tea Sweets
On to the sweets. It's neat to see how afternoon tea at Halekulani has evolved over the past two decades. The savories and how they are served has stayed pretty consistent, but the dessert part is always changing.
My favorite period was when they had a dessert trolley (a whole trolley filled with just desserts!) There would be six options and they were all so beautiful. They would roll the trolley around after you finished the savories, and you could pick two desserts. That was the best. The trolley disappeared sometime during my college years. And now you get three pre-plated desserts.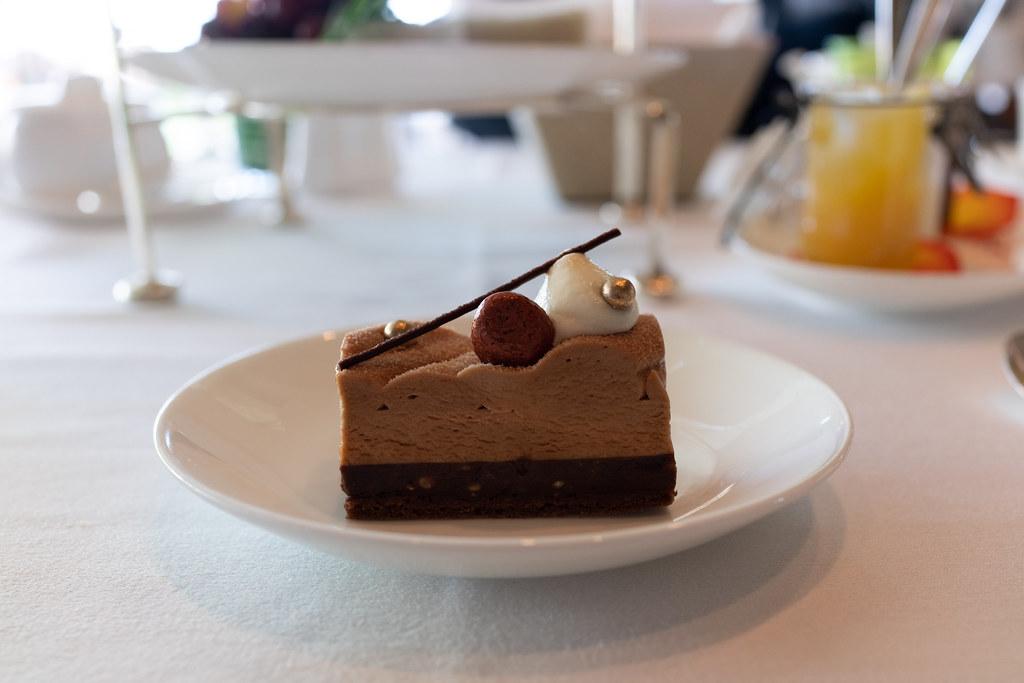 Chocolate hazelnut mousse and cake.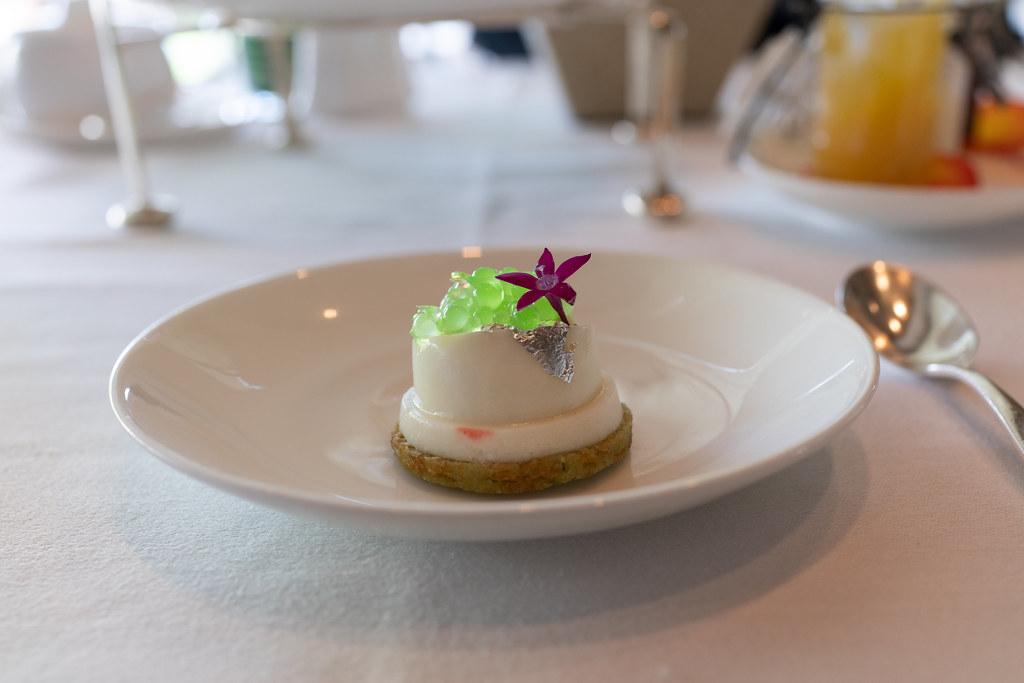 Coconut and lime tart.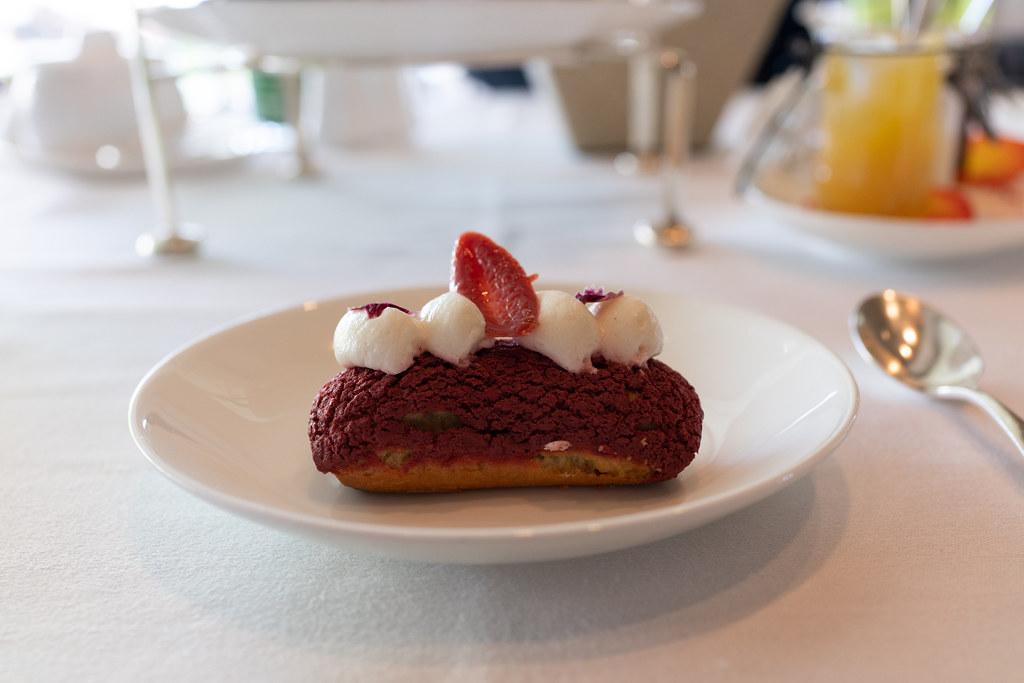 Red velvet éclair.
One important thing to remember is that afternoon tea is more about the experience than it is about the food itself (this is the one of the few times I'd say something like this).
I still dream of that one day when we'll have a Hawaii afternoon tea where the food is just as great, or even better, than the ambiance. That might be hard to do (especially in Hawaii where the setting is unreal), but we can dream.
Parking in Waikiki is usually a hassle, but come for tea and you get four hours free validation (can valet or self-park).
Don't forget to ask for the poha berry jam when they bring out the scones. This is a very tasty jam that is usually only served at lunch/dinner/brunch, but they are so good with the scones.
Afternoon tea is served at Orchids restaurant in the Halekulani Hotel. The restaurant has two seating areas for afternoon tea. Both have ocean views. But one has you seated more outdoors (aka more sun exposure) and the other one is more indoors. It's personal preference. Let them know which you prefer when reserving.
INFO: Afternoon tea at the Halekulani Hotel | 2199 Kalia Road, Honolulu, Hawaii 96815 | (808) 923-2311 | halekulani.com/dining/afternoon-tea
COST: $36-56 per person.
HOURS: Afternoon tea is served daily, 3-4:30pm. Reservations recommended.