Halekulani is a luxurious and iconic Hawaii hotel. Located in Waikiki, Halekulani also has great dining (think coconut cake, afternoon tea at Orchids and sunset mai tais at House Without a Key). Put it high on your list of Hawaii hotels to visit and stay.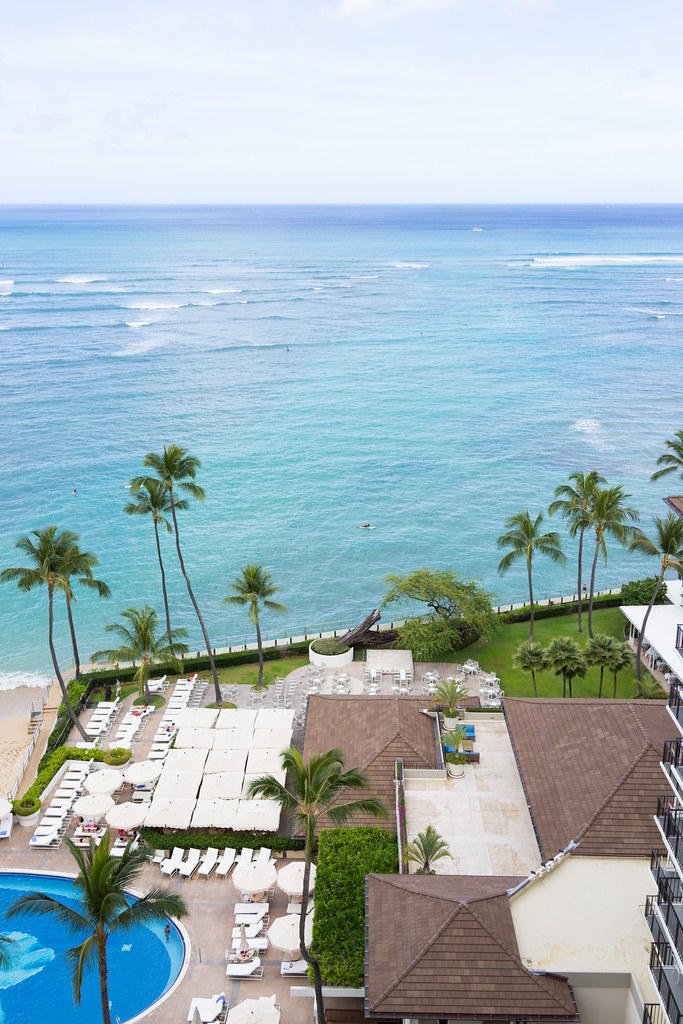 Halekulani is a Hawaiian word. It translates to, house befitting heaven.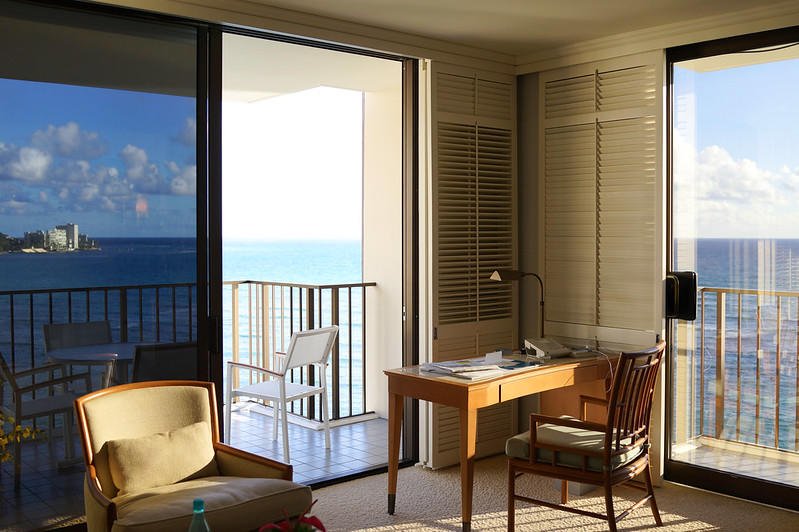 Deciding where to stay is the most fun (and also most stressful) part of planning vacation. If you want to stay in Waikiki, and you're looking for a beautiful, super peaceful property...look no further. Halekulani is one of my favorite Hawaii hotels.
Where Is Halekulani?
Waikiki can be chaotic. Halekulani is a tranquil oasis. Halekulani is located center of Waikiki's hustle and bustle, but once you step into the property, it's magically blissful and quiet. You get the best of both worlds.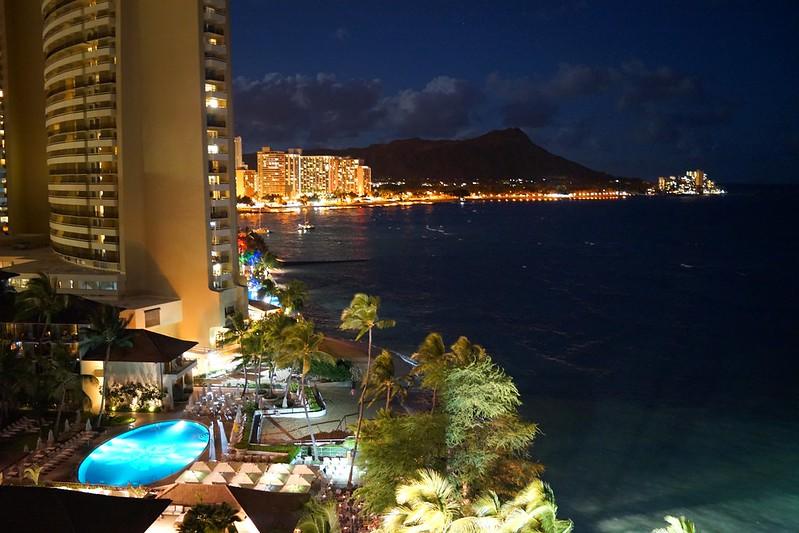 Halekulani at the intersection of Lewers Street and Kalia Road, and close to all the good food and shopping in Waikiki. Because of this prime location, you can get by without a car for your trip (though a car very is helpful if you plan to explore outside of Waikiki).
Note: the hotel is oceanfront but doesn't have much sandy beach frontage. If being able to quickly walk from your room and relax on the beach is high priority, the nearby Royal Hawaiian Hotel or Moana Surfrider may be a better fit.
What Makes Halekulani Special
So many things! Let me count the ways:
Halekulani has been around since 1883. The hotel was originally made of one beachfront home (which is now the hotel's main building), and five bungalows. The hotel has changed owners several times and is now owned by the Japan-based Mitsui Fudosan (they also just opened Halekulani Okinawa).
Many of the staff members at Halekulani have been with the hotel for a super long time. I still see the same great valet guy I used to see in middle school...only we are all now much older 🙂 In a world where many great hotels feel more and more corporate with time, Halekulani still has that feeling of community.
They have one of my all time favorite coconut-haupia cakes!
Service is amazing. Tourism is our main industry in Hawaii, and you can find great service at many (hopefully, most!) Hawaii hotels. But service at Halekulani is especially stand out. You'll see it in all the details. Once I had cocktails at House Without A Key on a Monday, and then went back again on a Thursday. The server remembered me and then sent out a slice of coconut-haupia cake! That made my week.
Lots of guest perks. Halekulani is one of the nicer Hawaii hotels, and you really get what you pay for. This includes a number of guest perks including free access to museums like Iolani Palace, Shangri-La, and Honolulu Museum of Art, along with the weekly general manager's reception.
Dining At Halekulani
There are four dining venues (not including room service) at Halekulani, and they are all very different. Here's the breakdown:
I love House Without A Key. Three important things to know: come for sunset and live music and hula (I come around 5:30pm and leave by 7pm), order the mai tai, and don't overlook those Maui onion chips. I come here with with family and friends and love bringing any friends that are visiting. Tourists also love it here, so it gets crowded (especially on weekends), but never loses its charm. House Without A Key is a must on any Hawaii trip - full post here.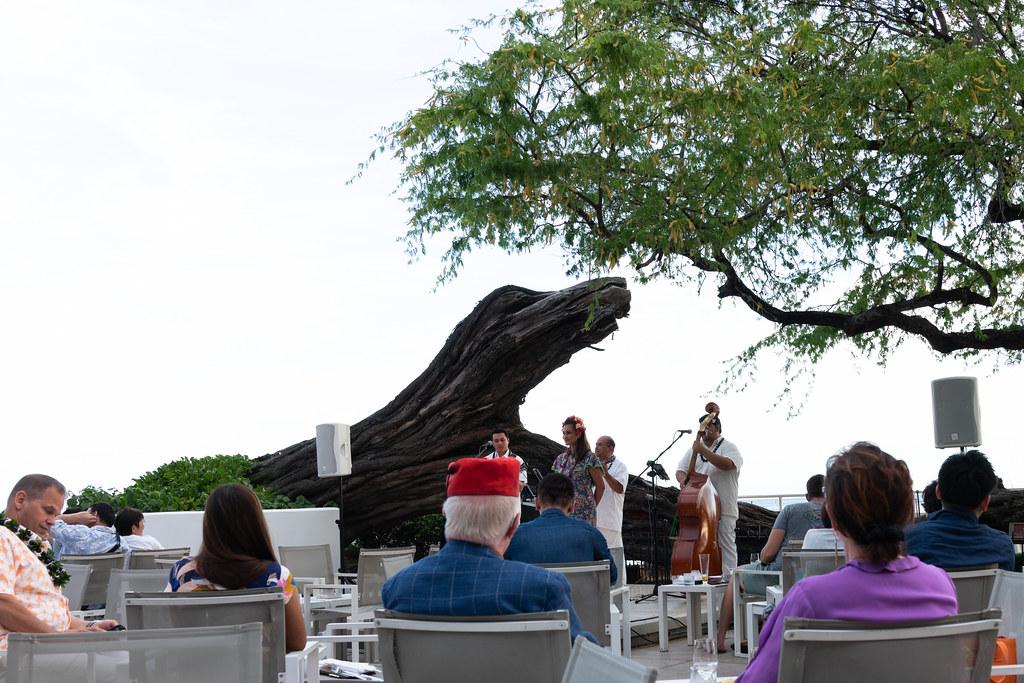 P.S. Don't forget to take a look at the famous kiwae tree (that fell dramatically! but survived!) while you're at House Without A Key. The musicians and hula dancer perform near it nightly.
La Mer
This is Halekulani's fine dining restaurant. The view and interiors are gorgeous, but the full dining experience is a hit or miss (a real gamble considering the high price point). They did a big revamp a few years back, expanding the bar area and spinning it off into a separate concept called L'Aperitif at La Mer (think fancy cocktails paired with small bites). I'd visit House Without a Key for drinks first, and then stop here for drinks if you have extra time.
Orchids
Halekulani's all-day dining (and afternoon tea) venue. I come to Orchids for three reasons. First reason, luxurious weekday breakfast with friends. Must order the Japanese breakfast set and..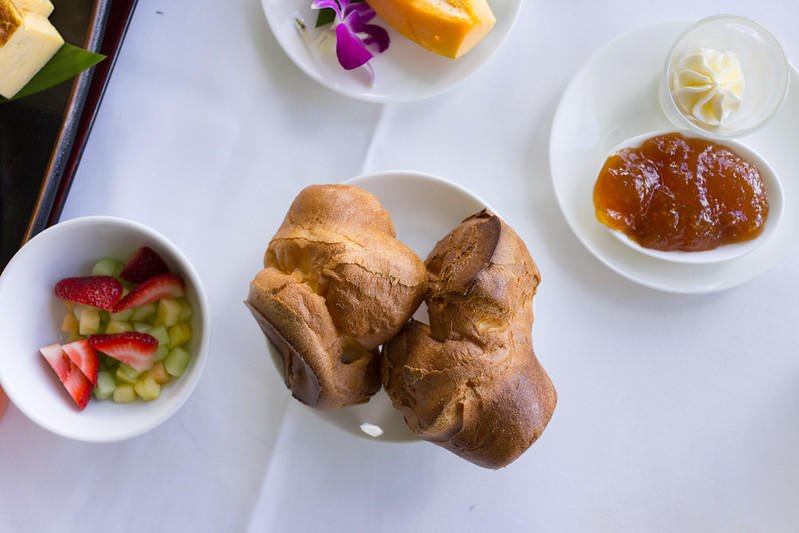 ..the warm popovers with poha berry jam...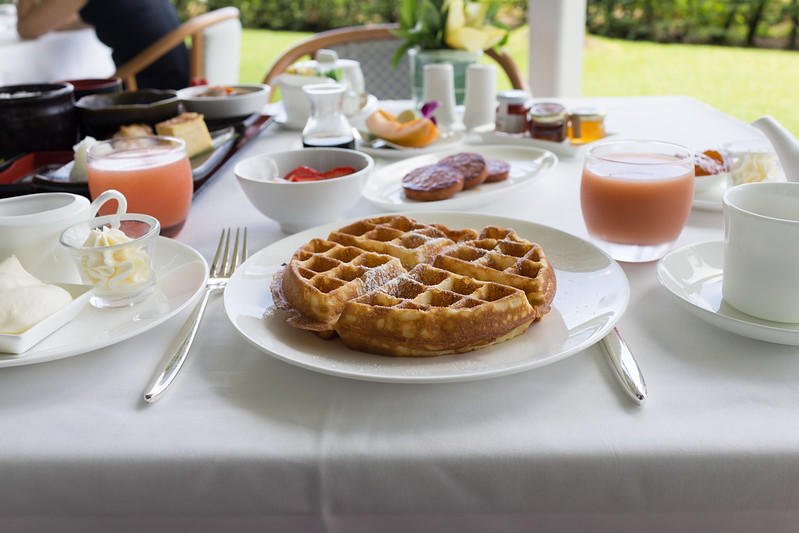 ...and mochi waffles!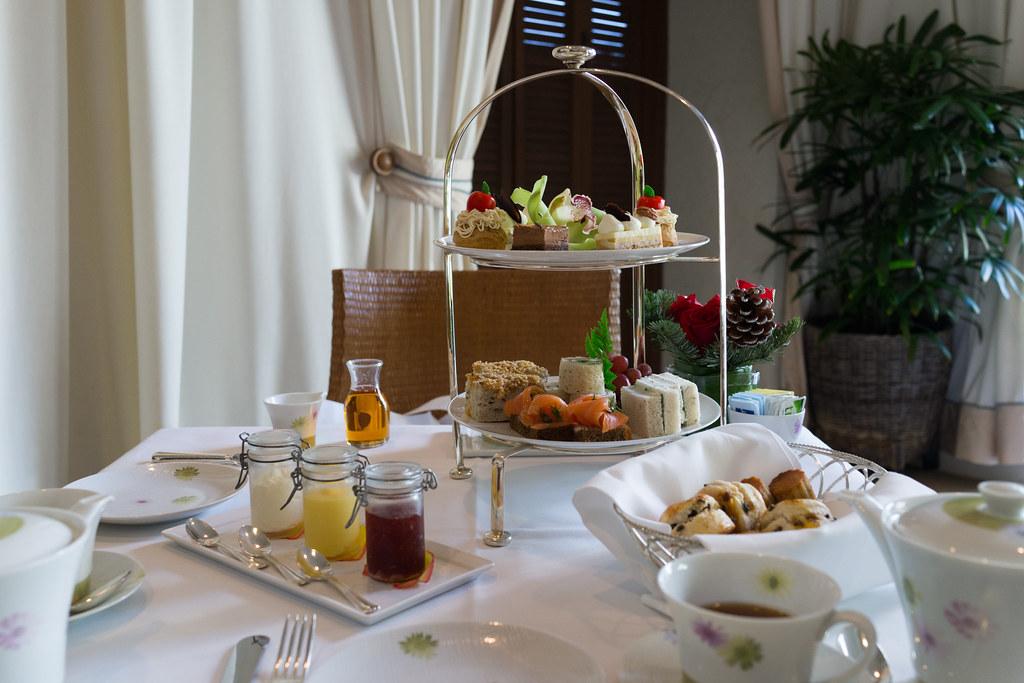 Second reason, the afternoon tea service is a must. I have a full post about Halekulani's afternoon tea service here.
Third reason is the Sunday brunch buffet (a very decadent affair).
Lewers Lounge
There aren't many places like Lewers Lounge in Hawaii. It's dark and moody with live jazz every night. It's great for a drinks date (sit at the bar for dates, it's hard to hear the conversation if you're too close to the live music). I also love it as a solo spot (especially on Sunday nights) when you just want to unwind with a cocktail and good music. P.S. You can order that beloved coconut haupia cake at Lewers.
Rooms At Halekulani
There are rooms, suites, and premier suites. Each category is priced according to the view (eg. think Diamond Head Ocean Front, Ocean Front, Ocean View, Partial Ocean View, and Garden Courtyard View).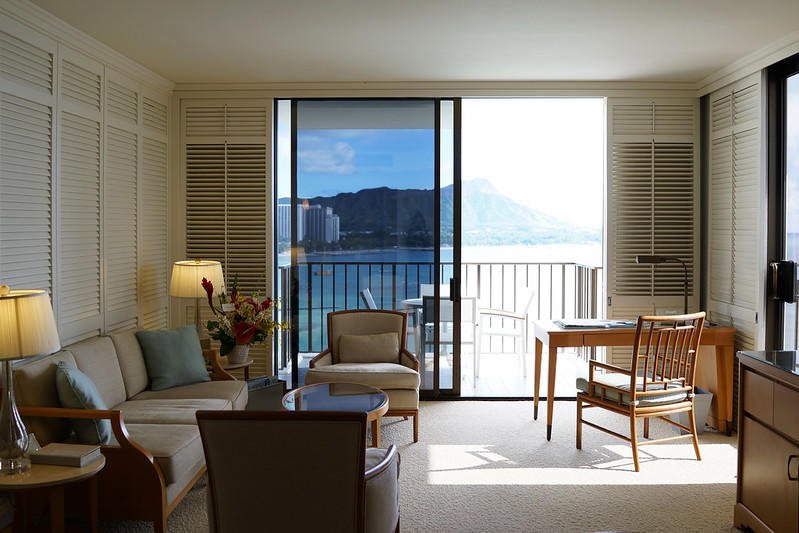 All the hotel rooms/suites are located in two separate buildings. One building is a U-shaped building that surrounds the hotel pool. The other is an I-shaped building. You can get great view in either building, check out the room location map to get a sense of which views you'll get from each room.
The rooms are elegant and understated, with a calm, low-key Hawaii vibe.
Halekulani Spa
The spa is small (especially for one of the nicest hotels in Hawaii), but the quality and service is top notch. I've yet to try the facial but the lomi lomi massage (remember how lomi lomi salmon got its name?) is always a dream-like experience.
Best bonus part? After the massage is finished, you can rest in the back lanai area with tea and mochi ice cream!
Halekulani Hotel: Insider Tips
There's free parking if you're dining at any of the restaurants (make sure to get your parking ticket stamped). You can either valet or self-park in the lot across the street from the hotel entrance.
I've written for Halekulani's in-hotel magazine (here's one of my matcha articles). It's a lovely magazine so don't overlook it. I always take a copy from my hotel room...airplane reading!
Halekulani offers two free tours. Back of House Tour (offered weekly) takes you behind the scenes of the hotel, think restaurant and bakery kitchen! Legacy Tour (offered twice a week) shows you around the history of the hotel. Call the concierge to confirm dates/times.
Are you a local resident / do you have a Hawaii state ID card? If so, call and ask about special kama'aina room rates.
Halekulani Hotel: Info
Halekulani Hotel | 2199 Kalia Road, Honolulu, Hawaii 96815 | 808-923-2311 | halekulani.com
Room rates start at $520 per night.