Two Ladies Kitchen is *the* go-to mochi shop on the Big Island. They're famous for fresh strawberry mochi, grape mochi, butter mochi, and so much more. Come take a look!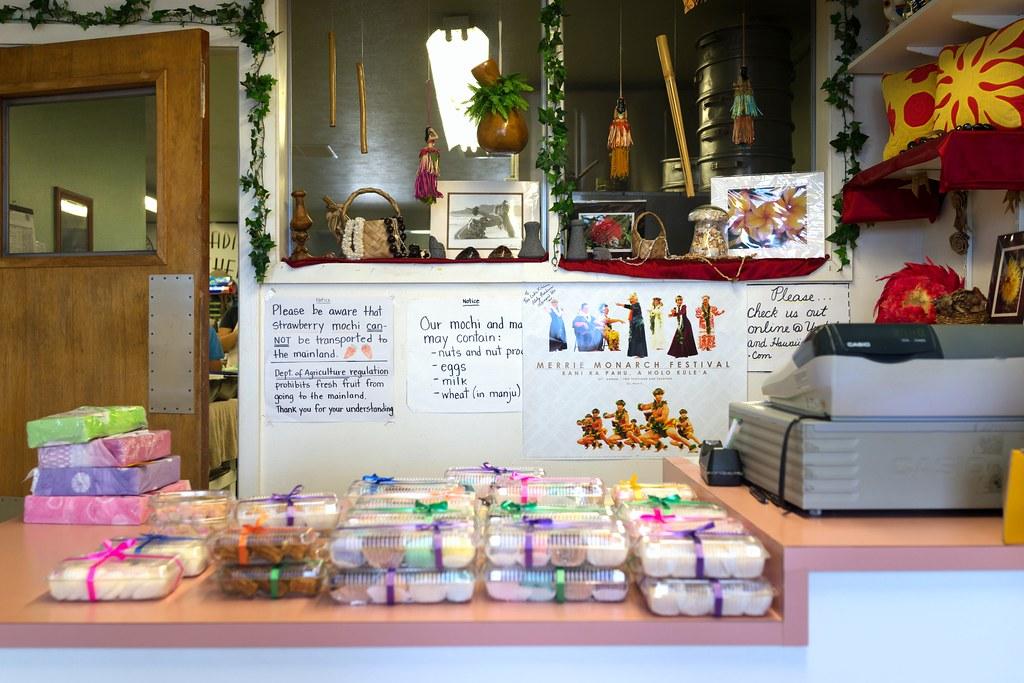 There will be lots of mochi on this blog. I love mochi so much (many people in Hawaii feel the same), and the local, family-run mochi shops we have in Hawaii are special. You won't find shops like these anywhere else in the world.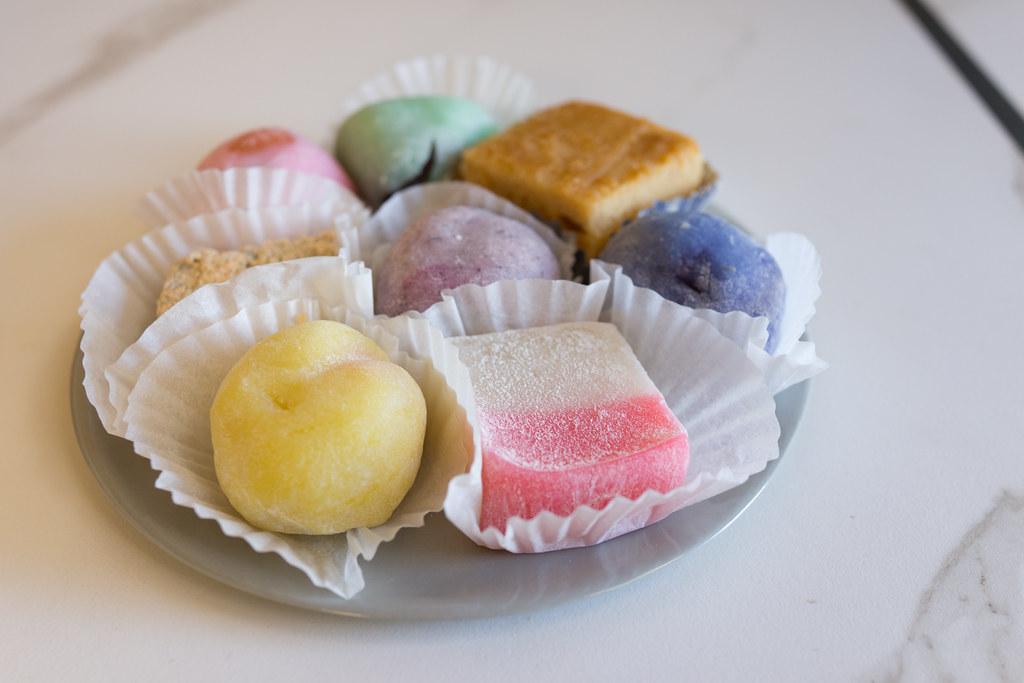 Hopefully you've already seen the posts on Nisshodo Candy Store and Happy Hearts Mochi (both located on Oahu island). And the post about Butter Mochi. Today we're at Two Ladies Kitchen on the Big Island!
Mochi in Hawaii
Mochi is a sweet and chewy rice cake (that happens to be gluten-free). You always hear about Japanese mochi, but Hawaii-style mochi is my personal favorite. It's softer in texture and less formal in presentation. Hawaii mochi comes in many different shapes and flavors and is enjoyed as an everyday treat.
Mochi can come plain, stuffed with fresh fruit, or filled with anything from red beans and lima beans to peanut butter and chocolate. You can make mochi at home or purchase from a mochi-ya (aka mochi shop), and local supermarkets in Hawaii. Mochi is filling, so if you want to taste a bunch, bring a friend and split each piece in half. There are SO many different flavors and you should try them all.
Check out this Hawaii food glossary for more info on Hawaii mochi.
Tell Me About Two Ladies Kitchen
Ok! Every island has a mochi shop or two that is famous. Two Ladies Kitchen is THE spot when you are on the Big Island. Some might say it's the best mochi shop in all of Hawaii (it's too hard to pick one "best shop," I love many).
Two Ladies Kitchen is located on the Hilo side of the Big Island. The Big Island (also known as "Hawaii island," but we call it "Big Island" so that people don't get it confused with Hawaii the state) is a very big island. Hence the name heheh.
I mentally divide the island into two halves: Kona (where coffee is grown!) on the left/west and Hilo (where tea is grown!) on the right/east. It takes a long time to drive from one half to another, plan accordingly.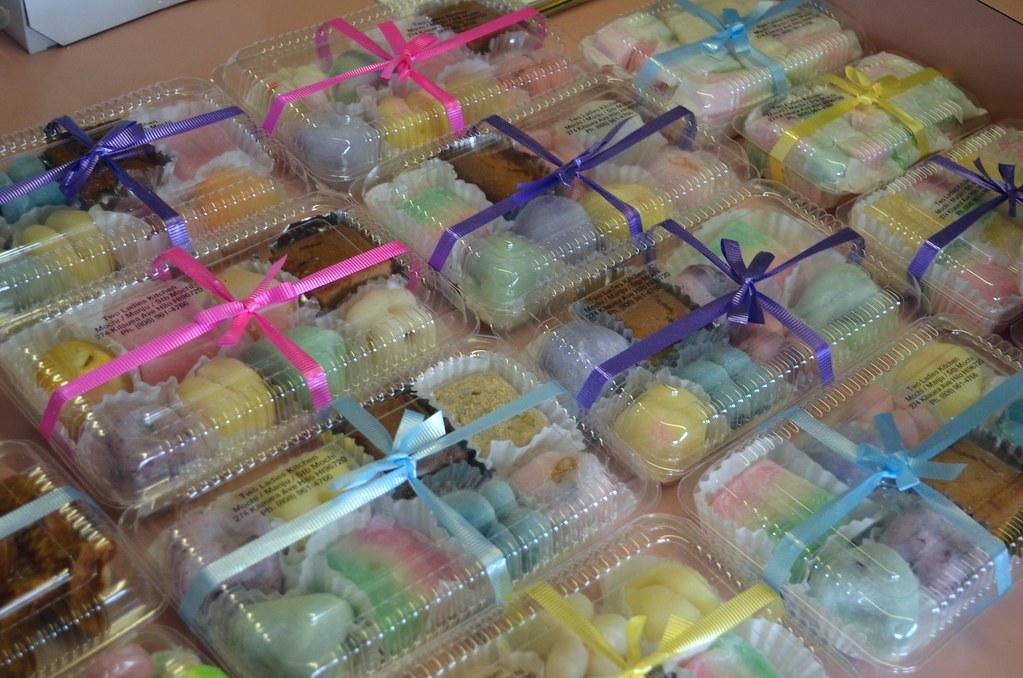 The shop is tiny and can get pretty packed. It's ideal if you know your order in advance (see below for a picture menu). You can order mochi by the piece or get a preset mochi box (pictured above) which gives you a taste of many different things (best choice if you are indecisive). For large orders, make sure to call ahead and reserve.
What to Order at Two Ladies Kitchen
This is the fun part! The single most famous item at Two Ladies Kitchen is...
Fresh Fruit Mochi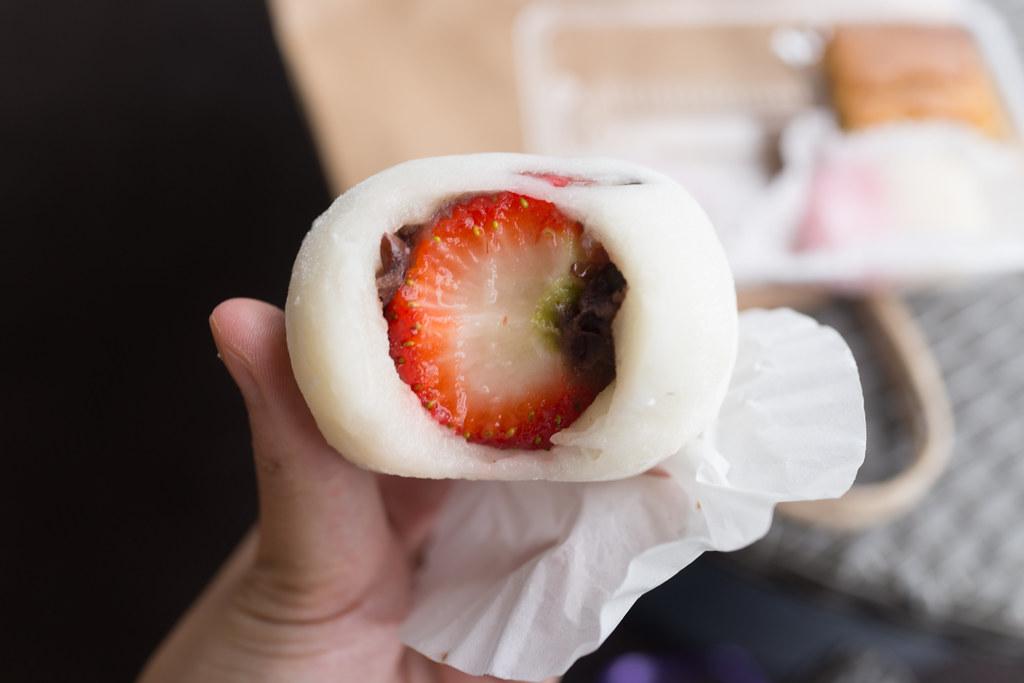 ....strawberry mochi! One big strawberry wrapped with tsubu-an (a coarse red azuki bean paste), and the mochi layer.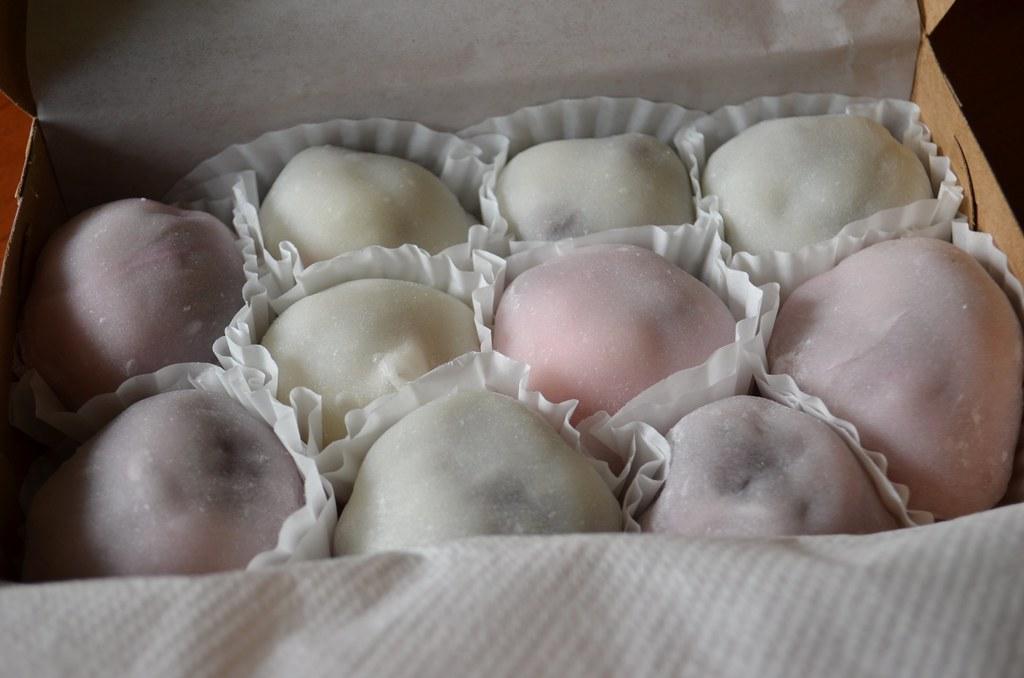 One time we ordered a box of only fresh strawberry mochi pieces. We picked it up from Two Ladies Kitchen in the morning and flew right back to Oahu and shared with the whole family. It was such a good day!
You have to eat the strawberry mochi the day of (ideally within a few hours of receiving them). If you leave it out overnight, the strawberry will spoil. If you stick it in the fridge overnight, the mochi will get hard. So eat it right away.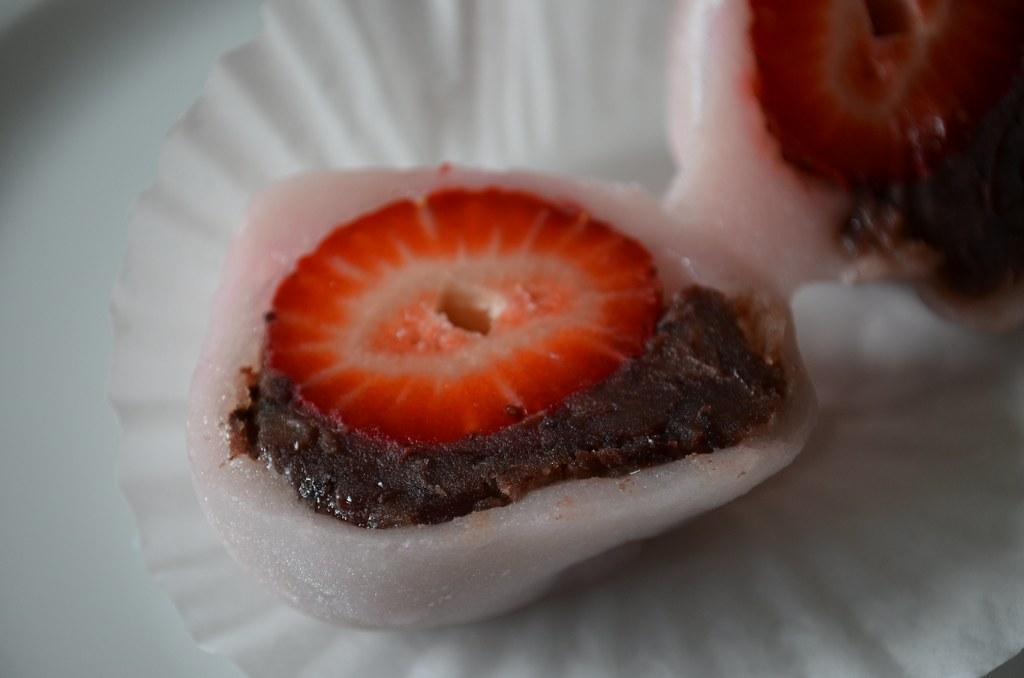 One more look inside, so cool! The white and pink mochi taste the same, they just make it in different colors (it also looks prettier to pack multiple colors in a box).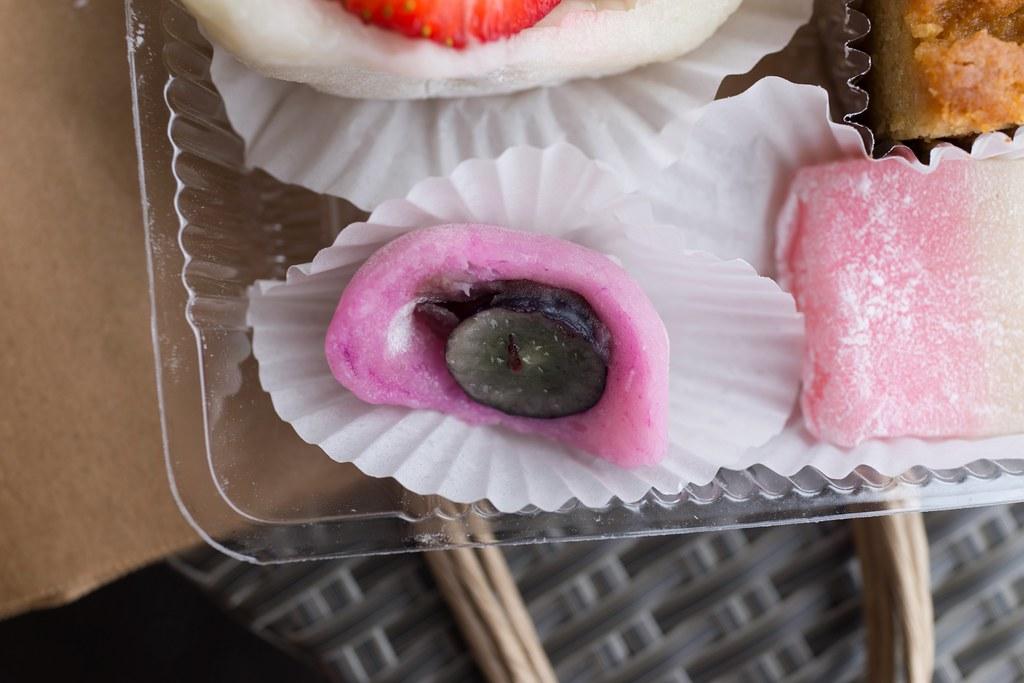 Also get the grape mochi. I believe Two Ladies Kitchen is the only mochi store in Hawaii to made fresh grape mochi. They also make poha berry/gooseberry when in season. These are quite special. Do not miss.
Mochi without Filling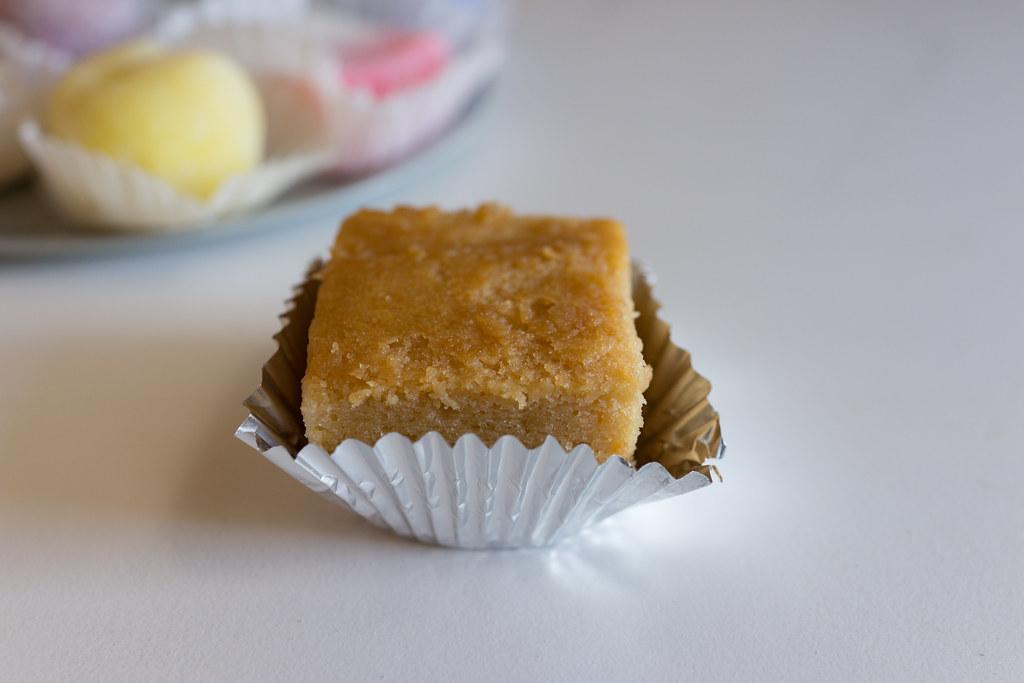 And of course, butter mochi! Read this post for full details on butter mochi (one of my favorite Hawaii treats). The one from Two Ladies Kitchen has a very distinct taste. It's more chewy that "regular" butter mochi, and has this slightly caramelized flavor. It is really, REALLY good.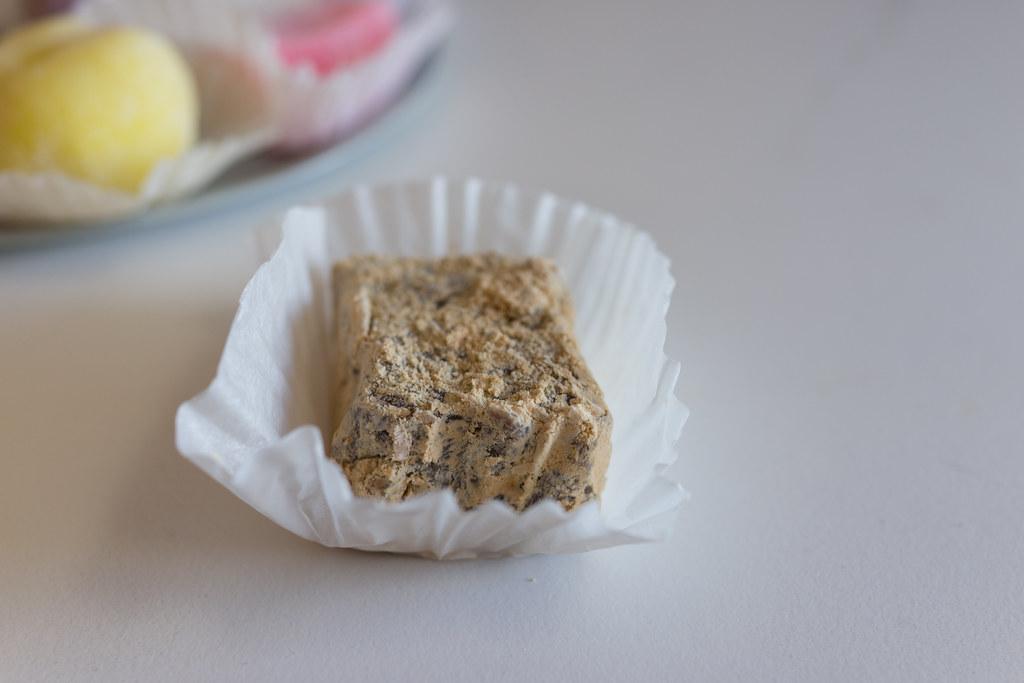 I also love the kamato mochi which has azuki beans and walnuts. It's dusted in kinako (roasted soybean powder).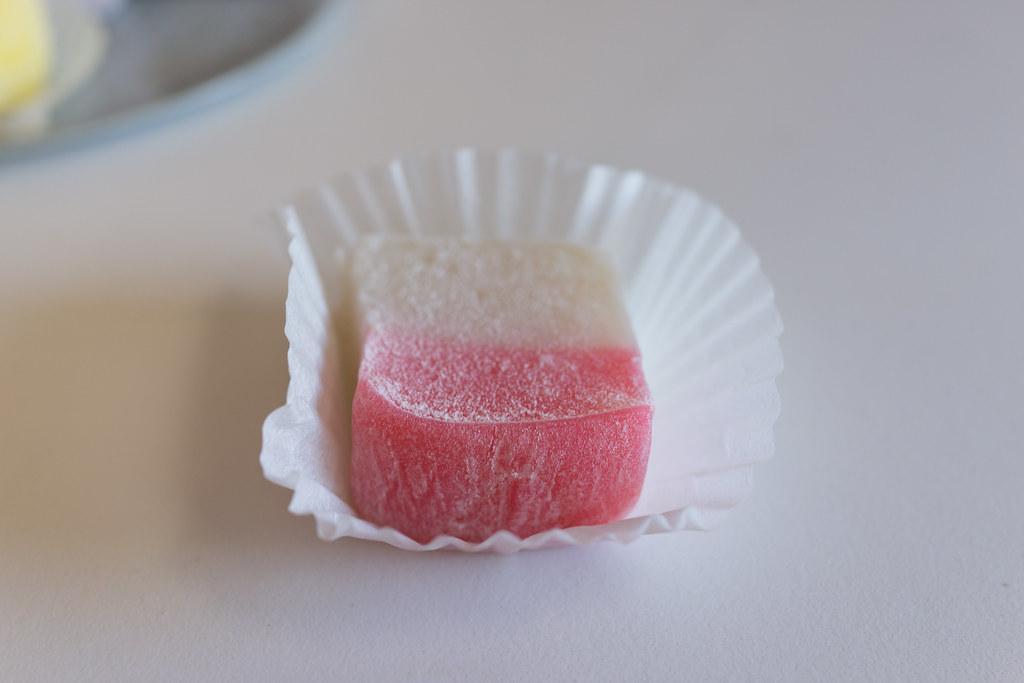 Gotta get the chi chi dango! If you are a chi chi dango fan, you must also visit Nisshodo Mochiya for chi chi dango...they are the masters of chi chi dango. White and pink are the classic colors but sometimes they mix it up...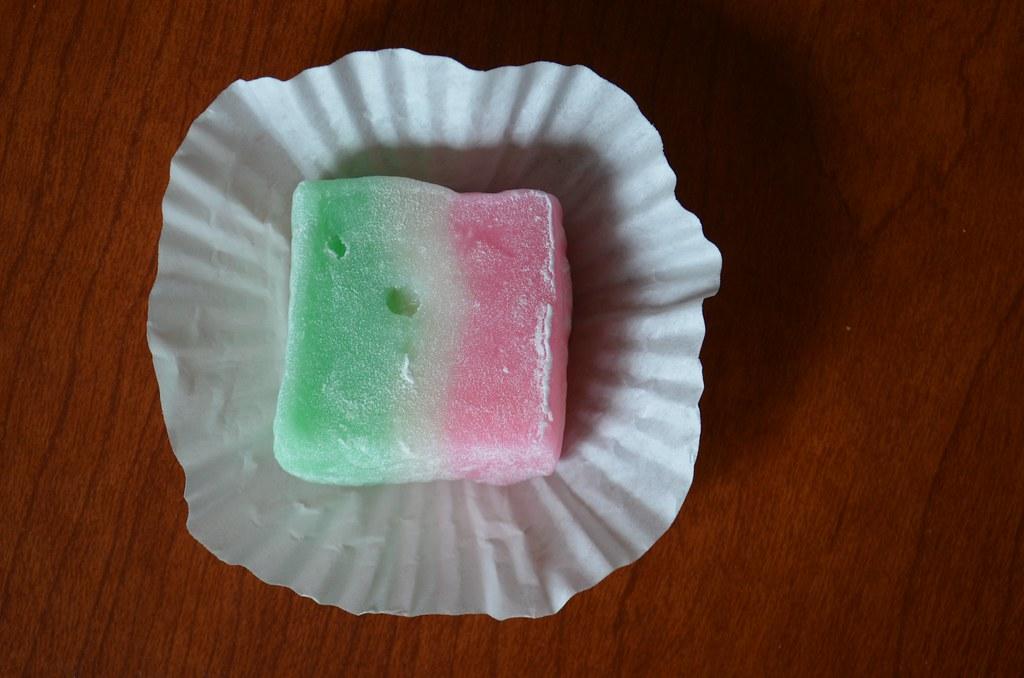 ...and add green into the mix. Super cute, yeah?
Mochi with Filling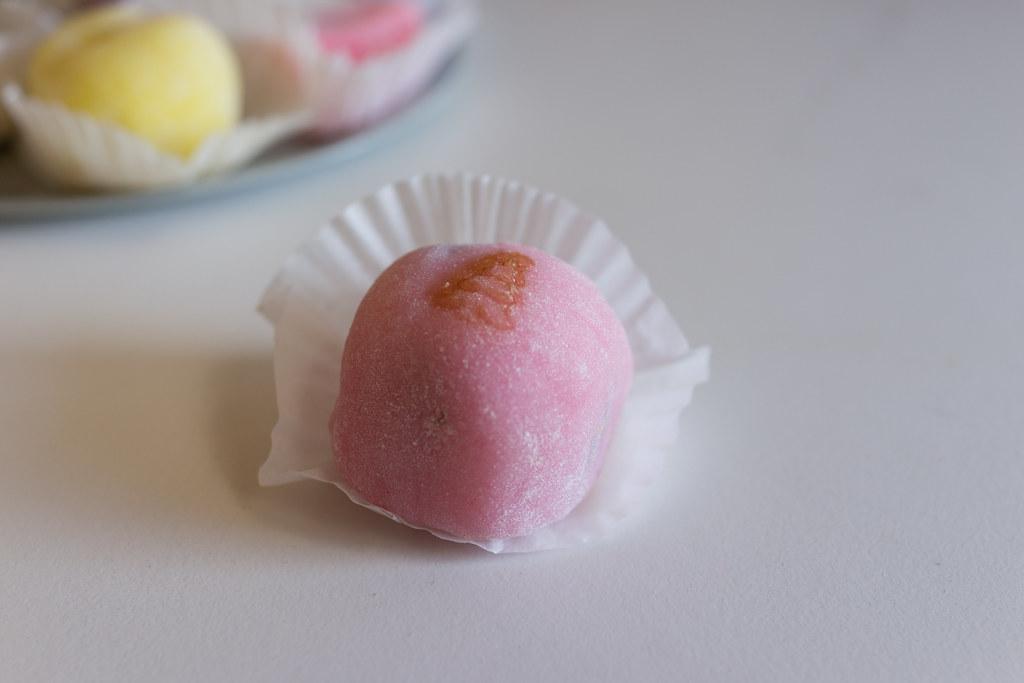 Now we get to the filled mochi pieces! Most filled mochi involve red azuki or white lima beans....but this one is stuffed with brownies. Yes! It's the brownie mochi, featuring a small dark chocolate brownie piece with mochi wrapped around it. This is a very "modern" mochi flavor.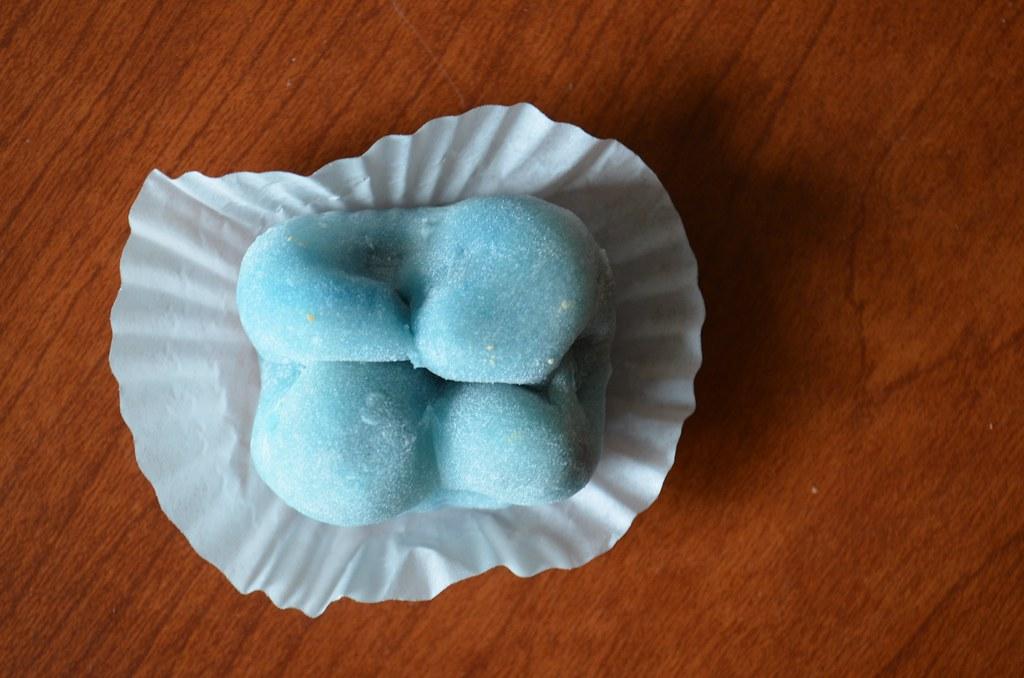 This butterfly mochi is also considered a modern flavor, stuffed with koshi-an (a smooth red azuki bean paste) and white chocolate.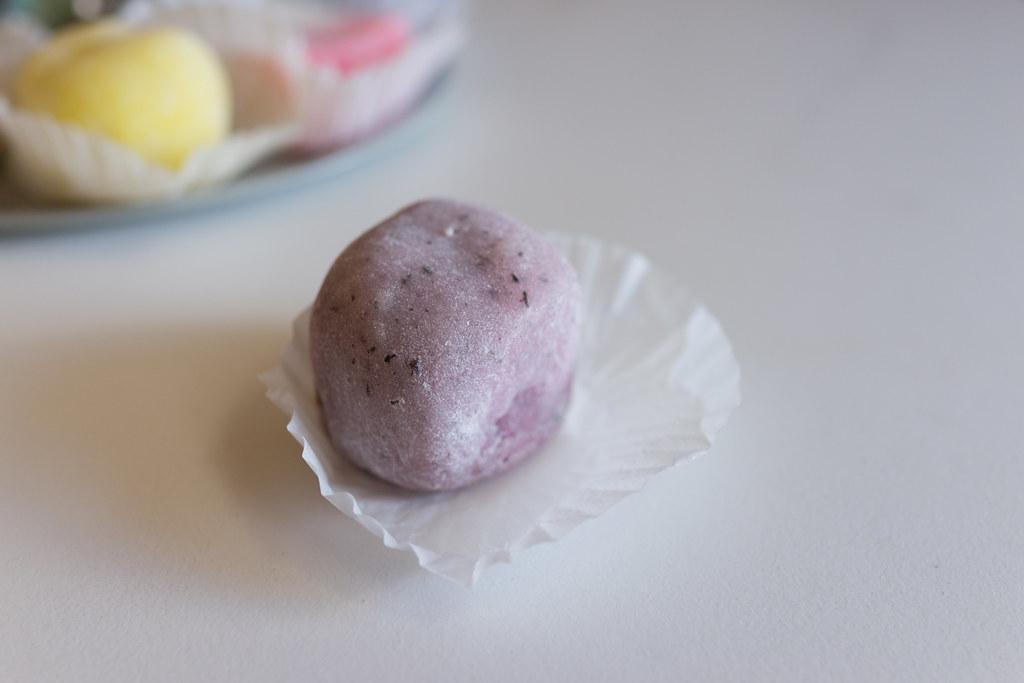 This is the yomogi mochi, with koshi-an (a smooth red azuki bean paste) and mugwort leaves (those are all the purple bits you see on the outside)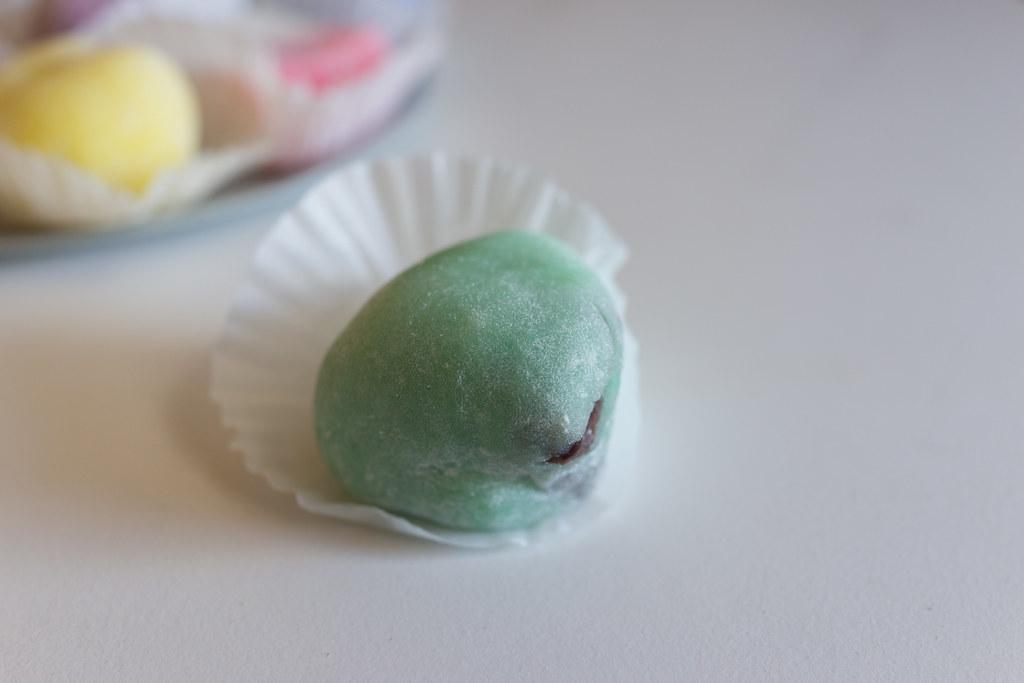 This one is called tsumami mochi and is a classic, simple mochi filled with tsubu-an (a coarse red azuki bean paste).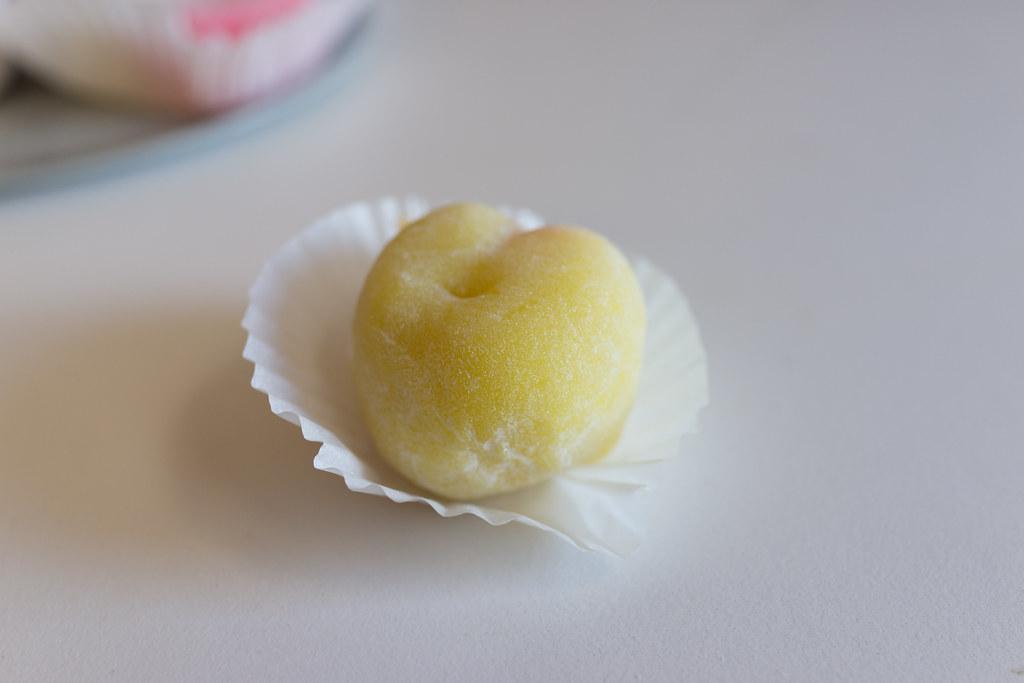 The peach mochi is filled with shiro-an (a white lima bean paste). FYI there are no actual peaches in the mochi, it's just called peach mochi because of the shape and color.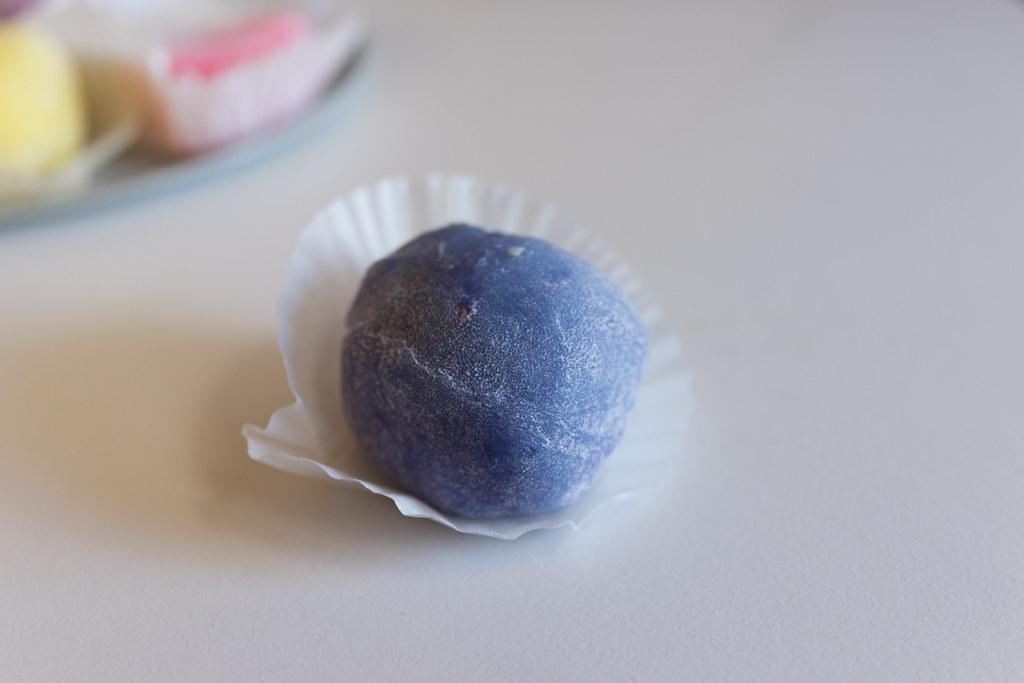 If you like sweet potatoes, you definitely need to try this one. It's stuffed with mashed Okinawan sweet potato. Sweet potato mochi!
Two Ladies Kitchen: Insider Tips
If there is one flavor you really like (like the fresh strawberry mochi), you can order a whole box of just that item. Call in advance so that they can make/set those pieces aside.
Cash only! Closed Mondays and Sundays.
First time going? Get the sampler pack and a fresh strawberry mochi. This will give you a taste of their popular flavors.
Order by phone before you go. This place gets crowded. That way you can just pop in and pick up without waiting too long.
Looking for local Hawaii flavors? Order the poha berry (gooseberry) mochi, and lilikoi (passion fruit) mochi
P.S. They are generous with samples here ^_^
INFO: Two Ladies Kitchen | 274 Kilauea Ave, Hilo, Hawaii 96720 | (808) 961-4766 | no website
COST: $1-3.25 per mochi piece; preset boxes range from $5.80-$19.80 (prices as of June 2019)
HOURS: Mon: Closed, Tues: 6am-10pm. Wed-Sat: 10am-5pm, Sun: Closed