J-Shop is a small Japanese market in Honolulu. They carry select pantry staples and lots of fancy meat, seafood, fruits. Find everything from wagyu to uni at this market. Many people love coming here for affordable takeout bentos and made to order chirashi bowls.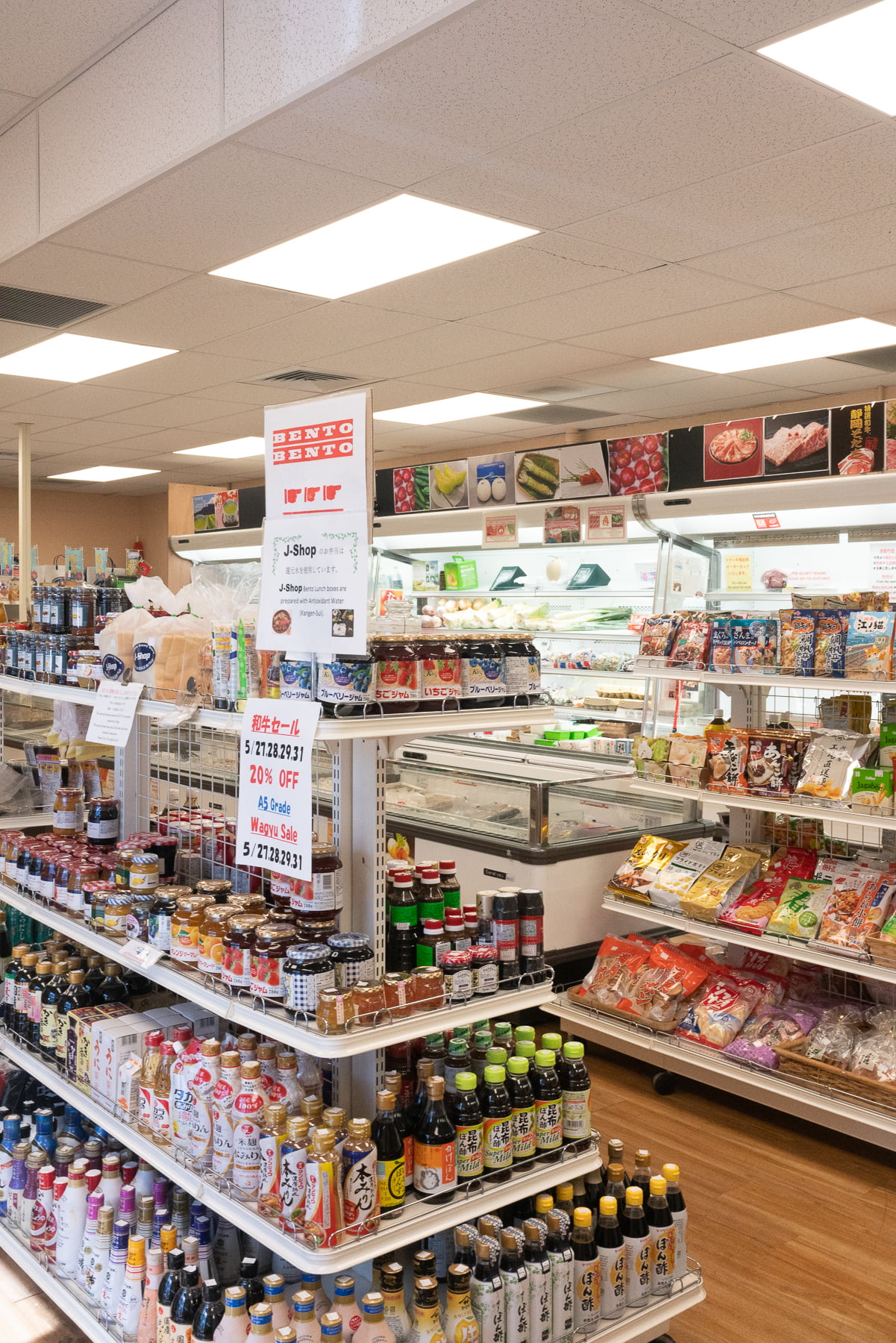 J-Shop
In many recipe posts on this blog, I note that "you can find this ingredient at your local Japanese market."
If you're in Hawaii, you may be wondering which Japanese market! We're located in Honolulu and there are a few different Japanese markets we visit: Nijiya, Marukai, Mitsuwa, and J-Shop.
Detailed posts on each shop are coming up soon, but we're starting with J-Shop today! J-Shop is the most unique and definitely the most fancy of the bunch. We don't come for everyday cooking staples (think $35 for super luxe miso instead $6 "regular" miso at other markets).
But we do come for very nice ingredients like wagyu (the thin cuts are so good for shabu and sukiyaki) and uni. We also visit for made to order chirashi bowls and bentos...they are so delicious and priced well! It's a great spot to stop by for a quick takeaway lunch.
Location
J-Shop is conveniently located on Young Street, right in the heart of Honolulu.
It's about a 10-15 minute drive from Waikiki and a 5-minute drive from Ala Moana Shopping Center. It's very easy to stop by and pick up lunch to/from wherever you are.
What To Get
Prepared Dishes
This is what I come here for most of the time! When you enter the market, turn right and you'll enter this other part of the market that's devoted to bentos and chirashis. From kastudon to tempura (on Saturdays only) okakodon, and yakiniku bentos, there is something for everyone. They even make hamburger steak, which is always a popular plate lunch option.

I love their donburis. They have about six different chirashi bowls. I most often order the king salmon donburi (topped with a little ikura) or the hamachi donburi. Priced around $10-12, they make a great lunch.

Tip: You can also pre-order custom sashimi platters from them. Fun to do a mix of all different types of fish.
Bread
Epi-Ya is a very popular local Japanese bakery (it's less than a 5-minute drive from J-Shop). The make this special loaf exclusively for J-Shop and you can only purchase it at the market.

In place of honey, the bread is made with a mix of milk, fresh cream, and honey! Most loaves at Epi-Ya are about $5, so this one is a little more at $8 but well worth it. I love using this to make Black Sesame Toast. You can also use it for a very nice version of Shrimp Toast.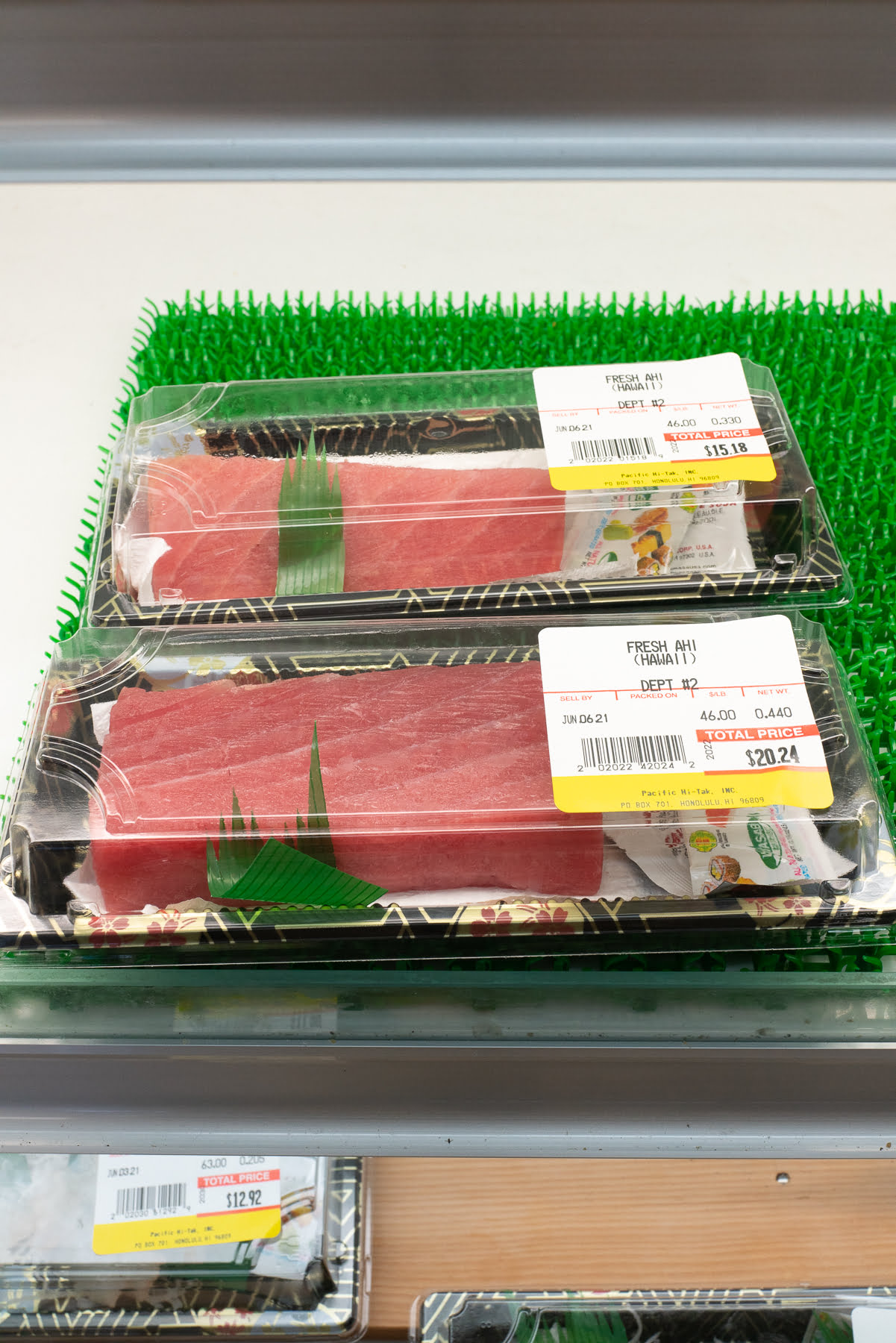 Fresh Seafood
They have lots of nice and fresh seafood here, including fish from Japan and local Hawaii fish. Take a look around! You'll find everything from ahi, salmon, hamachi, ikura, tako (octopus), and trays of uni. This is a really fun market to shop and between all the real pricey items, you can find some good deals.

And then you can go home and make all sort of dishes like:
- Misoyaki Butterfish
- Miso Salmon
- Furikake Salmon
Wagyu
This is the best place to get wagyu in town for shabu shabu and sukiyaki. Beautifully marbled and thinly sliced, very, very nice. Regulars know to come during the last few days of each month when they have their monthly 20% off wagyu beef sale.
Snacks
Lots and lots of different Japanese snacks and canned drinks that you won't find at the other Japanese markets in town.
Fancy Fruit
For all the Japanese restaurant and markets we have in Honolulu, it's actually surprising that we don't have as many options for fancy Japanese fruits. Well now you can just go to J-Shop. They have 1-2 different kinds of fancy fruit at a time, mostly recently spotted for beautiful strawberries and $99 melons flown in from Japan.
Insider Tips
Parking?
There is plenty of free and convenient parking right in front of the market.
Bring a bag.
Don't forget to bring your own reusable bag to the market. Honolulu stopped allowing plastic bags as of January 1, 2020.
Wagyu special.
The wagyu goes on sale for 20% off the last few days of each month.
Tempura Saturdays.
Tempura is one of the bentos, but offered only on Saturdays.
Made to order chirashi bowls.
If you are in a rush, they always keep a few ready made chirashi bowls in the refrigerated area (same section as the all the fish). But if you have a few extra minutes, order your chirashi bowl from the bento area (or from the market cashier) and they will make it to order. Same price and well worth the few minutes wait. Enjoy!
Info
J-Shop | 1513 Young Street, Honolulu, HI 96826 | (808) 200-5076 | jshop-hawaii.com
Hours: Monday-Saturday (10am-5pm), Sunday (closed)