Chicken Tofu is a popular local dish that we often make at home for a lunch or dinner. Easy to make and so satisfying. Eat with rice ^_^
Chicken Tofu
The name of this dish is simple...and yet so vague. What on earth is Chicken Tofu?
It is just chicken. And tofu. The chicken and tofu is accompanied by aromatics and greens like onions, garlic, ginger, and green onions. The dish is seasoned and simmered with soy sauce and mirin (two common ingredients in Hawaii cooking).
It's saucy. It's comforting, but not rich. And it's made to go with rice.
Chicken Tofu In Hawaii
Chicken Tofu is an example of local-style cooking in Hawaii. It is a dish that you'd prepare for a weeknight dinner or a casual lunch. No fuss, just a satisfying one-pot meal. Everyone loves Chicken Tofu. Kids, adults, cousins that drop by for dinner, and even grandma. Just don't forget to cook rice.
Chicken Tofu is mainly a home cooking dish, but you can also find it on the menu of many okazuyas around town.
If you don't know what an okazuya is, please read more here. Okazuyas are old school, local-Japanese style delicatessens that are an important part of Hawaii's food culture.
Ingredients
This dish contains two main proteins:
Chicken - Use boneless, skinless chicken thighs. Cut them into bite-sized pieces.
Tofu - Use firm tofu (soft tofu is too delicate and will break into tiny pieces). In Hawaii, we love to purchase tofu from Aloha Tofu Factory...fresh made local tofu! Aloha Tofu sells 20 ounce blocks of tofu. On the mainland, I noticed most blocks are about 14 ounces. No stress, both sizes work, you'll just have more/less tofu.
Four key aromatics/vegetables round out the dish:
Onion - Sliced, about ¼-inch thick
Garlic - Minced
Ginger - Julienned. If you really love ginger (I do!), feel free to double up on the ginger. This recipe is sooo good with lots of ginger.
Green Onions - Cut into 2-inch long pieces. The green onion is stirred in at the very end of cooking.
Two ingredients to season the dish:
Tips
How brothy/saucy do you like it?
This is a personal preference. Some people like Chicken Tofu on the no broth side. Some people like it on the more broth side. I'm in the latter camp. If you like no broth, then just keep cooking it until all the broth cooks down (Step 4 of the recipe at the bottom of the post).
If you like more broth, keep cooking until it reaches the level of broth you like. I usually reduce it till there's about 25% of the broth left. That way the broth is very flavorful but there's still enough to generously spoon over rice.
The "broth" is a combination of soy sauce, mirin, and water...and of course all the juicy flavors from the chicken, onion, ginger, and garlic.
About the green onions
We add the green onions at the very end of cooking, right before you turn off the heat. You don't want the green onions to fully cook and soft. You just want them to barely wilt. It gives crunch and a different texture and flavor to the dish.
Got watercress?
We love watercress in Hawaii...especially in soup-y dishes and raw as watercress salad (recipe coming soon). If you happen to have watercress in the fridge, stir it in during the last few minutes of cooking. It'll add a healthy dose of green to the dish!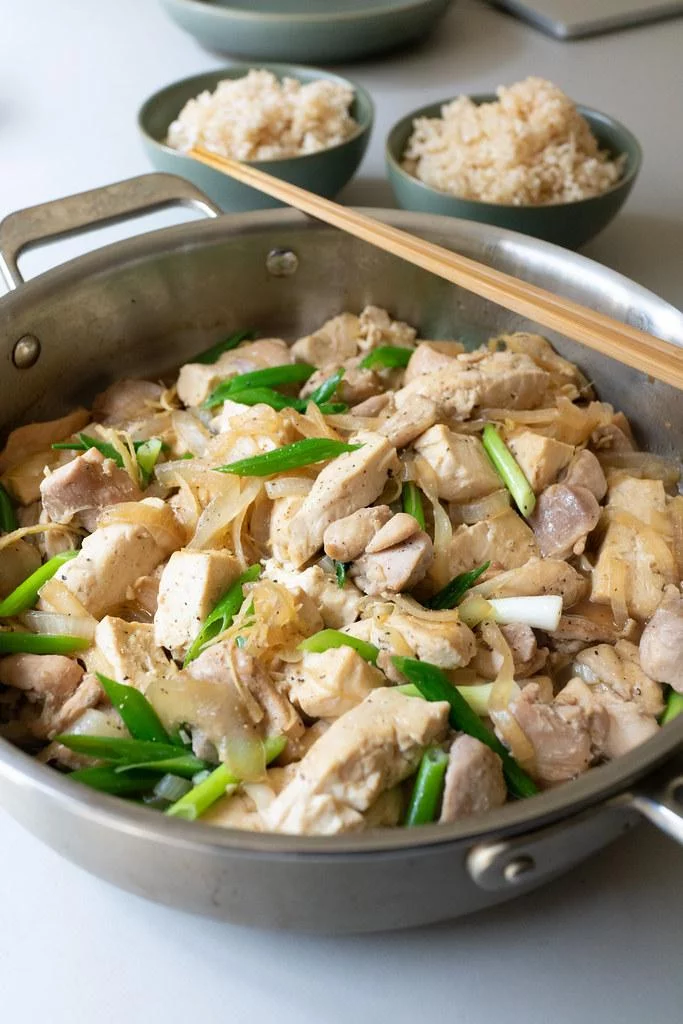 Common Questions
How long can this dish keep?
Up to 5 days in the refrigerator.
How to heat up this dish?
Microwave it for 1-2 minutes. Or steam it for 5 minutes.
What to eat this dish with?
Rice! Always rice. We eat most everything with a big bowl of hot rice in Hawaii.
Not into chicken?
No worries, you can replace the chicken with pork. "Pork Tofu" is also a popular local dish (though the chicken version is more common).

You can even make it vegetarian by leaving out the chicken and doubling up on the tofu.
Chicken Tofu Recipe
See below and enjoy ^_^
Local-Style Chicken Tofu
Chicken Tofu is a popular local Hawaii dish that we often prepare at home for a simple lunch or dinner. Easy to make and so satisfying. Enjoy with a big bowl of rice ^_^
Ingredients
1 pound boneless chicken thighs
1 20-ounce block firm tofu
1 medium onion, sliced
5 cloves garlic, minced
1 2-inch knob of ginger, julienned
3 stalks green onions, cut into 2-inch pieces
Instructions
First, prepare the chicken and tofu. Cut the chicken into bite sized pieces. Cut the tofu into 1-inch rectangles. Set aside.
In a large saucepan, saute the onion, garlic, and ginger for a minute. Add the chicken and brown for 2 minutes. Then slide in the tofu.
Add soy sauce, mirin, and ¼ cup water to the saucepan. Bring to a boil. Then turn the stove to low heat and put the lid on. Simmer for 10 minutes.
Remove the lid, and turn the heat back to medium-high to let the broth/sauce reduce for 5 minutes.
Stir in the green onions. Turn off the heat. Ready to eat! ^_^