A visit to Pearl Harbor National Memorial and USS Arizona Memorial is a must-do when you're in Hawaii. Here are all the tips and everything you need to know before your visit.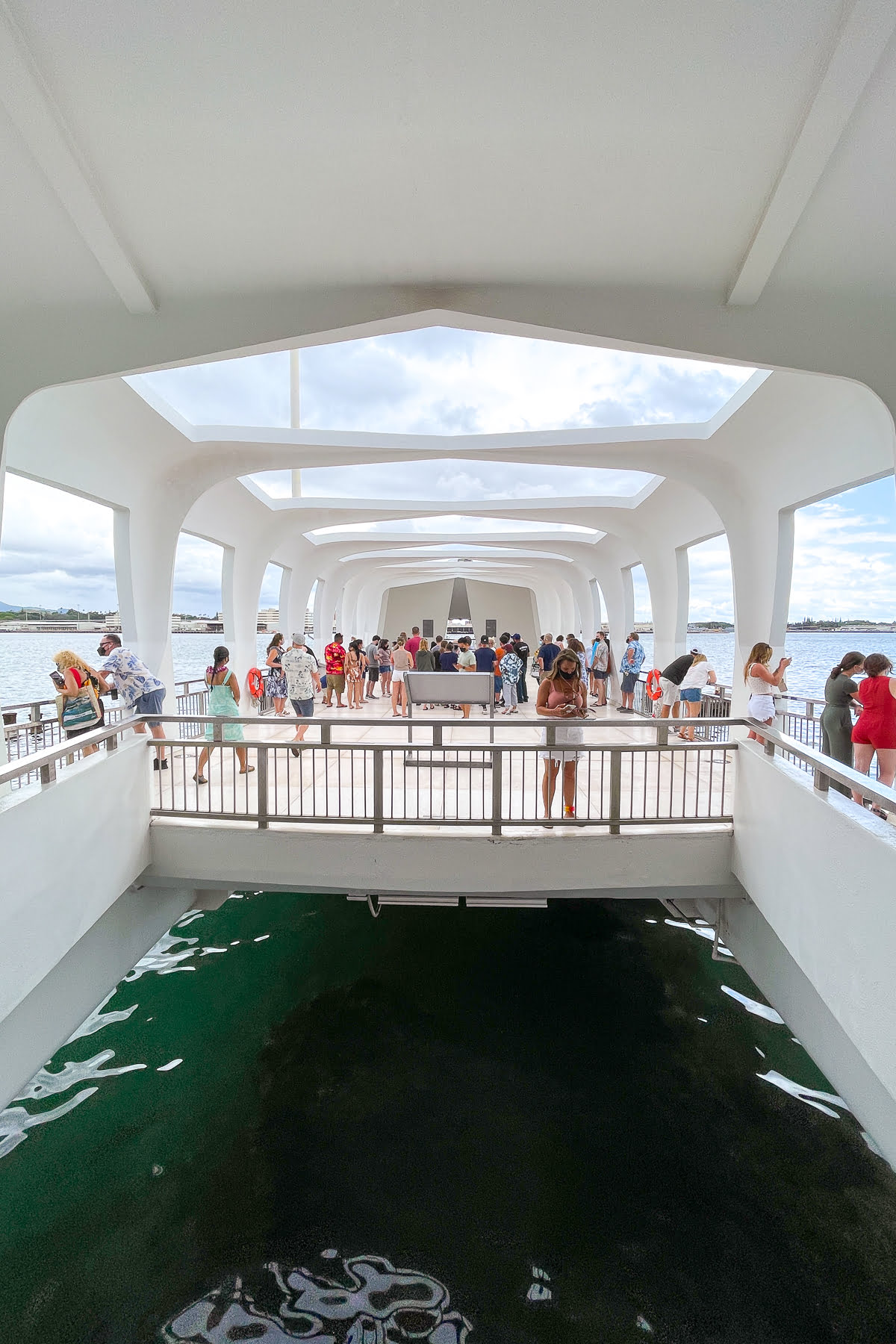 Pearl Harbor is one of the most popular visitor attractions in Hawaii. It's also a key part of our history and well worth a visit whether it is your first time or tenth time to the island.
As locals, we often take visiting friends and family to Pearl Harbor Memorial. We tour the grounds and museum then take the boat ride out to USS Arizona Memorial. It's always a good opportunity for us to learn more about Hawaii's history...I always feel like I learn something new with each visit.
Pearl Harbor is a 30 minute drive from downtown Honolulu (more or less, depending on traffic!) There are many ways to get here, but driving is the easiest.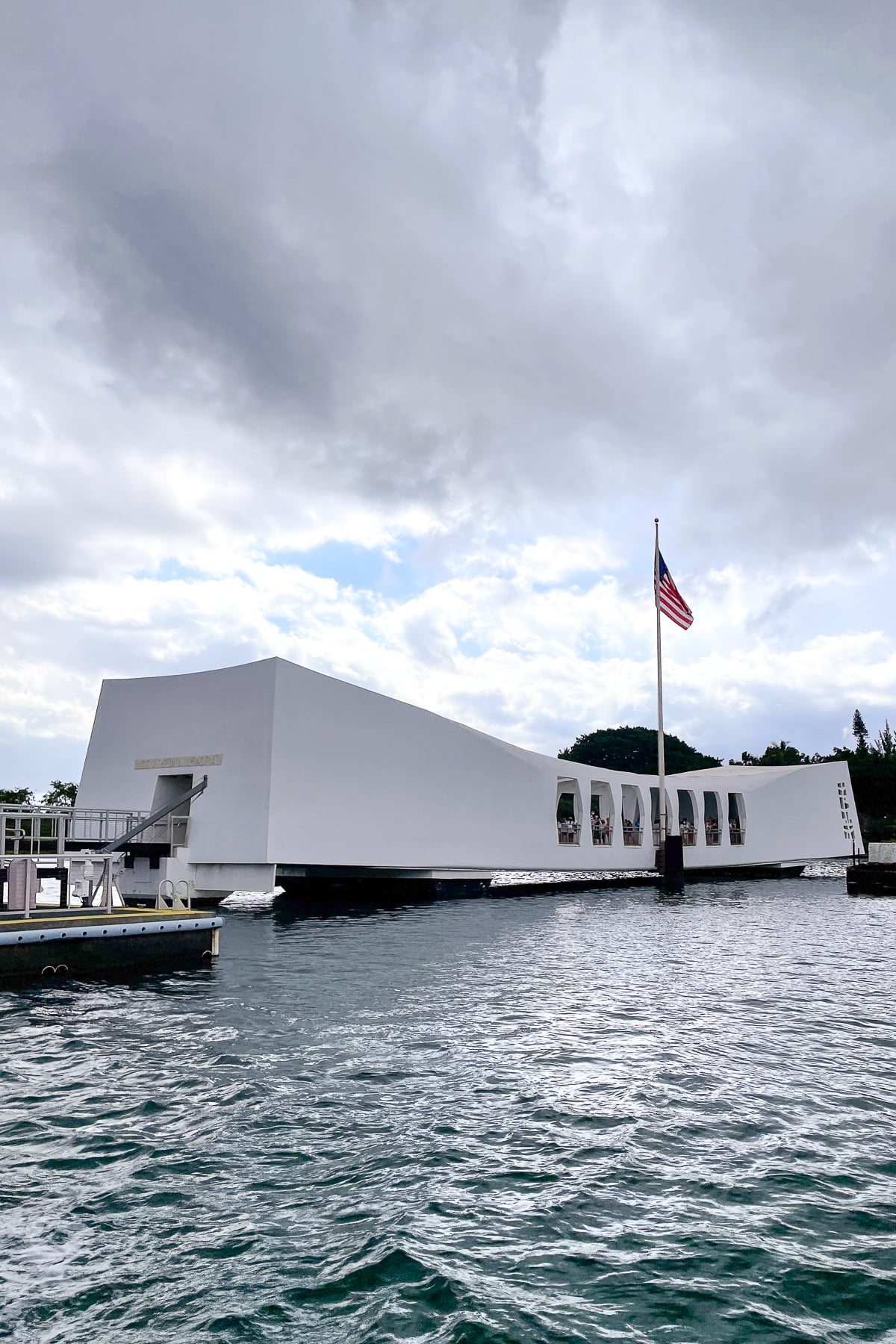 Two Parts
The Pearl Harbor National Memorial consists of several different parts, but there are two parts that most visitors like to do:
Visit the museum and grounds (free).
Take the boat to see the USS Arizona Memorial ($1).
There are other paid things that you can tour (like the USS Bowfin and USS Missouri Memorial), but the above two are the most popular and will give you a full experience. Let's take a look at them in more detail: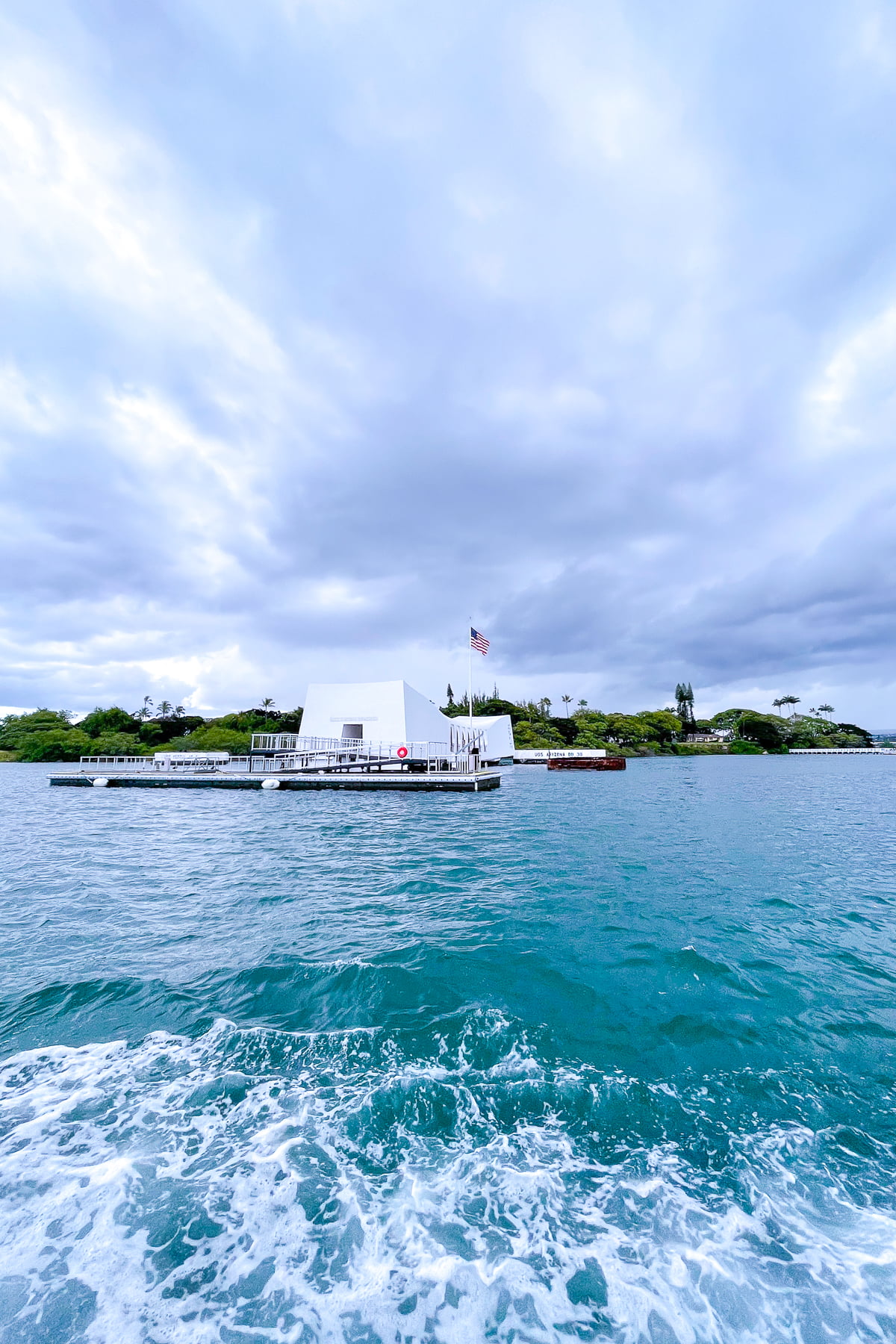 Pearl Harbor National Memorial: Museum and Grounds
You do not need to book a visit to the Pearl Harbor National Memorial in advance. Just park and walk in.
Pearl Harbor National Memorial consists of a large outdoor area plus a museum/exhibit gallery.
The two exhibits are called: "Road to War" and "Attack".
Even if you know the general history of Pearl Harbor, these incredible exhibits are a treasure trove of history. We spent almost an hour going through every part of the museum. From replicas to news footage and letters, so much thoughtful detail went into creating the exhibits.
The "Road to War" exhibit chronicles the years leading up to World War II, with a thorough focus on Hawaii specific experiences.
The "Attack" exhibit showcases the details of what happened on December 7, 1941.
After you're done visiting the museum, head outside to begin the USS Arizona Memorial Tour...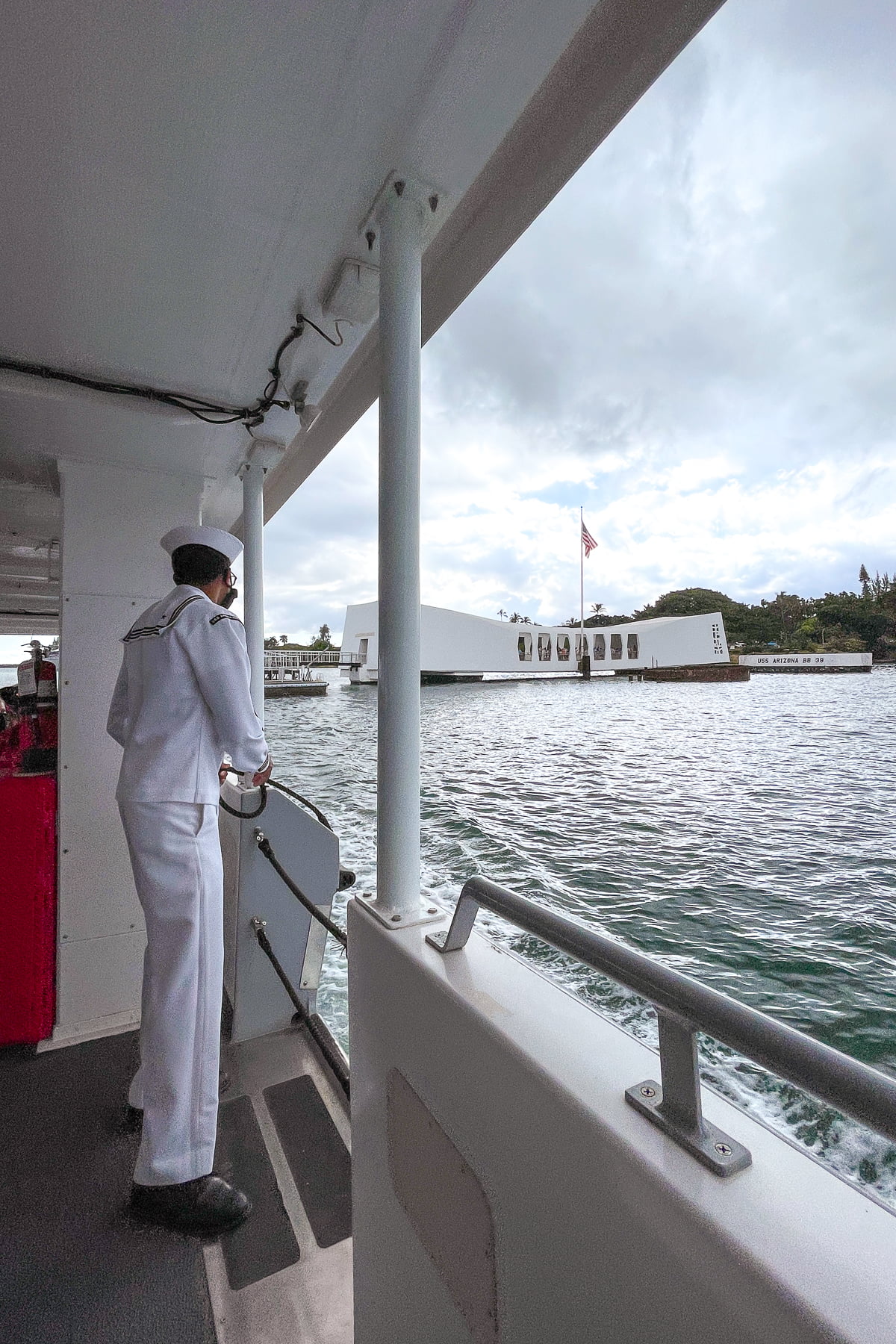 USS Arizona Memorial: Boat and Visit
You must book the boat and tour to USS Arizona Memorial in advance. Doing the tour is highly recommended if you're visiting Pearl Harbor. In fact, the boat tour is one of the main reasons that people come to Pearl Harbor.
The tour is technically free but recreation.gov (the website where you book the tour) charges a $1 reservation fee.
The whole tour takes 75 minutes. It begins at the Pearl Harbor Memorial Theater where you watch a 23 minute documentary that shows footage from the attack and information on the USS Arizona Memorial.
After the video, you receive a brief overview then a short boat ride (the boat ride is operated by the Navy) to the USS Arizona Memorial. Once you arrive, you get off the boat and have about 20 minutes to experience and walk around the Memorial.
It's one thing to see the Memorial in pictures, but a completely different and grounding experience to visit in person.
Tips and FAQ
Parking?
There is plenty of free parking available on site. It can fill up, so I'd budget giving yourself 20 minutes to find parking (just in case!) We often get lucky and find a spot fast, but sometimes there is a wait.

If driving, make sure to map directions to "Pearl Harbor National Memorial, 1 Arizona Memorial Place, Honolulu, HI 96818".

(If you put only "Pearl Harbor" in Google Maps it will direct you to the military base.)
Best time of day to go?
Morning or late afternoon. It can get very hot in Hawaii, so aim for the morning or late afternoon any time you're doing an outdoor activity.

Either way, make sure to bring a hat and wear lots of sunscreen. I also like to carry a water bottle with me everywhere.
How much to pack?
Only very small bags are allowed to pack as light as you can. They have a bag storage facility available (for a fee), but to make things easier just bring the bare minimum...wallet, phone/camera, and water! Here are the details on what you can/can't bring in.
How much time to budget?
If you plan to visit the free museum and USS Arizona Memorial (which is what most people do), 2-3 hours should be enough time.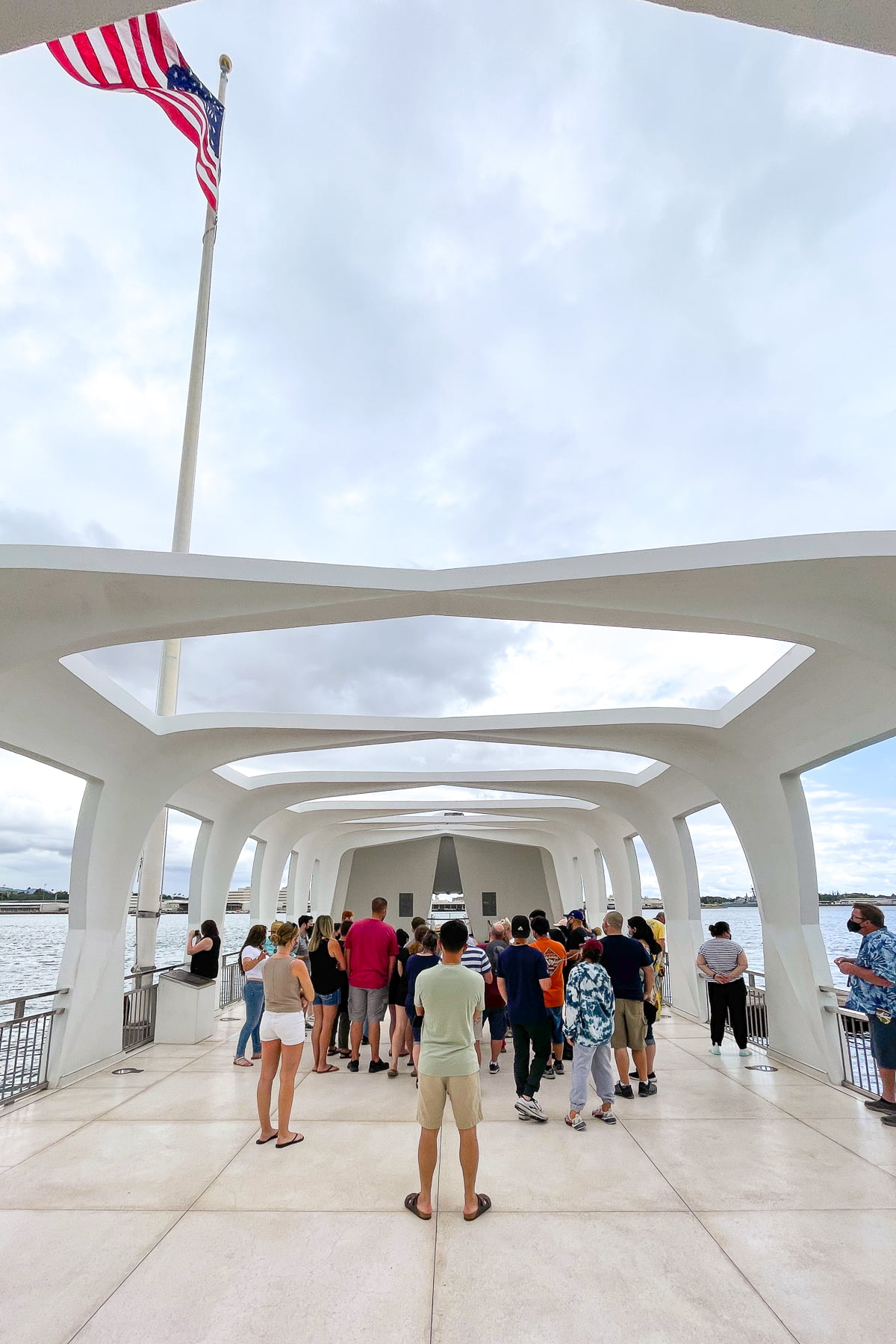 Pearl Harbor National Memorial and USS Arizona Memorial: Info
Pearl Harbor National Memorial | 1 Arizona Memorial Place, Honolulu , Hawaii 96818 | (808) 422-3399 | nps.gov/perl
Price: Pearl Harbor National Memorial is free, no reservations needed. If you want to take the boat to visit the USS Arizona Memorial, you'll need to book reservations ($1) online.
Hours: Monday-Sunday (7am-5pm).